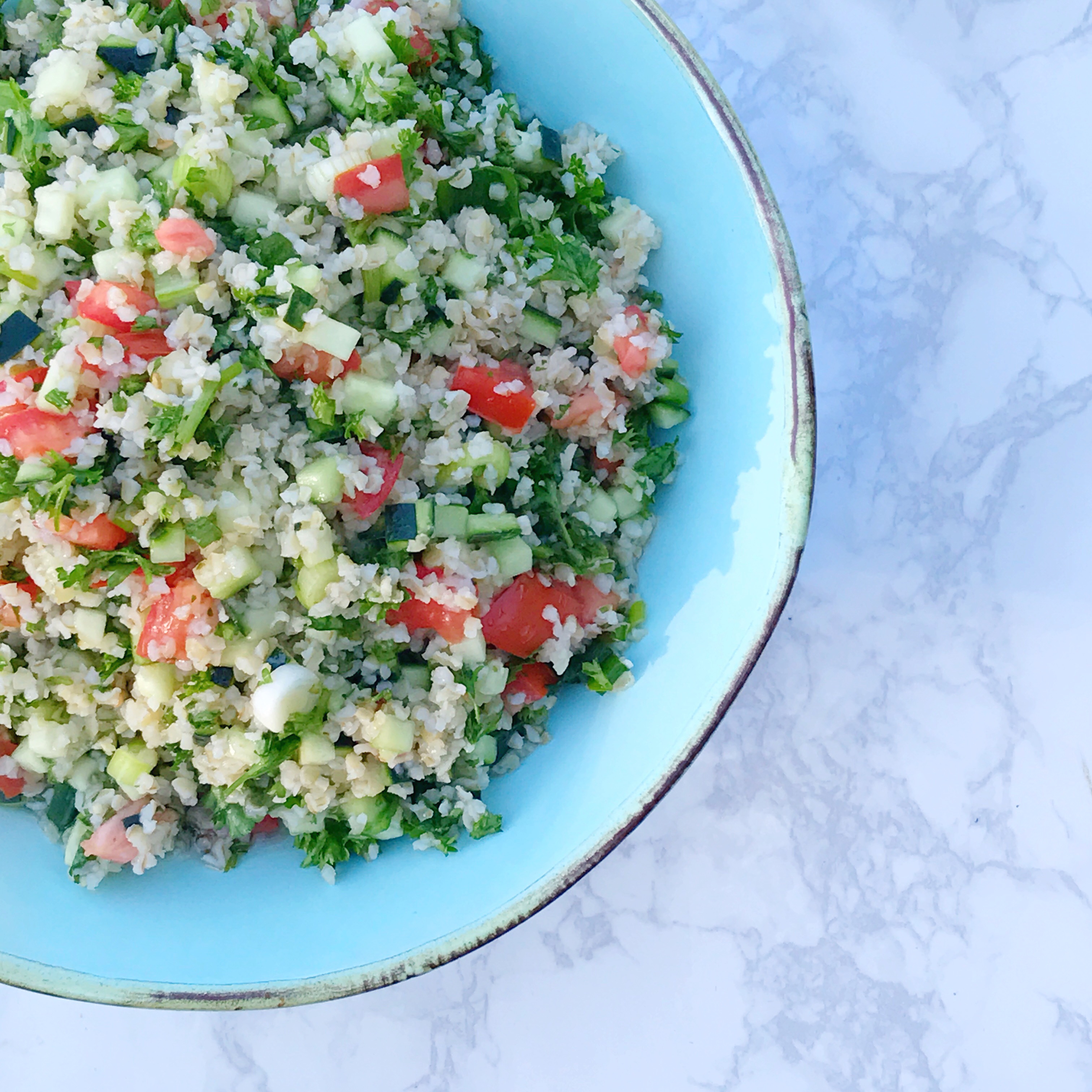 If you have never eaten Israeli Tabouli before, once you try it, this mouthwatering Mediterranean salad may just become your new favorite! Made with Bulgar wheat, fresh vegetables, a splash of lemon juice, and sea salt, the combination of nutty flavored Bulgar, juicy tomatoes, crunchy cucumbers and fresh parsley tossed in a lemon sea salt dressing makes this salad a dream come true for anyone who loves Mediterranean food.
I have often wondered why Tabouli is spelled so many different ways. When it comes down to it, Tabbouleh, Tabouleh or Tabouli isn't like spelling Potato or Potatto when it comes to being grammatically correct. While there is only one correct way to spell potato, Tabouli is spelled differently depending on which region of the world it comes from. Although the basic ingredients are generally the same, there are many different ways to make this salad.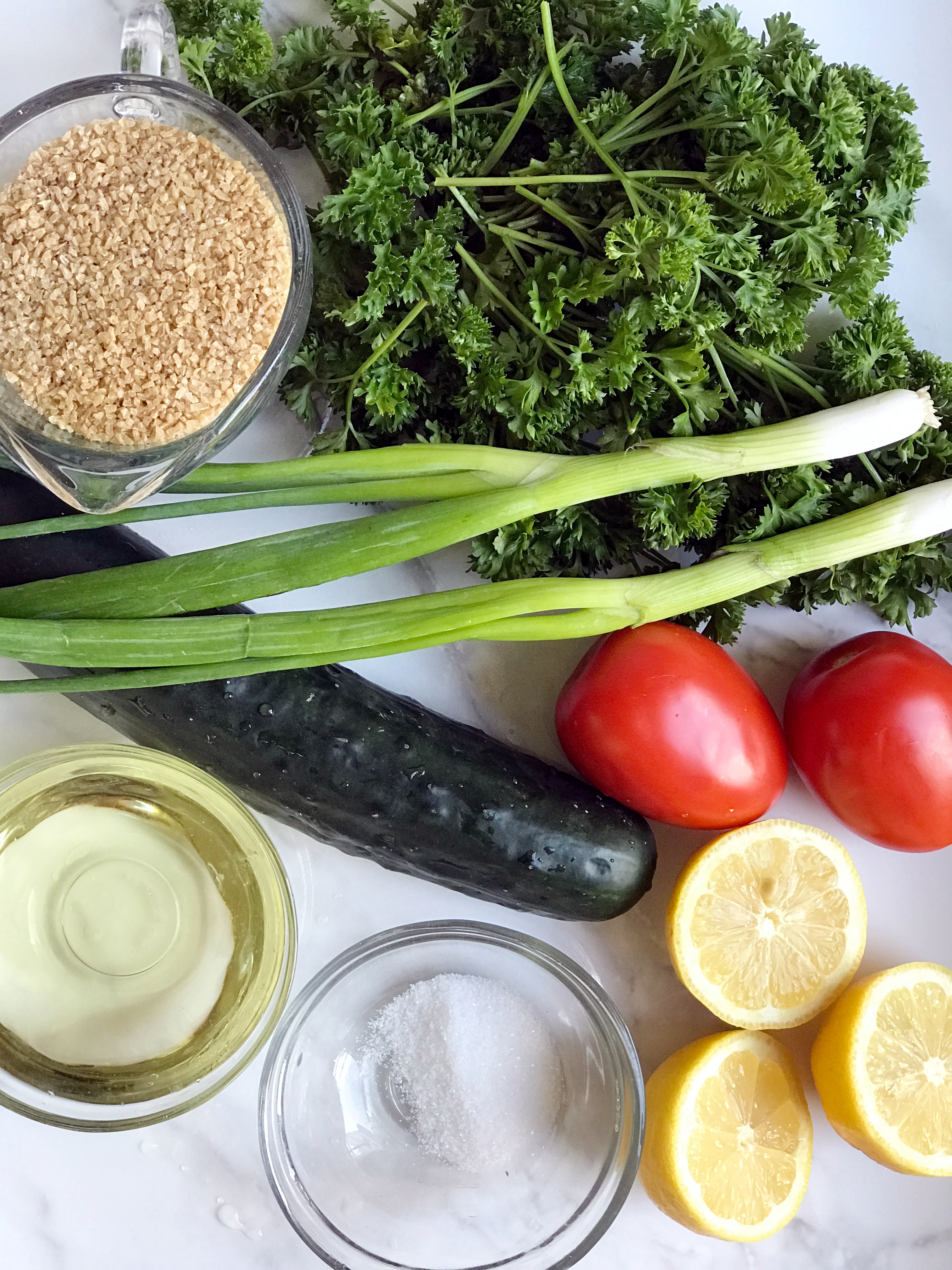 Tabouli is a traditional side dish or salad best known in part of the world like, Armenia, Cyprus, Greece, Iraq, Israel, Jordan, Lebanon, Palestine, Syria, and Turkey. Each of these cultures often have a variation on how they make Tabouli. Sometimes pomegranate seeds are used in place of tomato, some use couscous instead of bulgar, while still others may add mint or garlic to their dish.
Luckily for me, I live in Minneapolis, a city bursting with a diverse melting pot of cultures from all over the world. It's pretty easy to find a restaurant here that serves cuisine from just about any well known country on the planet, and many of them serve tabouli.
While you may not find food from smaller places like Malta or Brunei, you can easily enjoy Mediterranean food from most of the regions in that part of the world. To be honest, one of my favorite places to eat is a short 30 second walk from my front door. I affectionately call it "Vivi's Place."
Vivi is my favorite neighbor, my sister/friend, and she is from one of the most beautiful countries in the world; Israel. I am excited for the opportunity to feature Vivi and her many delicious recipes from Israel in my upcoming cookbook. This Tabouli recipe is hers, and it's my favorite. I hope you enjoy!
Print Recipe
Israeli Tabouleh Recipe
Yum
This easy to make salad combines the nutty flavor of bulgar wheat with fresh vegetables and a touch of lemon juice to make a mouth-watering dish that is perfect as a side with meat and rice, or as a light salad for any meal.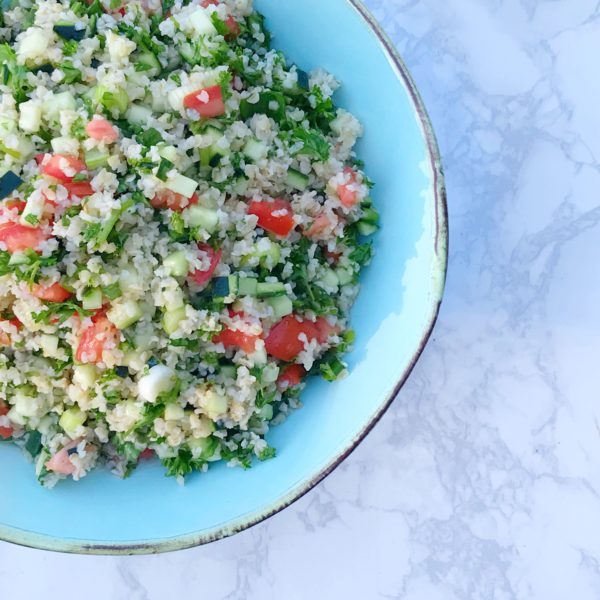 | | |
| --- | --- |
| | |
In small bowl, rinse and soak bulgar in 3 cups boiling water for 1 hour. Strain water from bulgar and transfer to a medium bowl.

Add tomatoes, green onion, cucumbers, parsley and toss to combine.

In small bowl, whisk together olive oil, lemon juice, and salt. Pour dressing over tabouli and toss until salad is evenly coated. Refrigerate atleast 1 hour before serving.
Recipe Notes:
 Adjust lemon and salt as desired.
Although tabouli is traditionally served as a side with meat and rice, it also makes a great

topping on tacos

, fish, sandwiches, serve it with

eggs for breakfast

and more.
Recipe by Vivi Mizrahi for www.culinarybutterfly.com