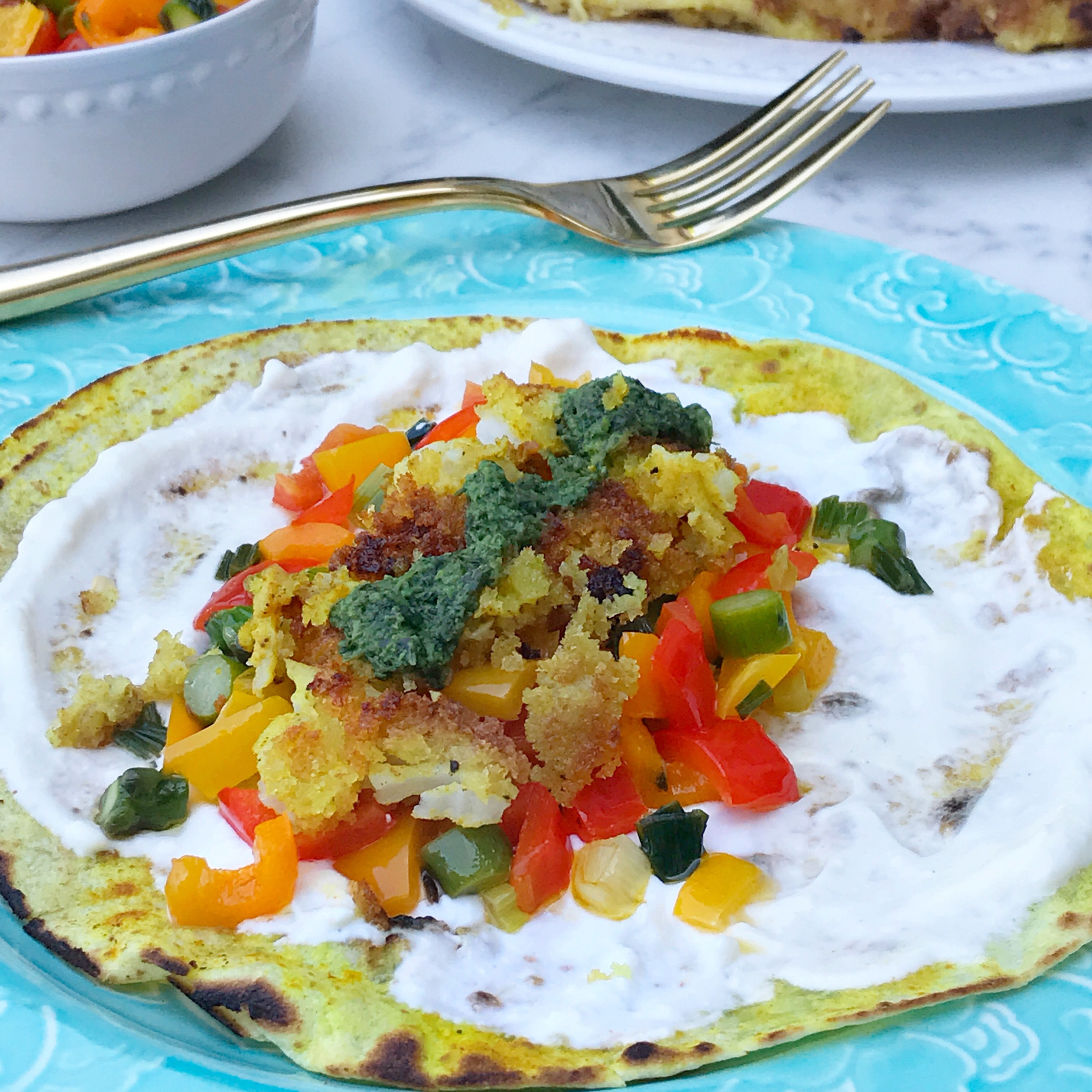 Tandoori Fish Tacos with Mint Chutney was born in my kitchen because of a challenging combination of need and want.
I needed to use up a few extra fish fillets in my refrigerator that day, but I was really in the mood for Indian food.
Enter, Tandoori seasoning and bread crumbs.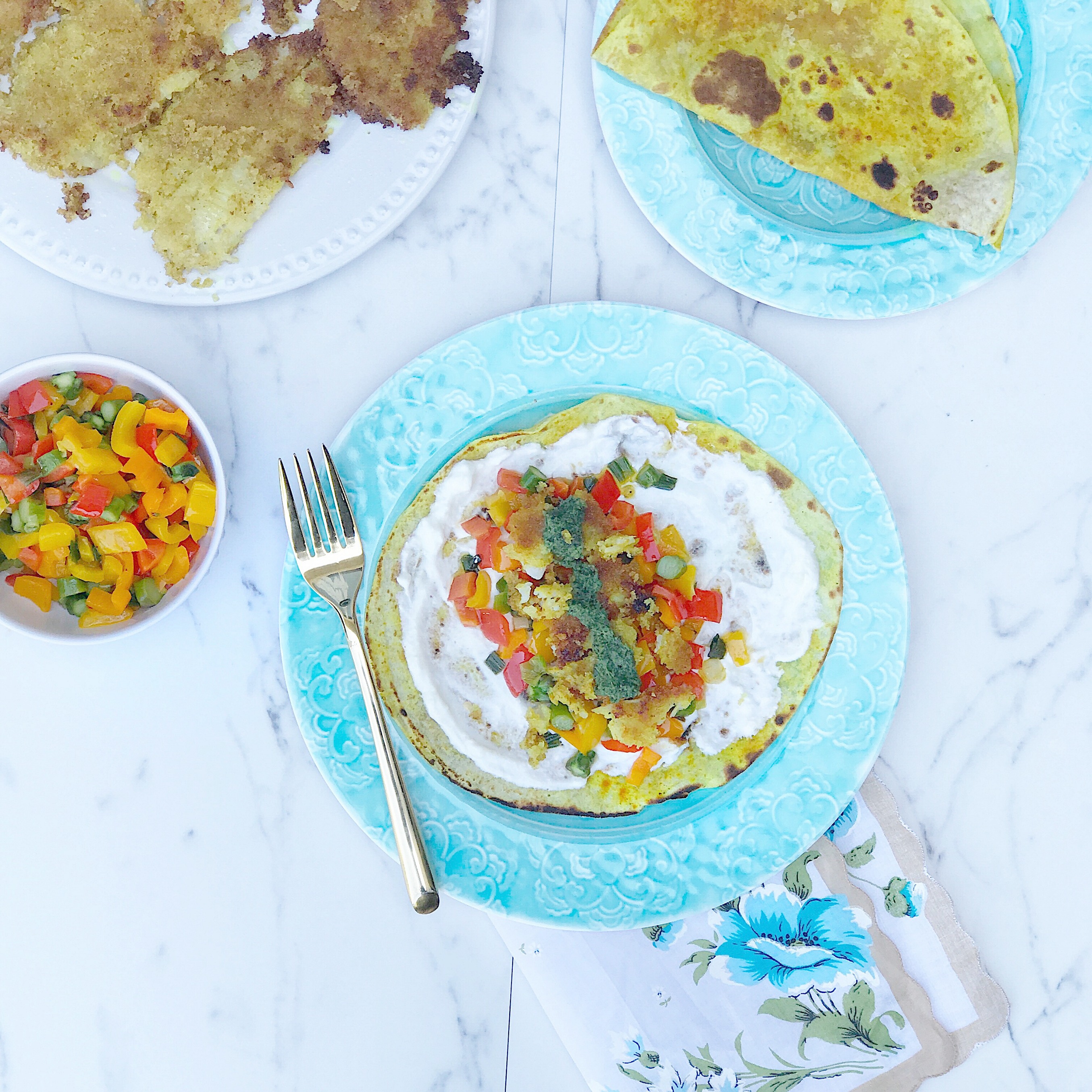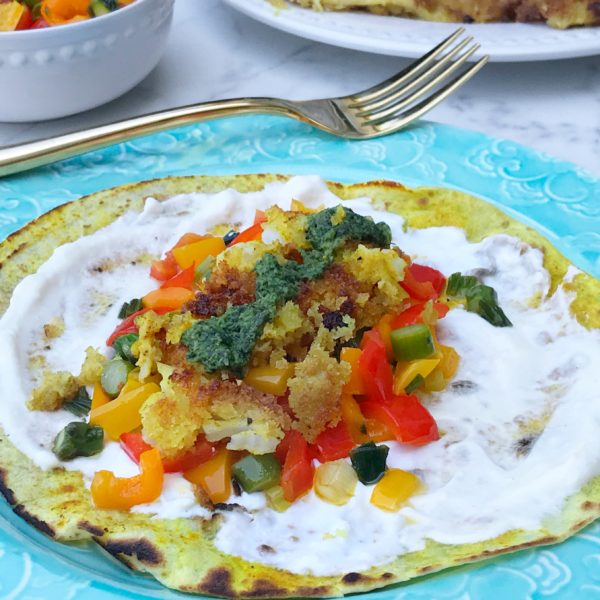 | | |
| --- | --- |
| | |
Heat oil in a medium non-stick pan over medium-high heat. Add veggies and sauté for 5 minutes or until soft. Season with 1/4 teaspoon salt, toss to coat and transfer to a bowl.

Prepare sauce by mixing yogurt, tandoori seasoning, lemon pepper, and salt in medium bowl.

Add bread crumbs to a separate bowl and set aside.

Heat 1/4 cup oil in non-stick pan over medium heat. While oil is heating, rinse and pat dry fish. Generously coat the fillets on both sides with yogurt sauce, then coat fillets in breadcrumbs before laying fish into simmering oil. Fry fillets for 3-4 minutes on each side or until fish is flakey. Using a spatula, gently remove fillets from oil and lay on a paper towel to drain excess oil.

Wipe clean and preheat the same non-stick pan over medium-high heat. Lightly coat tortilla with olive oil and lay in pan. Place tortilla on pan, sprinkle with turmeric and cook 20-30 seconds or until light blistering appears. Turn tortilla over, coat with oil and turmeric and cook for an additional 20-2-30 seconds or until light golden brown one both sides. Remove from heat and set aside.

Assemble: Spread an even layer of yogurt on top of each tortilla. Spoon sautéed vegetable down the middle of the tortilla about 3-inches wide. Crumble one fish fillet on top of vegetables. Top with 1 tablespoon of mint chutney and fold tortilla in half. Eat warm. Enjoy.
Recipe by Lisa Soldo-Johnson for www.culinarybutterfly.com