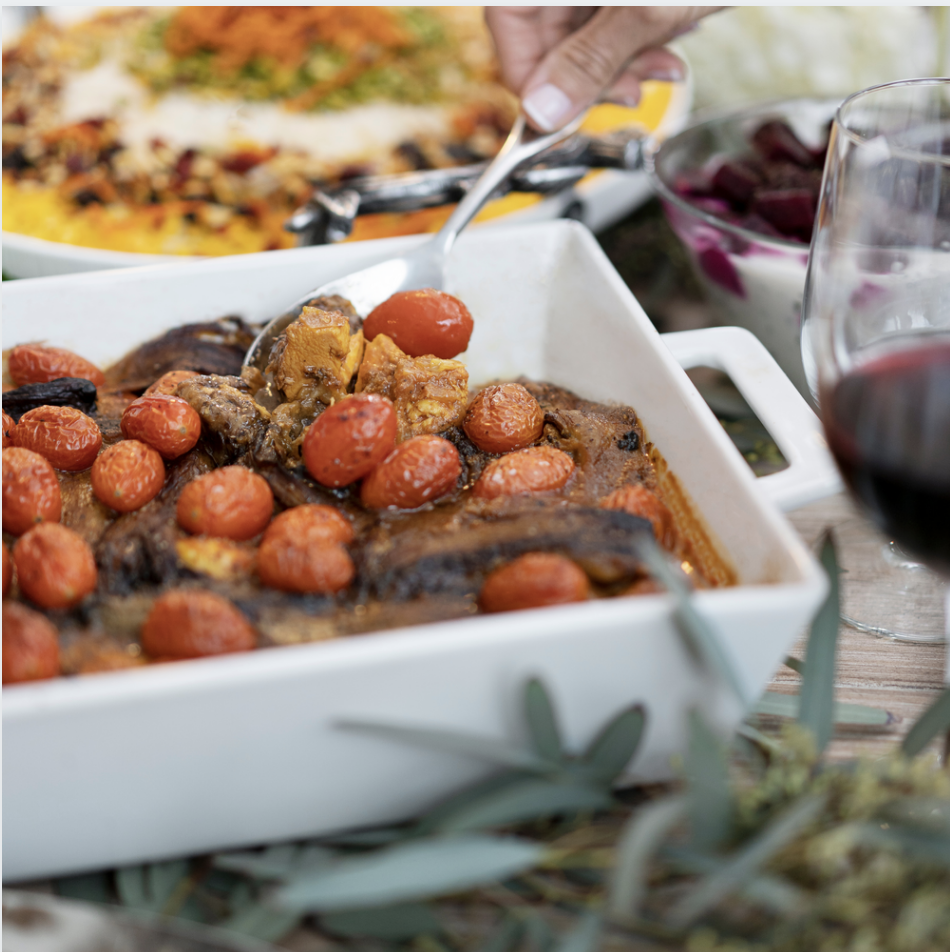 In Iran, Khoresht Bademjan made with beef, lamb, or chicken is a traditional eggplant stew enjoyed at many dinner tables. Sometimes a new recipe can seem overwhelming, especially if it is from a culture unfamiliar to the cook. However, this dish is simple to make and uses basic ingredients which helps you to put an impressive authentic Persian meal on the table in about an hour and a half. Since most of the cooking time is hands free , this gives you plenty of time to make a delicious Salad Shirazi and a bowl of Mast- o Khiar (yogurt and cucumber dip) to complete your meal.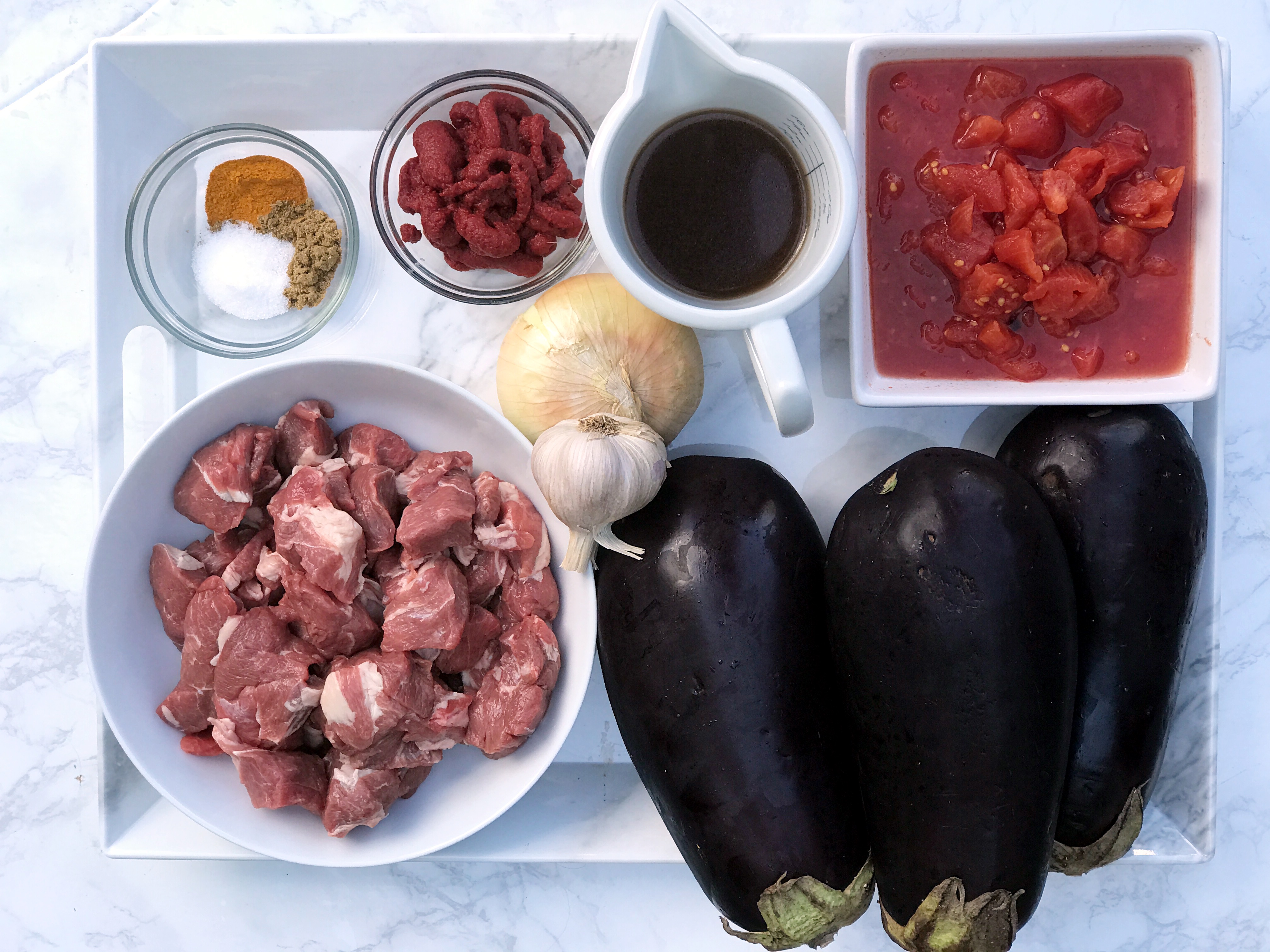 I learned to make Koresh Bademjan from my friend, Shaya, who was born in Iran and moved to the United States many years ago. Shaya has a special gift for turning a few simple ingredients into a Persian feast. I enjoy her style of cooking because she uses traditional Persian spices and herbs and her food is seasoned to perfection.  With this technique, the flavor of the food is enhanced rather than lost in the cooking process. What I enjoy most about Khoresh Bademjan is the ease of making it. Sometimes a recipe can seem overwhelming, especially when from a culture unfamiliar to the cook.
This recipe, however is relatively simple to make, it uses basic ingredients, and you can have an impressive authentic Persian meal on the table in about an hour and a half. The best part of this recipe is that most of that cooking time is hands off, so that gives you plenty of time to make a delicious salad like my Salad Shirazi, whip up a bowl of Mast-O Khiar (cucumber and Yogurt Dip), and sip on a glass of your favorite wine while the Koresh Bademjan is baking.
در اینجا به یک وعده غذایی بزرگ است! Here's to a great meal!
I hope you enjoy this recipe! If you've made it please share it with me by tagging @culinarybutterfly on Pinterest.
Print Recipe
Khoresh Bademjan (Persian Eggplant Stew Recipe)
Yum
A traditional Persian eggplant stew with beef or lamb.
Prepare all ingredients before cooking.

In Dutch oven or large pot, heat 1 tablespoon butter over medium heat until melted. Add meat and 1/2 teaspoon turmeric, browning on all sides. Transfer meat including it's juices to a bowl and set aside.

In the same pan, heat remaining 3 tablespoons butter, onions, garlic, cumin, salt, and remaining turmeric, sautéing until onions are translucent.

Transfer meat and its juices back into the pan along with tomato paste and crushed tomatoes. Stir to combine before adding broth and 1 cup water. Cover and simmer on low heat 30 minutes.

Prepare eggplant by heating 3 tablespoons olive oil over medium heat in wide skillet or deep non-stick pot. Brown eggplant on both sides in batches, adding more oil as needed. Remove eggplant, place on paper towel and set aside.

Remove cover from stew pot, transfer stew to an oven proof baking pan, gently lay eggplant on top of stew, cover and transfer pan to oven. Bake 45 minutes, uncover and bake an additional 15 minutes.

Remove Khoresh Bademjan from the oven and serve immediately. Serve with basmati rice.
- Khoreshteh Bademjan is a traditional Persian stew that is served with Basmati rice, Salad Shirazi and Maast O Khiar.
Trick of the Trade: Brush eggplant slices with beaten egg whites before frying to prevent oil from saturating into eggplant.
Recipe by Shaya Chatrai for www.culinarybutterfly.com