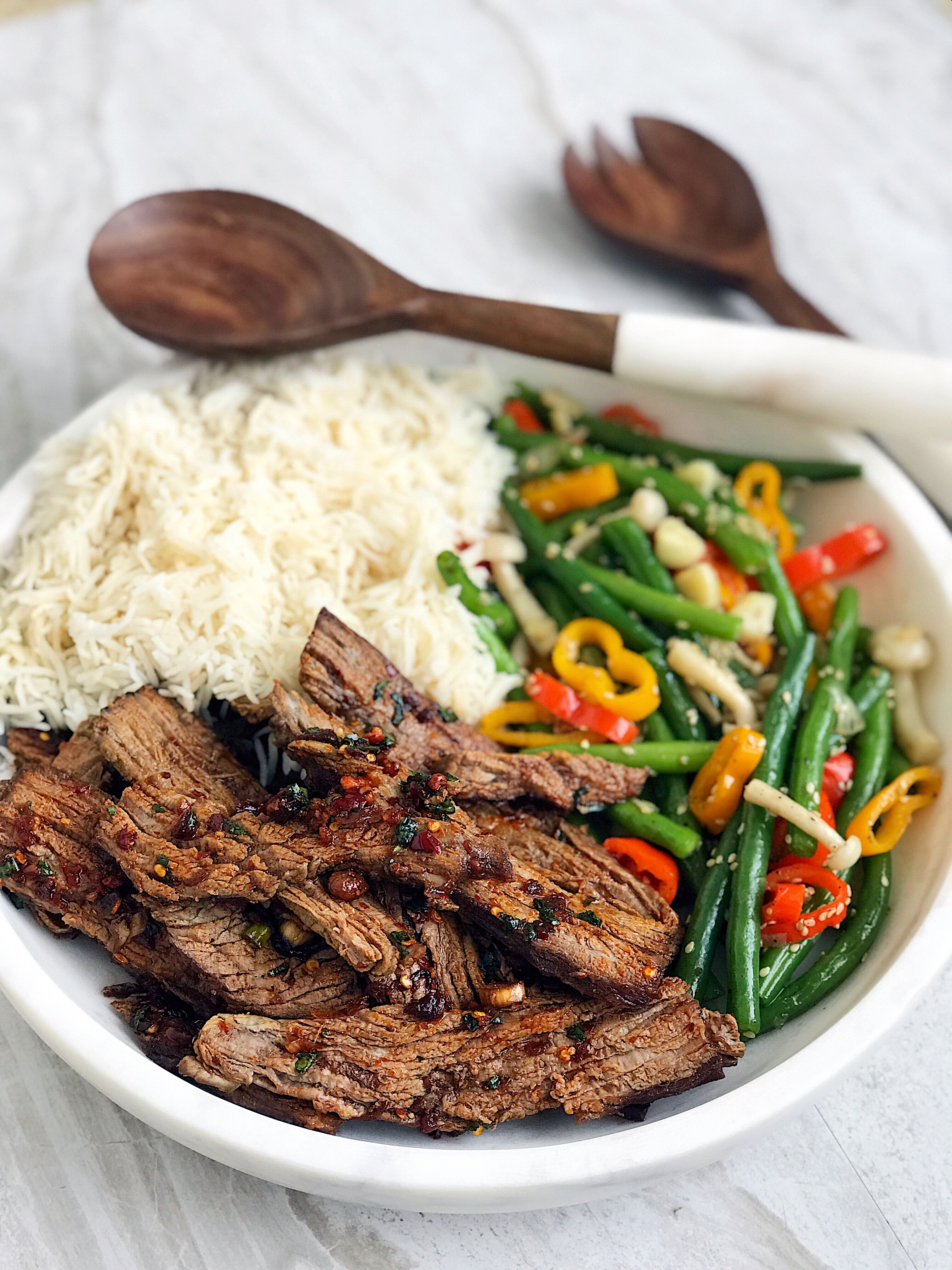 Chinese Spicy Beef is a recipe I learned to make from my friend, Rachel, who makes simple Chinese cooking look like a walk in the park.  She has an incredible gift of taking basic ingredients and turning them into a feast fit for a king in less time than it takes most people to get the dishes done. This beef dish is no exception.
Personally, I am not a huge meat eater and I'd easily choose fish over a steak any day of the week, but the first time I tried this dish, I gained a new appreciation for beef. One evening during dinner at Rachel's house, she made this recipe, and if gluttony were a part of the meal, I might have been unapologetic about eating the entire plate by myself. It's really that good!
Rachel was born in Sichuan, China and when she came to the United States years ago, she brought many of her authentic cultural recipes with her. Her Spicy Shaved Beef Bites is one of them and although every recipe this gifted friend of mine prepares is brag-worthy, this one happens to be at the top of my favorites list.
Made with a few simple ingredients and typically eaten cold as an entree or appetizer, this beef imparts a stand-alone flavor so deliciously distinct that all you really need is a side of rice and a lovely vegetable dish like my Garlic Sesame Green Bean, Pepper, and Mushroom Trio, and you are on your way to a high-praise at your dinner table.
Although some of the ingredients in this recipe are typically found at Asian grocery stores, don't let that stop you. You can find the recipe to make your own Sichuan Peppercorn oil here, and although it's always best to use the listed ingredients, I have added suggestions for substitutions on other specialty ingredients to help make the success of this dish as easy as possible.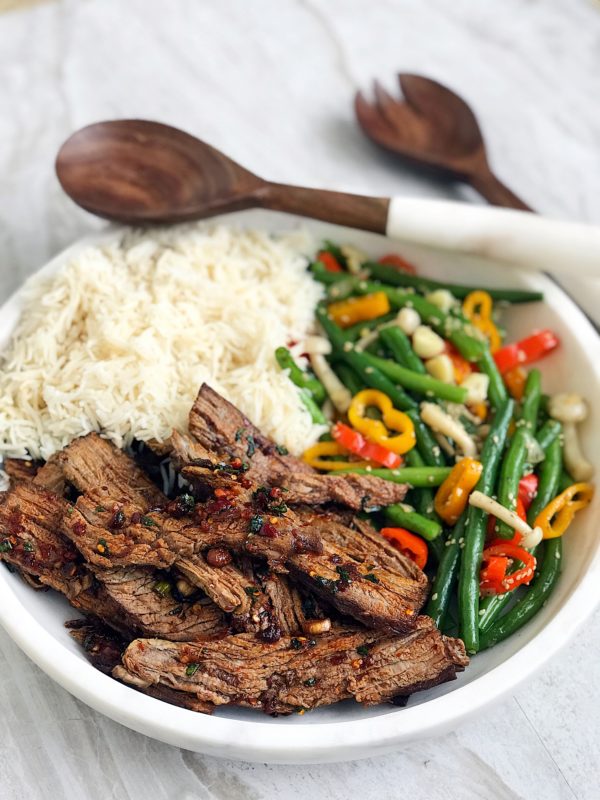 | | |
| --- | --- |
| | |
Place the beef in a large pot and cover with water. Bring the pot to a boil over medium heat. Cover, reduce heat to low. Simmer for 1.5 hours or until tender. The internal temperature of the beef should reach 160° Fahrenheit when done.

Remove the beef from water, set aside, and let cool. (Save the broth for soup or another recipe)

When the beef is cooled, thinly slice the beef across the grain of the meat into 1/8-inch slices, transfer beef to a bowl and set aside.
In a small bowl, whisk together oil with 1/2 teaspoon peppercorn, garlic, spicy chili crisp, soy sauce, Chinkiang vinegar, sugar, water, and scallions.

Pour sauce over beef. Gently toss until the meat is evenly coated, being careful not to break the meat apart.

Serve over rice as a meal or as an appetizer.
NOTES:
Keep broth to

use as a soup base

.
Adjust the soy sauce if you want to make it saltier or add extra pepper to make it spicier.
You can purchase Premium Soy Sauce and Chinkiang Vinegar in an Asian grocery store or order online. You may substitute with

Tamari

and Rice Vinegar if necessary.
Recipe by Rachael Huang for www.culinarybutterfly.com