Ever have those days where your body is craving something to snack on but you can't figure out what?  Asian inspired Tamari Ginger Almonds are one of those snacks that satisfy whatever craving I am having. The combination of fresh ginger and garlic, salty tamari and sweet Medjool dates cover almost every flavor taste bud in the mouth.
Years ago, I purchased my first dehydrator. I say first because once I discovered the incredible foods I could make in a dehydrator; I burned out the motor from using it so much. Since then, I have invested in an Excalibur 9-tray machine. The quality of this machine is superior to many others, and it hasn't failed me yet.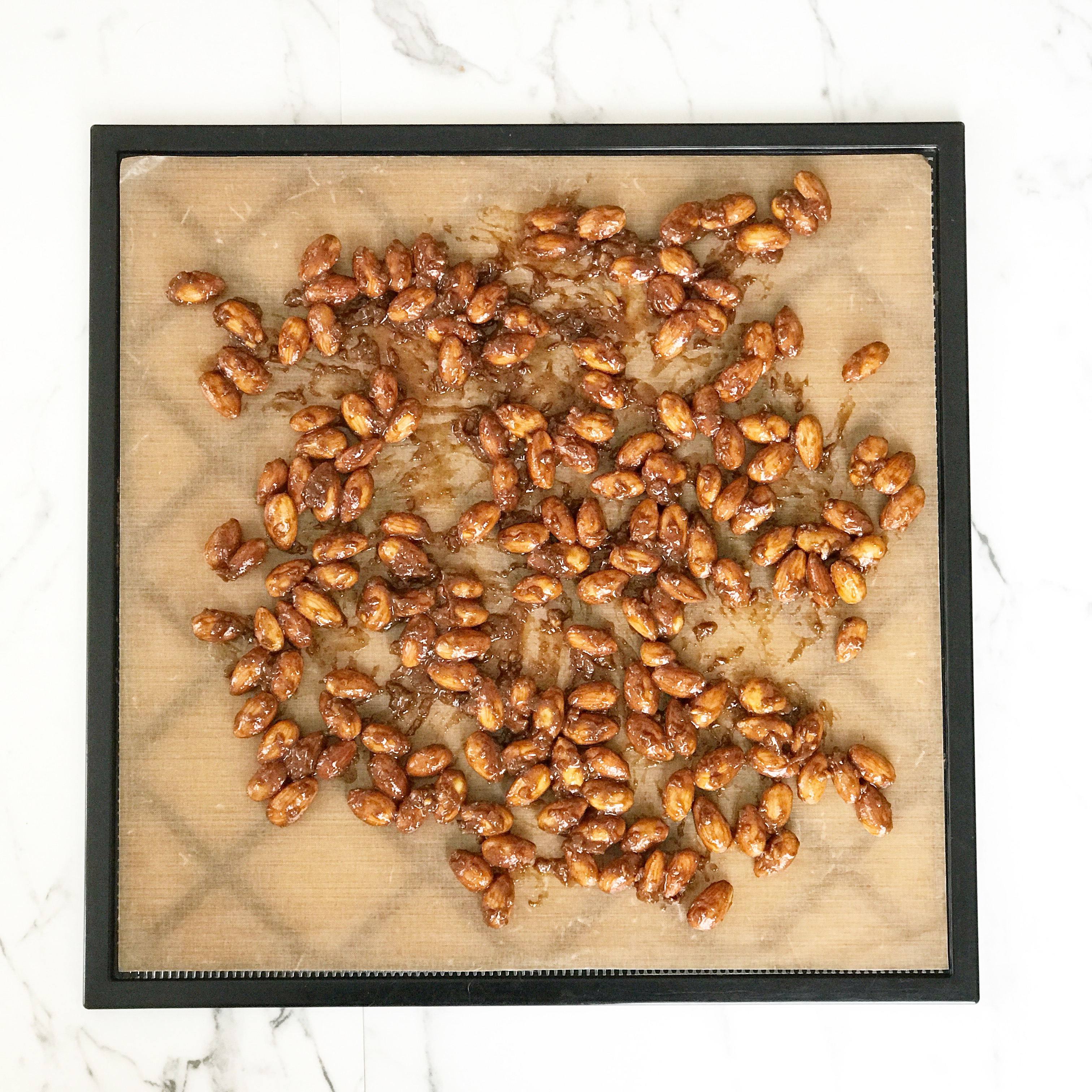 While there are so many delicious options, one of my favorite foods to dehydrate are these marinated almonds. I enjoy the distinctly strong flavors in each ingredient with every bite. They make the perfect snack any time of the day, and the versatility of this almond is almost endless.
Tamari ginger almonds  can  be enjoyed  in  many ways.  Sprinkle the chopped almonds over green tea ice cream, toss together with chocolate chips and raisins for a fun movie snack, sprinkle almonds over a salad like my Crunchy Asian Sesame Salad or Easy Asian Coleslaw.  Or use them as a topping for soups like my Tlavhe Red Lentil Soup. The possibilities are endless.
I hope you enjoy this recipe! If you've made it please share it with me by tagging @culinarybutterfly on Pinterest.
Soak and sprout the almonds in water overnight. Drain and rinse well. Lay almonds on a flat surface and air dry for 1 hour.

Using a food processor or a high-speed blender, process the medjool dates, tamari, garlic, and ginger on high until it becomes a paste.

In a medium bowl toss the almonds and paste together until they are well coated.

Using a dehydrator grid with a teflex sheet, spread the almonds in one layer making sure there is space between each almond.

Dehydrate almonds at 145°F for 1 hour. Reduce heat to 115°F and continue to dehydrate for 48 hours, turning over halfway through. Let cool before removing from sheet.

Refrigerate to keep fresh longer.
Recipe by Laurie Kerkinni for www.culinarybutterfly.com