This easy Jamaican Jerk Chicken recipe is tender, spicy, and authentic.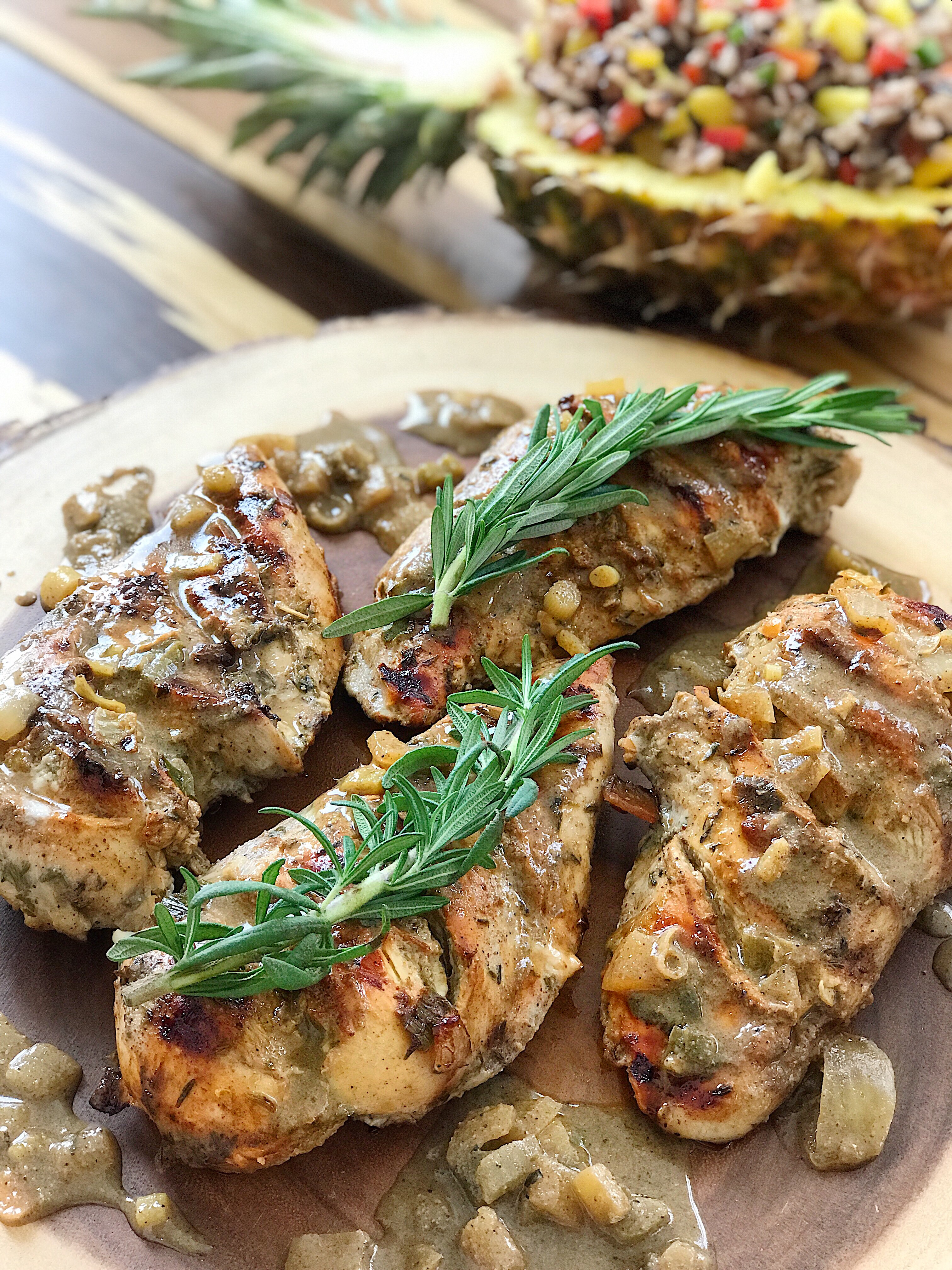 Hey, have you ever tried jerk chicken?
Many people say they have, but it took me a trip all the way to Jamaica to finally discover this poultry wonder. I was sitting on the beach soaking up the sun when my fellow sunbathers abandoned their chairs and rush towards the hotel pool area.
That's when the afternoon jerk cart came on the scene and began serving up hot, fresh, Jamaican jerk chicken by the bowl full. Of course, the foodie in me had to see what the fuss was about and boy am I ever glad I did.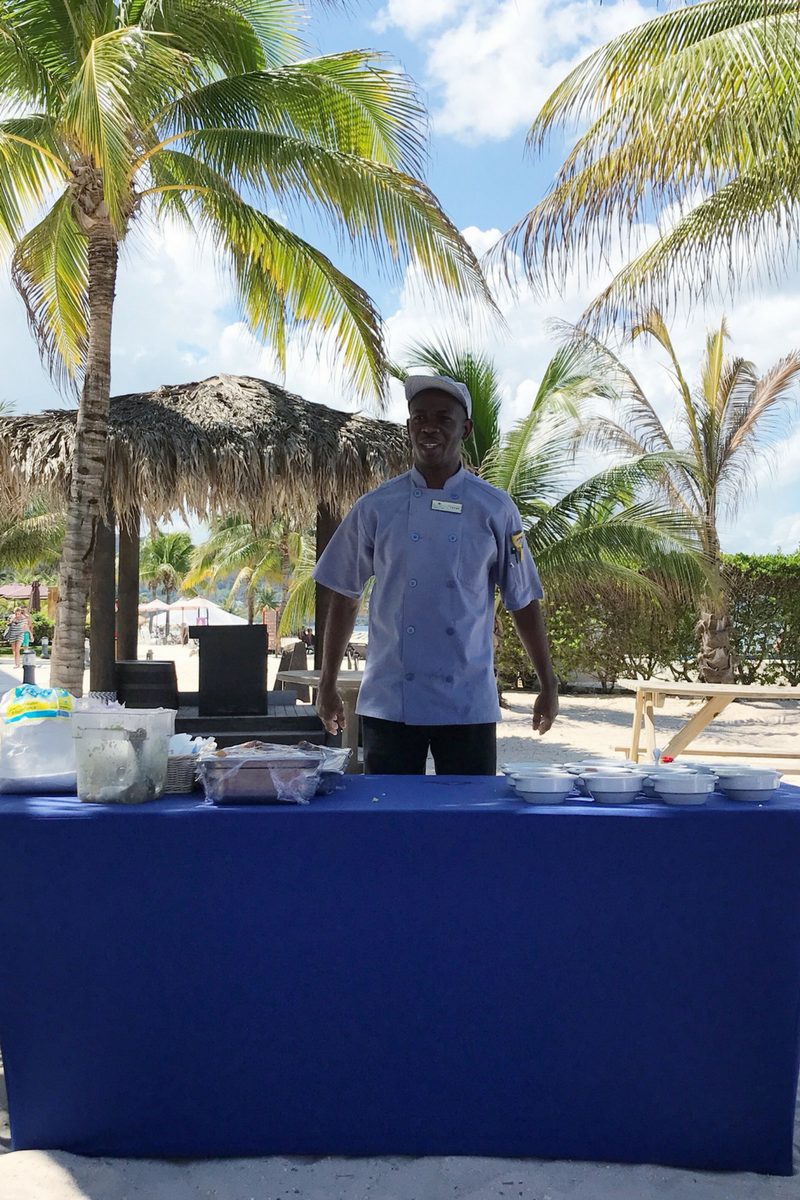 After the first bite, I was completely sold on this spicy flavor-packed culinary wonder. As providence would have it, Tayan, one of the resorts resident chefs offered a cooking class to teach how to make authentic Jamaican jerk chicken.
There was no arm twisting here. I was the first student in line for the class and parked myself front and center – ready to learn the secret behind this island classic.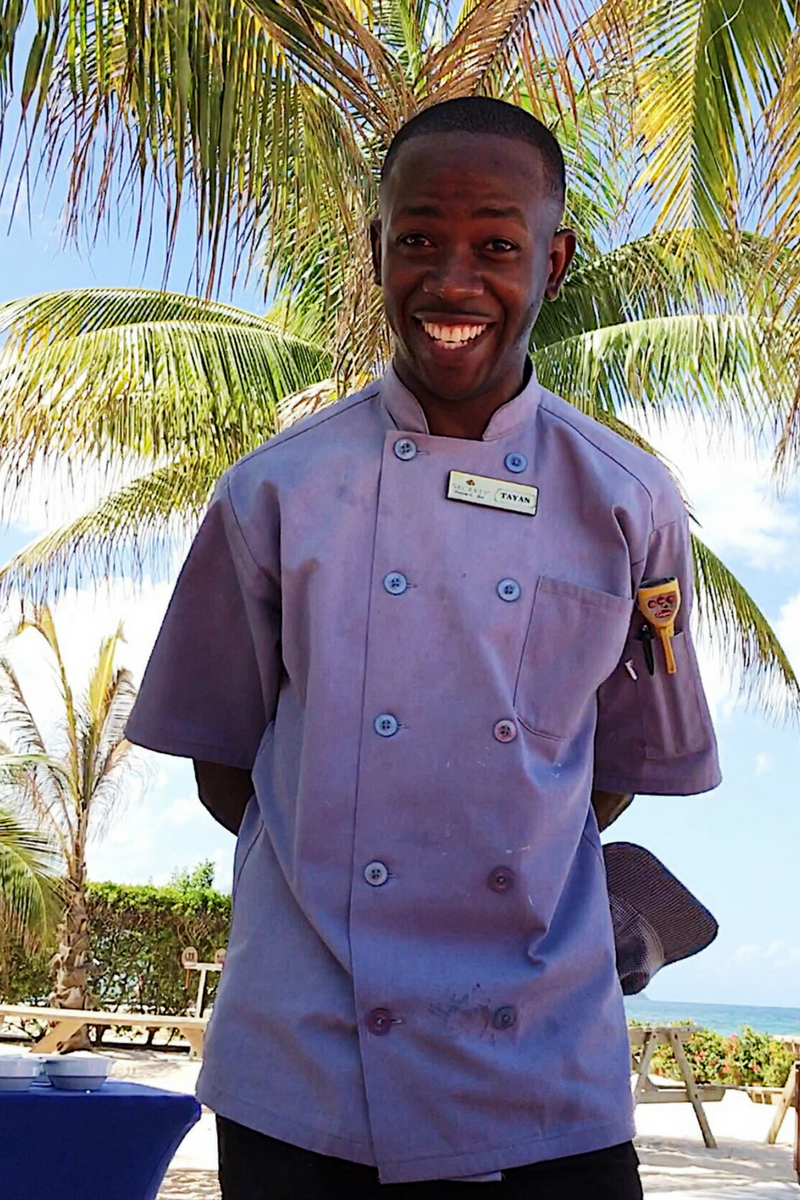 So, what's the secret behind the best Jamaican jerk chicken on the planet?
Authentic jerk chicken is always marinated overnight to give it the most intense flavor. Jamaicans say, "Season to the bone", meaning if you ate it all the way to the bone, you should taste the same flavor all the way through.
If you look on the internet you can find hundreds of Jerk recipes to choose from. But in my opinion, if you want the real deal, you have to go to the source in which it was created.
The method of jerk has an interesting history. Dating back to the original inhabitants of the island, the Carib-Arawak Indians would capture an animal, clean, gut, and jerk the meat with a sharp object to create holes.
They then stuffed the holes with a variety of spices. These holes would allow heat to escape without losing the moisture in the meat. Finally, they placed the carcass in a deep pit lined with stones and covered it with green wood.
Once a fire was ignited, the smoke would permeate the meat and give it a smoked flavor. This age-old cultural tradition of cooking meat is how jerk chicken came to be.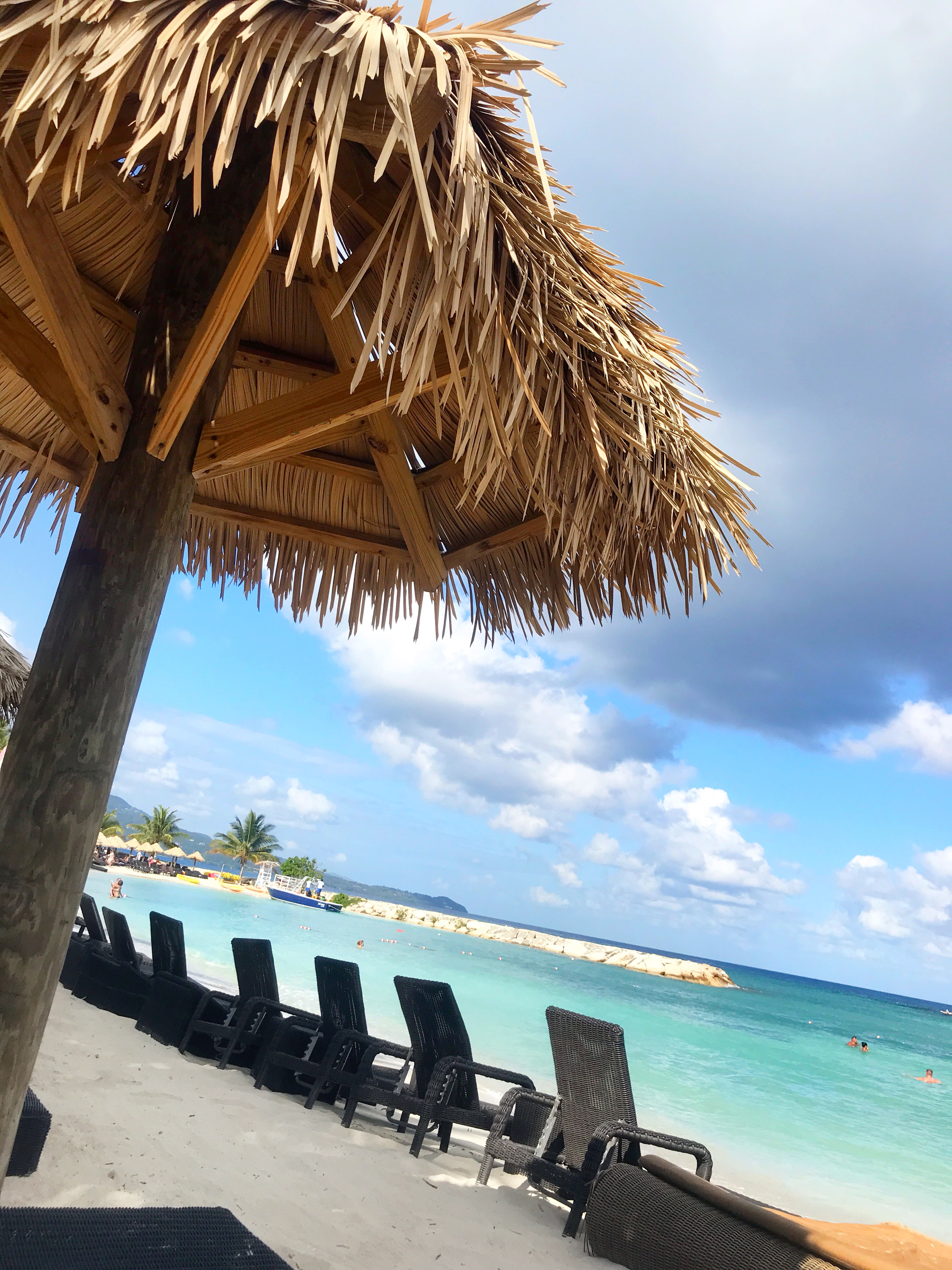 If you haven't tried jerk chicken before, the good news is you don't have to go all the way to Jamaica to indulge in the authentic version of this delightful dish. Start marinating your chicken today and by tomorrow, you'll be enjoying a taste of the Caribbean right from your own kitchen.
A quick word of caution though, make sure to only use the green, orange, or red Scotch Bonnett peppers and stay far away from the brown and purple. Trust me, if you think Ghost peppers or California Reapers are hot, you haven't seen anything yet, baby!
As they say in Jamaica, "Mi a gwann easy" or "No worries", just enjoy.
Check out some of my other Jamaican recipes:
I hope you enjoy this recipe! If you've made it please share it with me by tagging @culinary.butterfly on Instagram or @culinarybutterfly on Pinterest, or by using the hashtag #culinarybutterfly on Facebook
Print Recipe
Jamaican Jerk Chicken
Yum
This Jamaican Jerk Chicken recipe is tender, spicy, and authentic.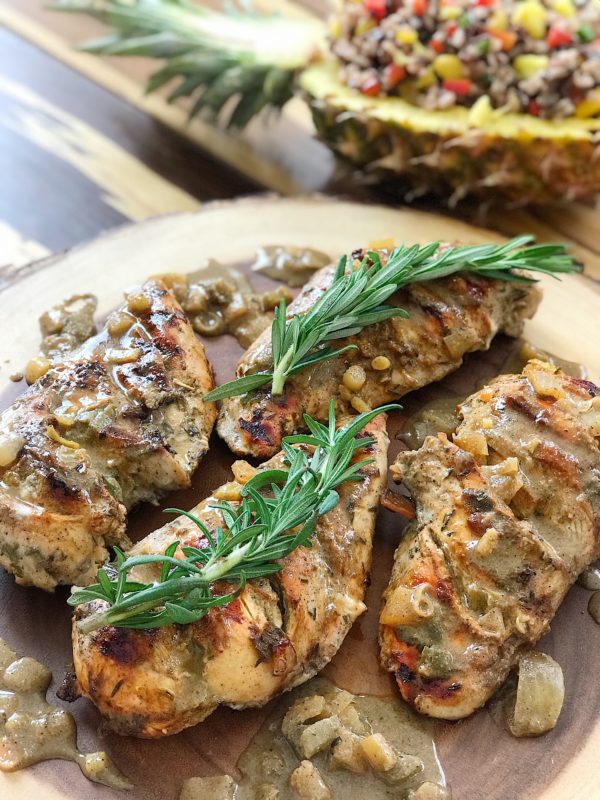 | | |
| --- | --- |
| | |
Prepare your ingredients.

Wash and trim the chicken of fat. Using a sharpie knife, score the meat 3-4 times per breast so the flavors get deep into the meat.

In a large bowl, combine allspice, thyme, cayenne pepper, black pepper, sage, nutmeg, cinnamon, salt garlic, and sugar.

Slowly whisk in oil, soy sauce, vinegar, orange juice, and lime juice until all ingredients are blended.

Add the scotch bonnet pepper and onions. Mix well. (Be careful handling the peppers)

Add the chicken breast. Using a spoon or gloved hands, coat the chicken with sauce. Cover bowl and transfer to refrigerator. Marinate overnight (minimum 1 hour).

Preheat the grill. Remove chicken from marinade and grill on each side (basting with marinade as it cooks) until the temperature in the thickest part of the meat reaches 165° Fahrenheit inside.

While chicken is cooking, transfer marinade to a medium saucepan and bring to a boil over medium-high heat for 1 minute. Serve on the side as a dipping sauce.
NOTES & IDEAS:
Scotch Bonnet Peppers add a beautiful kick of heat with a fruity punch. However, be sure to wear gloves when cutting them so they do not burn your skin.
You can also use chicken legs, wings, and thighs.
Recipe by Lisa Soldo-Johnson for www.culinarybutterfly.com