My first experience tasting Jamaican Rum was on my last day in Jamaica. They offered it as an optional topping to spoon over deserts, oatmeal, salads, fish and pork, but my favorite way to enjoy this boozie fruit was topped over warm bread pudding and drizzled with plenty of sweet caramel sauce. Rum raisins are a delicious part of Jamaican cuisine you definitely want to try!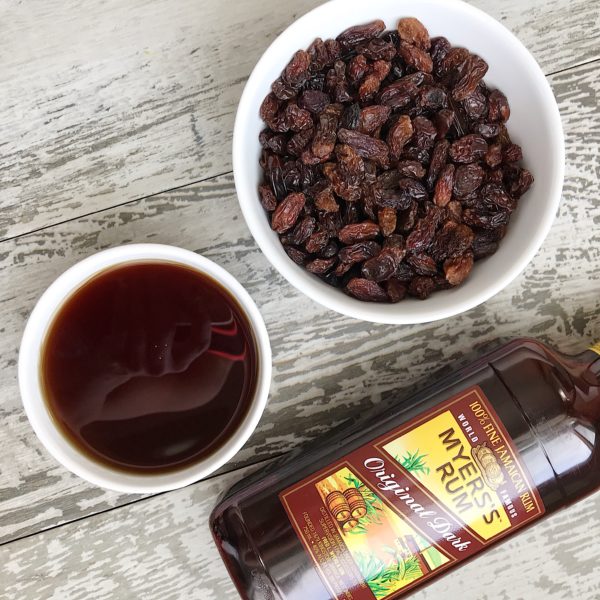 After returning from this beautiful Caribbean country, I learned how simple it is to make rum raisins at home. The raisins quickly soak up the rum so if you are craving a little extra adult fun in your oatmeal cookies, molasses cake, pork roast, baked ham, or a boozie snack, you can make them in as little as one hour.
The beauty of rum raisins is
you
can control the level of rum flavor you prefer in your raisins.  For a subtle rum flavor marinate them for an hour or maybe less depending on your preference.  If you like your raisins to taste like you just had a shot of rum, by all means, leave them soaking for up to one month in the refrigerator. This sassy little fruit is not
rummy enough to make you drunk but delicious enough to make you giddy.
Check out my other Jamaican recipes:
I hope you enjoy this recipe! If you've made it please share it with me by tagging @culinary.butterfly on Instagram or @culinarybutterfly on Pinterest, or by using the hashtag #culinarybutterfly on Facebook
Print Recipe
Jamaican Rum Raisins
Yum
Rum infused raisins are a tasty addition to ice cream, cookies, bread pudding and more.
Place the raisins in a bowl and cover the raisins with the rum. Soak for 1 hour.

Drain the rum and refrigerate the raisins in a container for a milder flavor, or transfer the rum and raisins together to a container or jar and refrigerate for up to 1 month for stronger raisins.
Suggestions:
The longer the raisins marinate the stronger they will become.
Strain raisins and return to container, cover and refrigerate for up to 1 month.