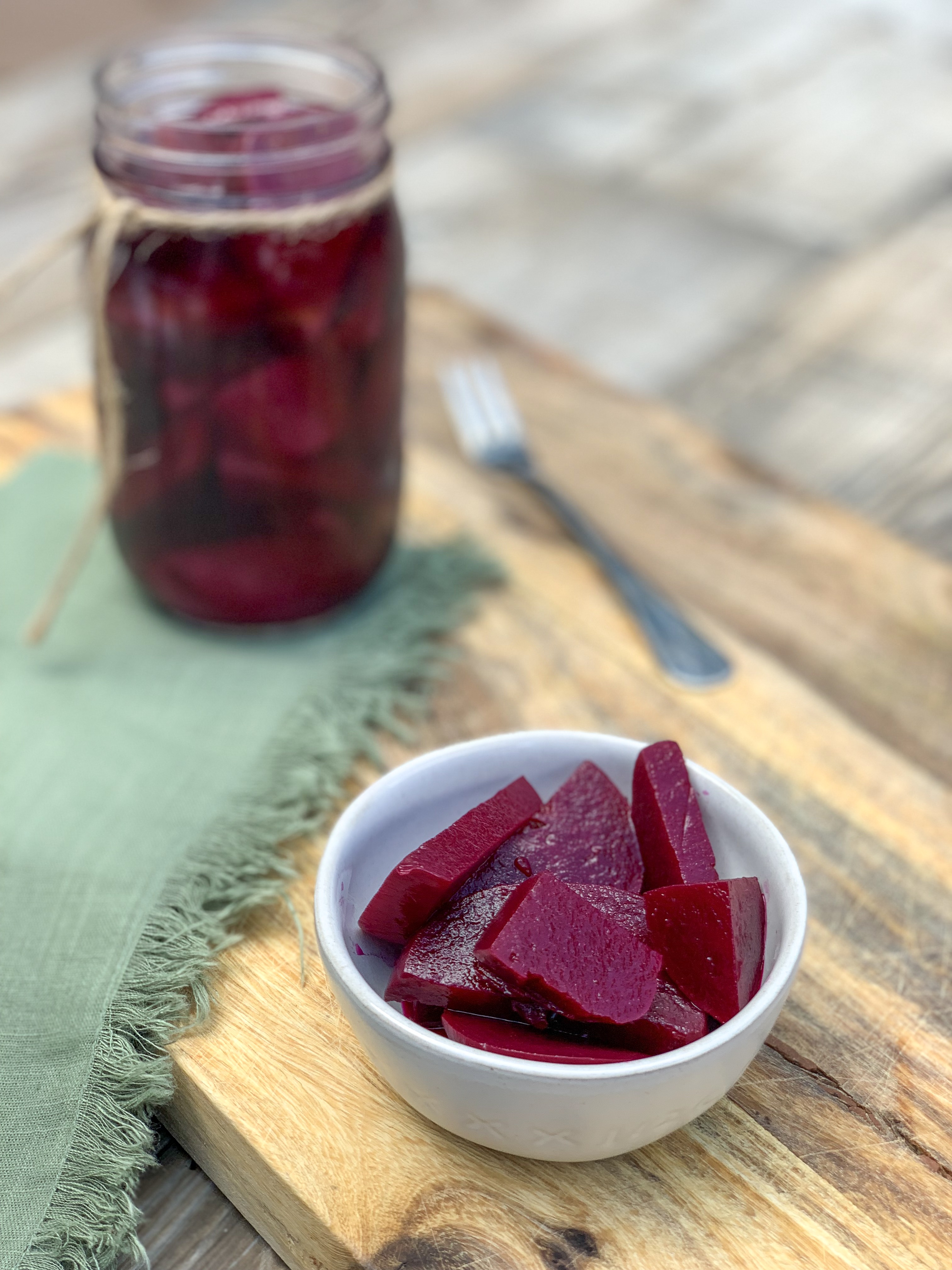 Growing up, I watched my Grandmother water-bath can
pickled
beets and fill her basement pantry with jars from her abundant harvest. Though I didn't like beets at that time, I have discovered a new-found love for them now. What I love most about grams
beet
recipe are the unique spices she used to create the warm comforting flavors of fall and winter.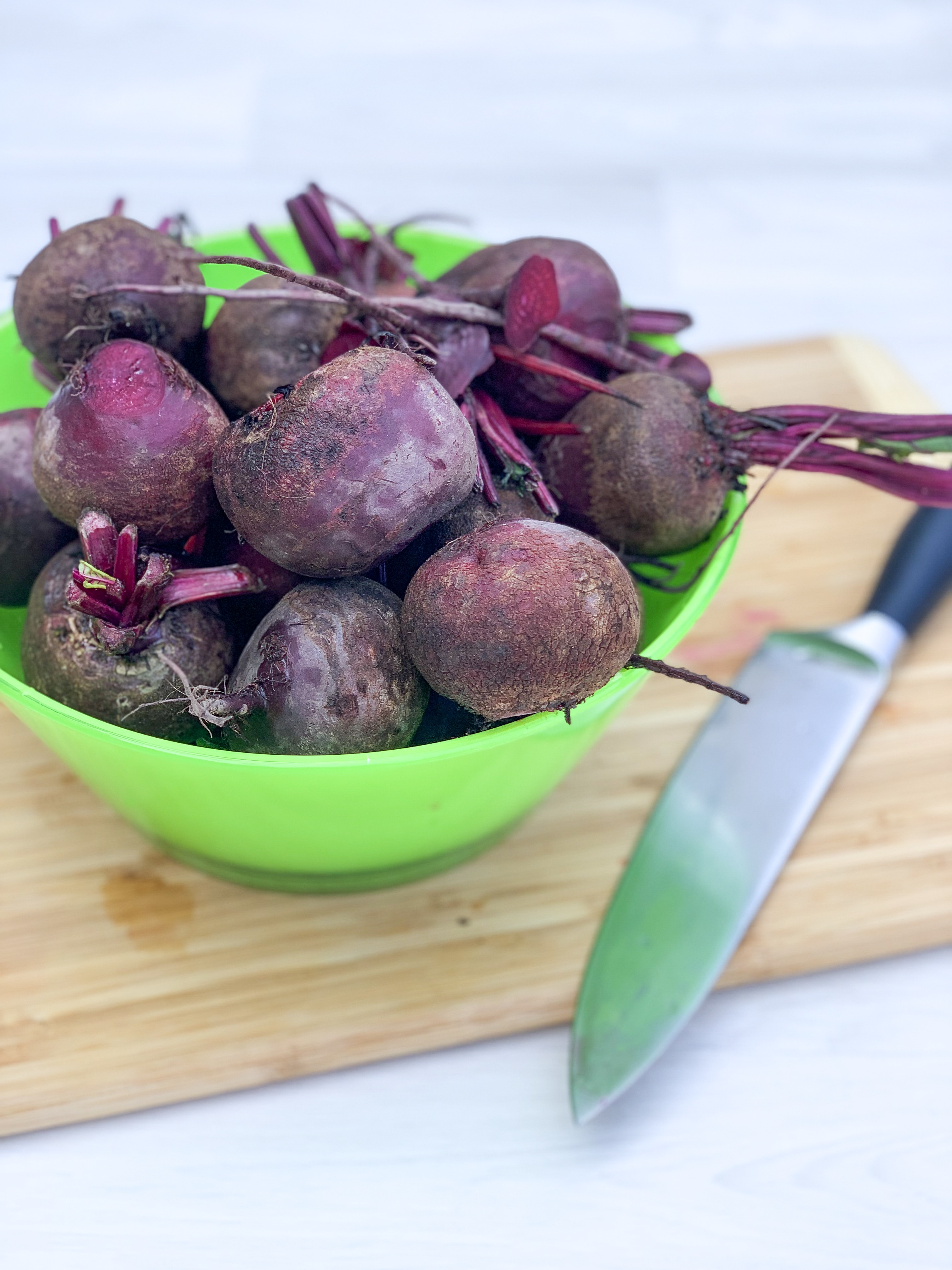 At my house, we are blessed to enjoy three meals a day plus a few snacks in between on occasion.  My  Grandmother had a different way of doing food.  As a farm family, she served breakfast, brunch, lunch, supper, dinner, dessert, early night snack, and if you were up late - late night snack.  During most meals, you could almost always find a bowl of sliced pickled beets on the table.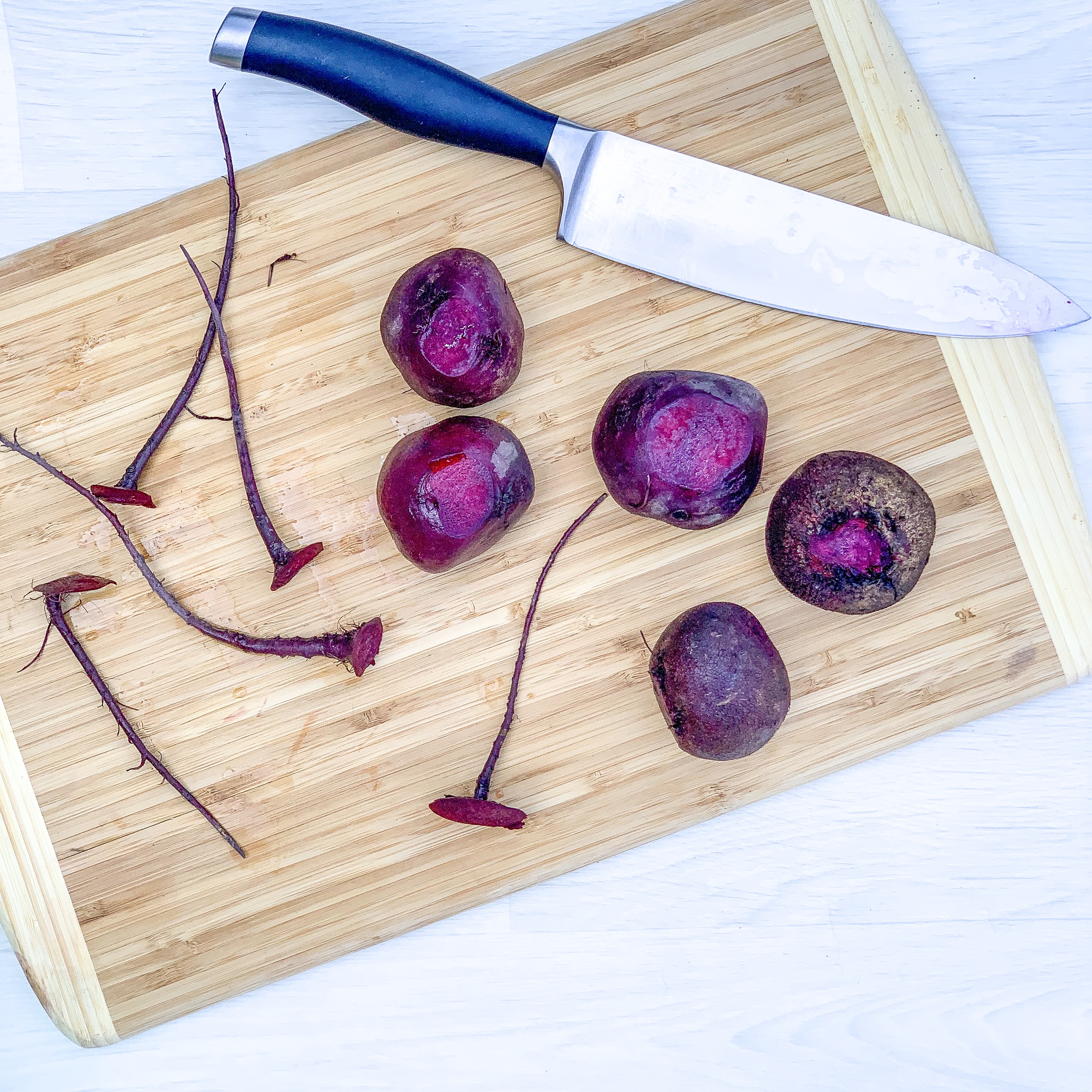 Sadly, though I still make Grandma Bertha's old-fashioned beet recipe, eating them daily is not a tradition I carried on in my family. Instead, I like to incorporate her pickled beets chopped over salads, sliced thin as a topping on sandwiches or burgers, serve with warm goat cheese for an enticing starter, and enjoyed as a side with meals. They add just the right touch of big flavor without becoming the focus of the dish.  These pickled beets would be a delicious addition to my Indian Curry Chickpeas and Spinach Salad and as a side to my Sweet Orange Salmon.  But you don't have to prepare a meal to enjoy this health-packed Super-food whenever the craving calls.  Grab a fork and dig in; it's hard to resist eating them right out of the jar!
I hope you enjoy this recipe! If you've made it please share it with me by tagging @culinarybutterfly on Pinterest.
Print Recipe
Old-Fashioned Pickled Beets
Yum
Easy to make Old-Fashioned Pickled Beets marinated in vinegar and spices to create a delicious side or condiment for sandwiches, burgers, salads and more.
| | |
| --- | --- |
| | |
If you are canning the beets for long-term storage, fill a large pot with a few canning jars and water just above the jars. Bring to a rolling boil for 5 minutes. Remove jars from water and set aside. If you are refrigerating the beets, skip this step.

Rinse the beets and trim tips of the beets on both ends. Place the beets in a large pot, cover the beets with water and cover. Bring to a boil on high heat, reduce the heat to medium-low and simmer 30 minutes or until tender when pierced with a fork. Strain hot water from the pot and fill the pot with cold water and ice over the beets.

While the beets are cooling, combine the vinegar, sugar, cloves, allspice, and salt into the same pot. Bring to a boil for 5 minutes.

Once cooled to the touch, rub the skin off of the beets under running water before slicing into 1/4-inch rounds. Place the beets into the jars, leaving a 1/2-inch space at the top for the liquid. Ladle the liquid into the jars, leaving 1/4-inch headspace on the top. Use a cloth to wipe the rims of the jars. Place a flat ring and lid on each jar. Finger tighten and place back into the water bath.

Bring to a boil and process for 5 minutes. Remove jars and let cool.
Note: Beet sizes vary so you may want to double the brine ingredients if you want to ensure enough brine for the number of beets being canned. Discard extra brine not needed for the jars.
Recipe by Bertha Lauer for www.culinarybutterfly.com