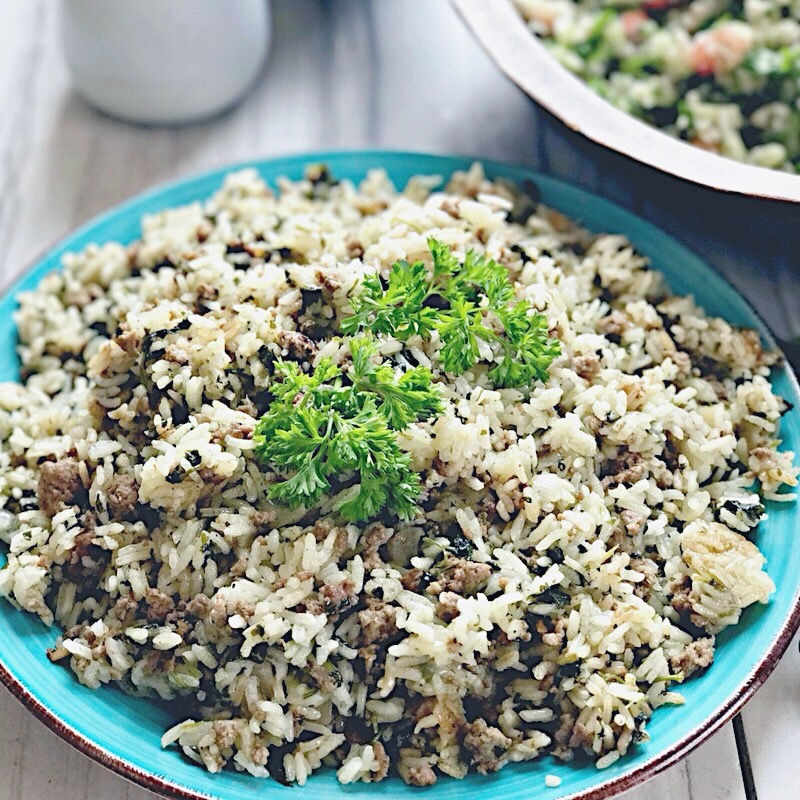 A few years ago, my beautiful friend Vivi taught me to make her tender lamb rice recipe from Israel. It's a simple dish to make and packed full of flavor and taste. Since then, it has been one of my favorite dishes to eat.
The idea of having a close girlfriend who only lives two doors away and also loves to cook is priceless! One of our favorite things to do, especially in the winter months of Minnesota, is to get together with our families and cook a great big meal.
This is how I learned to cook Israeli food. I can honestly say that there is nothing but goodness simmering between ingredients when it comes to food from this ancient culture.
This lamb rice recipe is an extremely versatile dish, which can be served as a side or a standalone paired with a salad or vegetable.
One of my favorite combinations for an authentic Mediterranean meal is to serve it with a  Tabouli salad and Chicken Shoshi if I want an optional meat as a main course.
One of the things I love most about lamb rice is how delightful it still taste the next day. That is, if you have anything left from the night before. In my house, that's rarely the case since my entire family usually devours the entire dish by the end of the meal.
Give this recipe a go and let me know how you like it. If you are anything like me, it will end up at the top of your "favorites" list the very first time you try it!
Print Recipe
Israeli Lamb Rice Recipe
Yum
Tender lamb rice is packed full of flavor and makes a delicious side dish or stand alone meal paired with a salad or your favorite vegetable.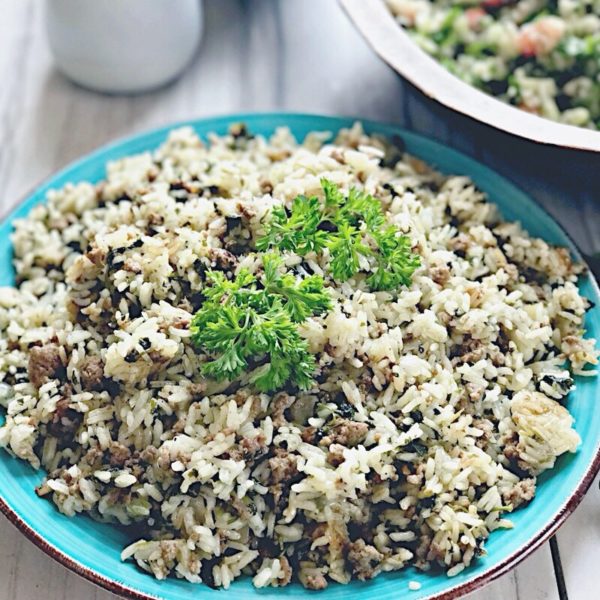 | | |
| --- | --- |
| | |
Wash rice and add to medium heat-proof bowl. Cover with boiling water and let soak for 30 minutes.

In medium pan sauté onions in 3 tablespoons oil over medium heat for 5 minutes or until translucent.

In a separate sauté pan, brown lamb in remaining 3 tablespoons canola oil over medium heat.

Stir in bouillon paste, salt, pepper, and cumin.

Add cilantro and sauté 30 seconds.

Stir rice (including the water it was soaking in) into the meat.

Cover and simmer on medium heat for 5 minutes or until most of the liquid is absorbed. Lower heat and simmer for 15 minutes. Remove cover and using a large spoon or spatula pull the bottom rice to the top so the rice cooks evenly. Add 1/2 cup hot water and cover to cook on medium-low for 20 minutes. Remove from heat and serve.
Notes and Ideas!
 Adding water to the meat when sautéing keeps it from drying out when cooking.
Before adding rice to the meat, add 1/2 cup water if the liquid has cooked out and the meat looks dry.
Recipe by Vivi Mizrahi for www.culinarybutterfly.com