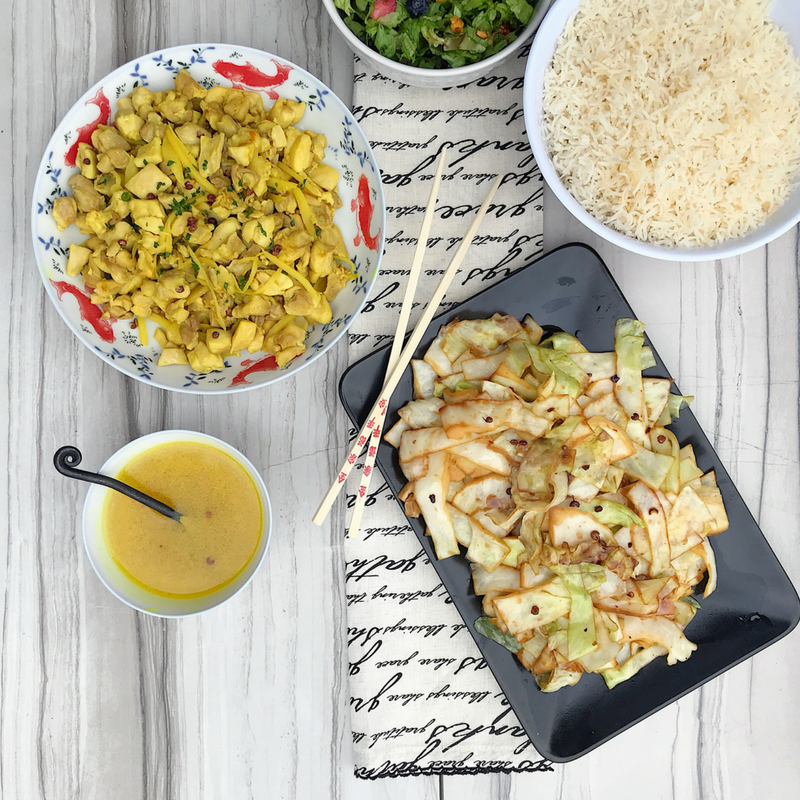 Every once in a while I come across a recipe that I will make over and over again.  This is that recipe thanks to my friend Rachel, who taught me to make this delightful dish in under 30 minutes from the heart of her very own kitchen.
Born in Sichuan China where food is typically spicy, Rachel prefers to incorporate her own style of subtlety into her recipes. From authentic Chinese cooking to her eclectic creations, everything Rachel cooks is a foodie's dream meal. Maybe that's why I look forward to dinner at Rachel's house. It's a palatal experience that feels like a gift given to the eater.
The ingredients used in this recipe are some of my favorites - and best of all, they are packed with healthy goodness. From immune-boosting ginger and turmeric, to nutritionally-rich cabbage, and peppercorns packed with antioxidants, this is a meal made for good health.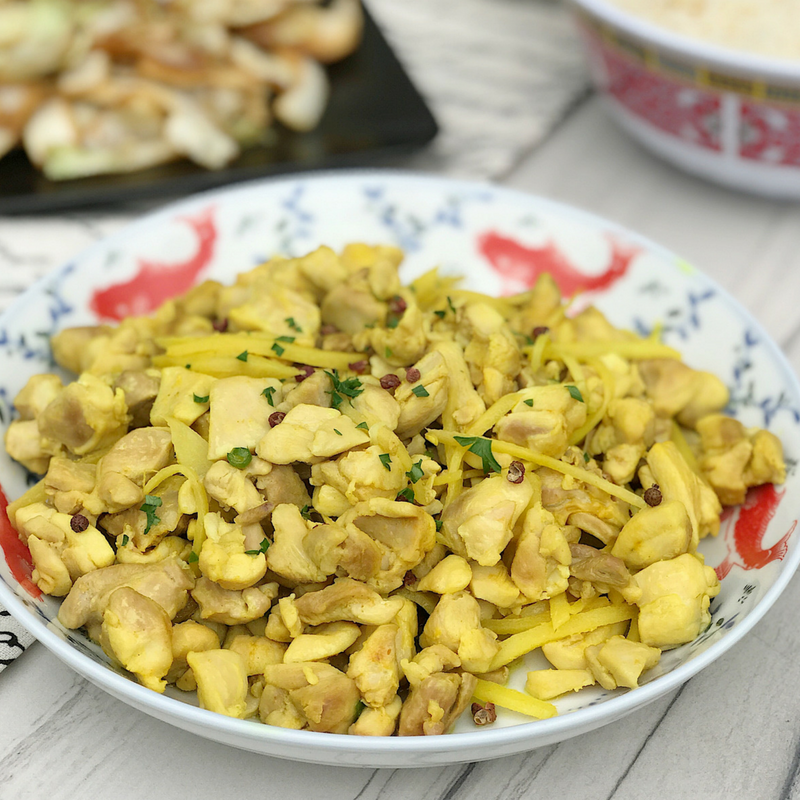 The key to success with this recipe is using dark meat. Chicken thighs keep the dish moist and tender because of the higher fat content in the flesh. I made the recipe for dinner one evening using chicken breast meat I had on hand and the difference in flavor and texture was significant.
The white meat dries out faster and does not create the liquid needed to keep it moist and juicy. Fair warning, if you are not a huge fan of spicy flavors, be sure to remove the seeds (wearing gloves) and use the chili peppers sparingly.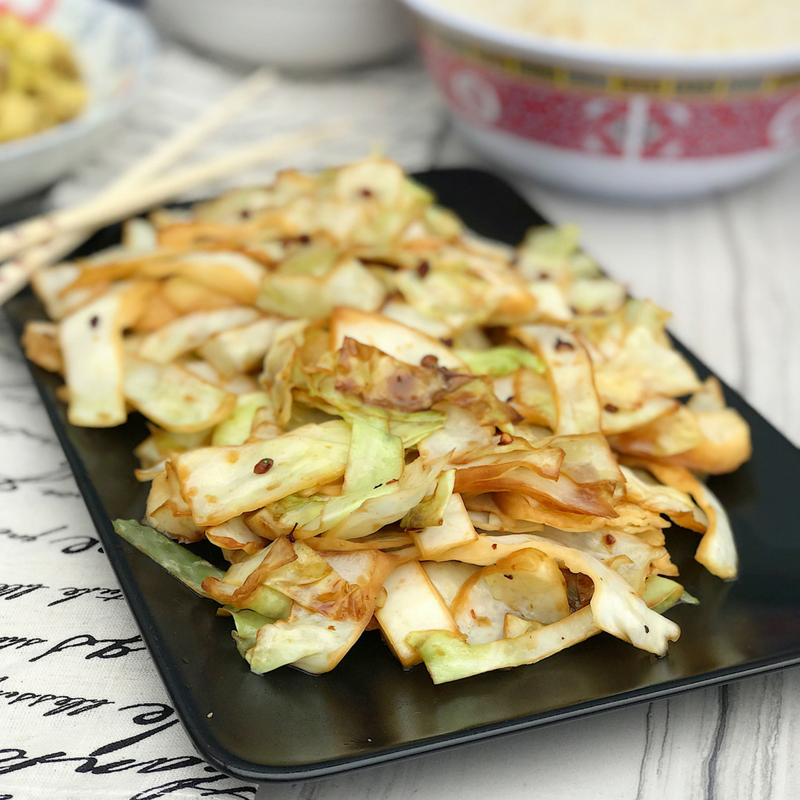 Although Rachel's recipe suggests using two peppers, I use only one pepper when I make this dish since Thai chili peppers can pack quite a punch. Feel free to add the second pepper if you you like it hot, and include the seeds if you really like a burst of heat, but I suggest starting out slow. Like all of Rachel's recipes, this one is simple, healthy, and delightfully delicious!
I hope you enjoy this recipe! If you've made it please share it with me by tagging @culinarybutterfly on Pinterest.
Print Recipe
Ginger Chicken Recipe with Spicy Steamed Cabbage
Yum
Quick and easy tender, juicy chicken sautéed in fresh ginger and spicy Thai chilis. Serve it with spicy sautéed cabbage and steamed rice for the perfect Chinese meal.
Prepare all ingredients before cooking. Wash and chop the chicken thighs into 1/2 inch cubes.

Preheat the pan on high heat for 30 seconds. Add olive oil, ginger, and chicken, sauté 2 minutes and reduce heat to medium.

Sprinkle in the turmeric, stevia, 1/2 teaspoon salt, and Thai chili pepper, stirring to combine. Cover and cook on medium-low for 15 minutes.

Stir in the fish sauce, remaining 1/2 teaspoon salt, and Sichuan peppercorn. Increase heat to high, sauté for 1 minute. Transfer to a bowl and serve with rice.
Peel off and discard the outer layer of cabbage leaves. Slice and chop cabbage into 2-inch pieces. Set aside.

Preheat skillet for 1 minutes on high. Add oil, peppercorn, dried chili pepper, and cabbage. Sauté together for 3 minutes to coat cabbage with oil and infuse flavors.

Add salt, soy sauce, and sugar. Toss together until cabbage is evenly coated. Add 1/8 cup water, cover, and steam 2 minutes or until cabbage is slightly soft but still crunchy.

Remove from heat and transfer to a plate or bowl. Serve hot.
Ideas and Suggestions!
Dark meat is needed for this recipe since it hold's it juice. Using white meat will dry out faster and not create liquid during the cooking process.
If you don't have Sichuan peppercorn, you can substitute it with regular peppercorn. It will have a slightly different taste but will still be delicious.
Omit the dried chili pepper if you like it without spice. Use only 1 for mild heat or 2 for spicy.
Suggestion:
If you want to increase the flavor of this dish, cook on low for 10 minutes more. Because it is dark meat you can cook it longer and it will increase the over all flavor of the dish. Increase the high heat, uncover and continue to cook until the sauce thickens a bit more. This leaves all of the flavor on the meat and not wasted in the liquid.
In Chinese cooking, we like to keep all of the flavors in the food itself and not in the excess liquid.
Recipe by Rachel Huang for www.culinarybutterfly.com