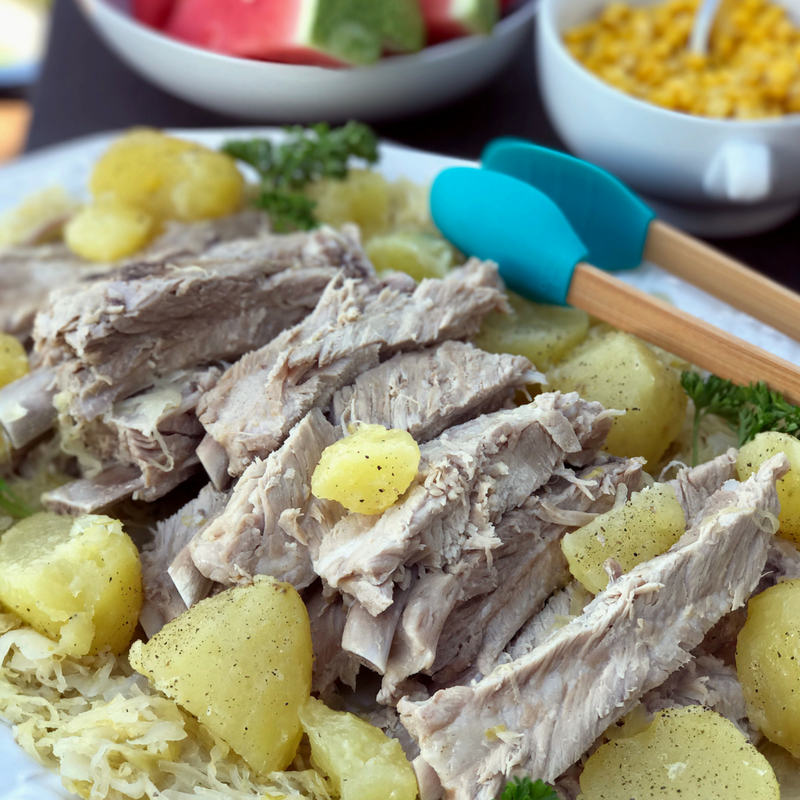 German Sauerkraut and Spareribs is a recipe I grew up eating at my mother's kitchen table. Slowly boiled pork spare ribs simmered in water and sauerkraut is an easy to make classic dish served in many German homes both in the United States and in Europe.
Serve it with boiled potatoes tossed in melted butter, salt and pepper, corn, and a slice of buttered white bread packed with the extra sauerkraut, (Sauerkraut Sandwich), and you'll have yourself an authentic German dining experience in a little over an hour.
My mom grew up during the Great Depression where food was scarce, and nothing wasted. Making dishes like Sauerkraut and Spareribs for a large family was a staple meal in her home since this dish requires only a few ingredients and there's not a lot of fuss in making it.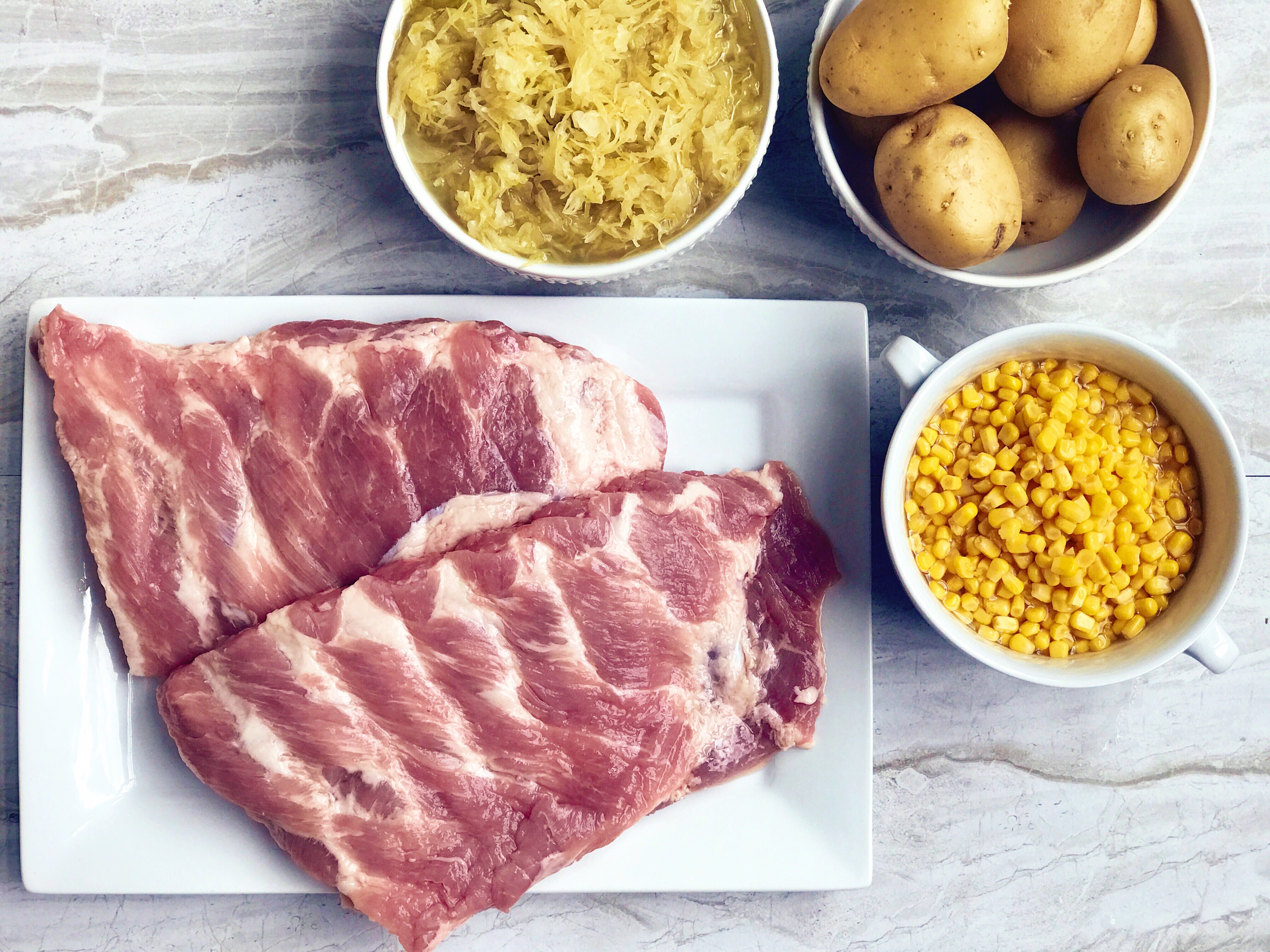 It's funny how childhood recipes can become a favorite, even after decades of learning to make foods from around the world. Familiar comfort food from times past feels like coming home again. Through foods and smells, our brains have the incredible capacity to remember the finest details of the past. To me, there is no better way to remember times gone by than a dinner that Mom used to make.
Often, recipes change and evolve with each generation, even the good ones. The change I made with this recipe was simple but important. My mother used canned sauerkraut in her recipe. You know, the kind with a long shelf life? Since they pack those brands with toxic, undesirable preservative and ingredients, I use organic raw sauerkraut by The Brinery or Bubbies.
The fermenting process of raw sauerkraut creates lactic acid and live probiotics, rather than those made with vinegar and other ingredients like many canned krauts are. The taste is tart and crunchy - perfect for Sauerkraut and Spareribs. Enjoy! As the old saying goes, "You don't need a silver fork to eat good food."  - Paul Prudhomme
I hope you enjoy this recipe! If you've made it please share it with me by tagging @culinarybutterfly on Pinterest.
Print Recipe
German Spareribs and Sauerkraut Recipe
Yum
Tender fall off the bone pork spareribs slowly cooked in a juicy sauerkraut brine. Serve it with boiled potatoes sauteed in butter, salt and pepper, and your favorite vegetable and salad on the side. Just like dinner in Germany.
Prepare ingredients before cooking.

Wash the ribs with cold water and cut the slab in half, placing the meat in a large pot filled with water just above the ribs. Add 1/2 teaspoon salt and bring to a boil on high heat. Reduce the heat and boil on medium for 45 minutes. Turn ribs over at 20 minutes to cook evenly, removing any fats on top of water with a slotted spoon.

After 45 minutes, add sauerkraut to water, reduce heat to medium and continue to cook for an additional 45 minutes.

30 minutes before ribs are done, bring a medium pan with 6 cups of water to a boil over high heat.

While water is heating, peel and halve the potatoes. When the water begins to boil, add the potatoes and remaining 1/2 teaspoon of salt to the water, reduce heat to medium-high and boil for 20 to 25 minutes or until the potatoes are soft when pierced with a fork.

Drain the potatoes in a colander and transfer back into pan. Place pan on stove, add 2 tablespoons of soft butter, sprinkle with salt and pepper. Allow butter to melt and gently stir potatoes in butter to coat. Remove from heat, set aside, and cover to keep warm.

When the spareribs are done, carefully remove each slab from the water and place in a colander to drain excess liquid. Transfer to cutting board and using a sharp knife, separating the ribs into individual pieces.

Carefully pour the sauerkraut from the pot into colander to drain out excess liquid. Transfer sauerkraut to a serving platter by spooning around the perimeter of platter. Place ribs in the middle of the platter.

Remove potatoes from pan and distribute around the ribs.

Serve with corn and a green salad.
This meal is traditionally served with a fresh green salad and buttered bread.
A favorite bonus with this meal is to create a sauerkraut sandwich by buttering a piece of white bread, folding in half, and filling it with sauerkraut for a delicious sauerkraut sandwich.
Choose ribs that are pinkish-red in color with some marbling in the meat.
Choose ribs with plenty of visual fat on the meat for tenderness and flavor.
The longer pork ribs cook the more tender the meat will be. Use a fork to test the tenderness of the meat. Continue to allow it to slow cook up to an extra 30 minutes if the meat is not tender enough.
Raw organic sauerkraut is best since it does not have the preservatives or nitrates found in other bottled sauerkraut.
Recipe by Lorraine Soldo for www.culinarybutterfly.com