When I think of American fare, chicken legs make the top 10 list of foods typically found on an American dinner table. At least, that was the case when I was growing up. My mother used to make the tastiest fried chicken legs on the planet. Crunchy on the outside, tender and juicy on the inside. The only problem – I hated the idea of eating the skin. I would nibble off all of the crunches, tear off the skin, and devour the juicy meat around the bone. That's a whole lot of work just to enjoy one little chicken leg.
Now that I cook for my own family, chicken legs didn't make the cut in my repertoire of recipes – until I learned new cooking techniques that make these little gems worth eating again. The best part for me is they have no skin! Chicken Shoshi is a recipe that comes straight from Israel and taught to me by my super sweet friend, Vivi, who has mastered the art of mouth-watering chicken legs.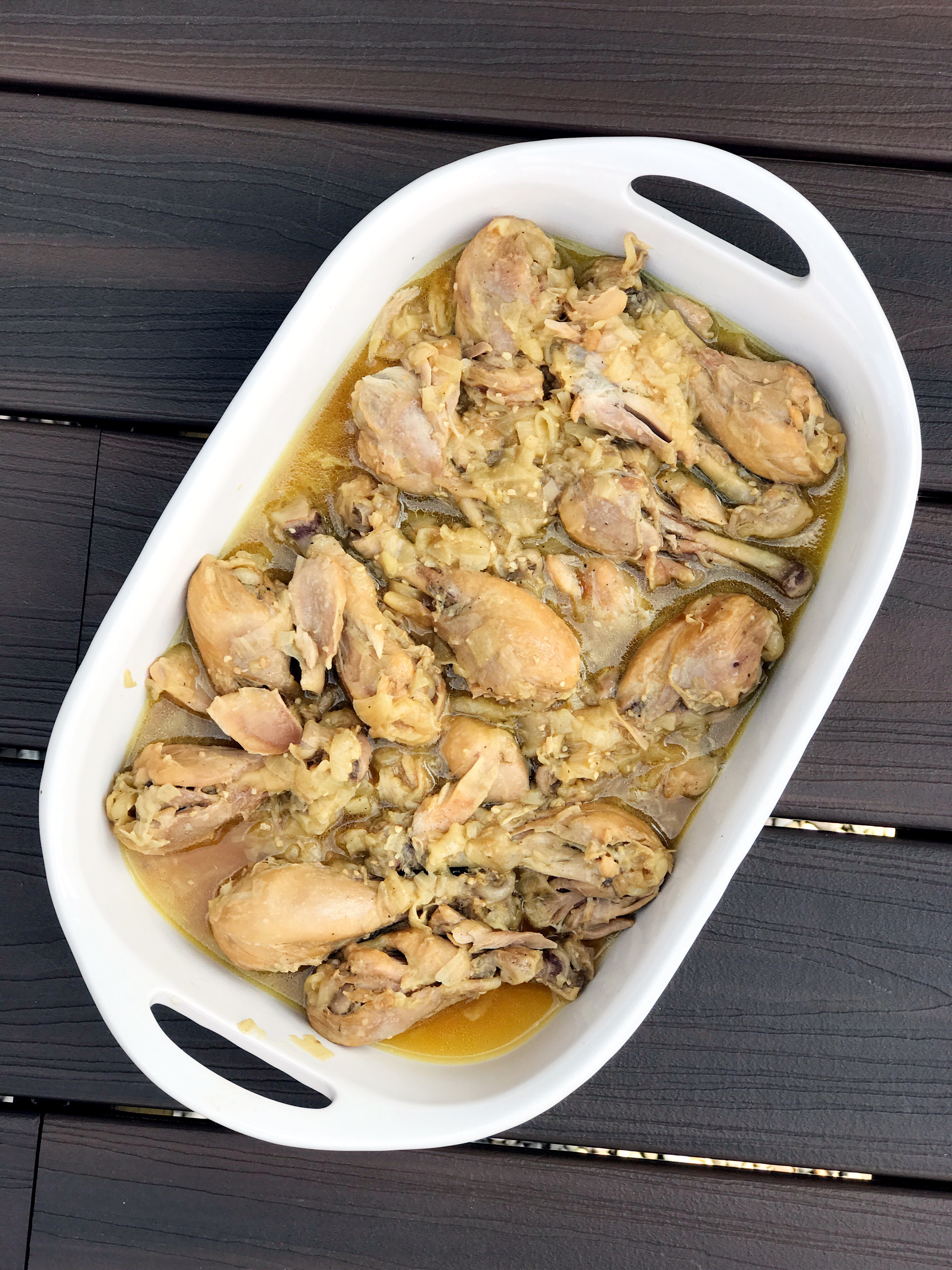 The beauty of this recipe, as Vivi says, it's practically a "no fail." It only takes a few simple ingredients and about an hour and a half of cook time on the stove top. The results are perfectly tender, bursting with flavor, fall-off-the-bone chicken legs that your family will absolutely adore.
I've written this recipe to serve five people, allowing two chicken legs per serving. But if you have big eaters, you will definitely want to make extra. Believe me, it's really that good! You can adjust the ingredients on the recipe below for extra servings. The recipe will automatically change to your needed measurements. Pretty slick – I know. OK, give Chicken Shoshi a try and please post your comments below. I can't wait to hear your results!
I hope you enjoy this recipe! If you've made it please share it with me by tagging @culinary.butterfly on Instagram or @culinarybutterfly on Pinterest, or by using the hashtag #culinarybutterfly on Facebook
Print Recipe
Chicken Shoshi
Yum
Chicken legs so flavorful and tender that the meat practically falls off the bone. We call it the "No fail" recipe because it's so easy to make. This just may be one of your very favorite chicken recipes!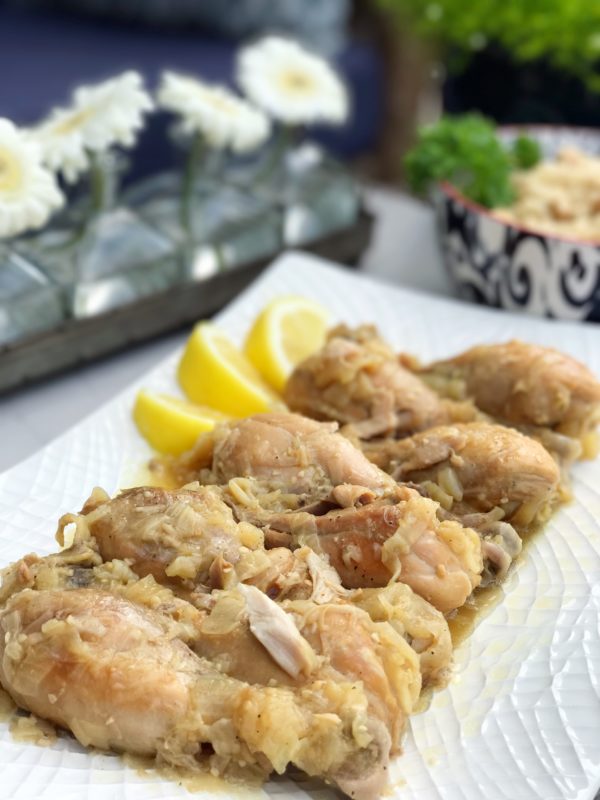 | | |
| --- | --- |
| | |
Remove skin from chicken legs and set aside.

Heat pan on high heat before adding oil. Reduce heat to medium. Add onions and garlic. Saute over medium heat 5 minutes or until slightly translucent.

Lay chicken legs on top of onions in a single layer. Pour 1/2 cup boiling water over chicken and simmer 4-5 minutes or until meat begins to turn brown. Turn over and continue to simmer until slightly browned.

Add an additional 1/4 cup boiling water. Sprinkle chicken with salt and pepper. Add chicken bouillon paste and stir into chicken and onions until combined.

Add enough boiling water to almost cover chicken legs. Cover and simmer for 15 minutes.

Remove cover. Stir chicken and onions to prevent from sticking to the bottom of the pan. Cover and continue to cook for 1 hour and 15 minutes, stirring occasionally to prevent sticking. Add boiling water as needed every 20 minutes until chicken is done, making sure the liquid does not evaporate while cooking.

Transfer chicken to a serving plate. Pour onions and juice over chicken and serve hot.
Recipe Notes:
The onions on the bottom of the pan help to prevent chicken from burning. Feel free to add more onions if desired.
Be sure to stir and turn chicken occasionally as it cooks to prevent chicken from burning.
Recipe by Vivi Mizrahi for www.culinarybutterfly.com