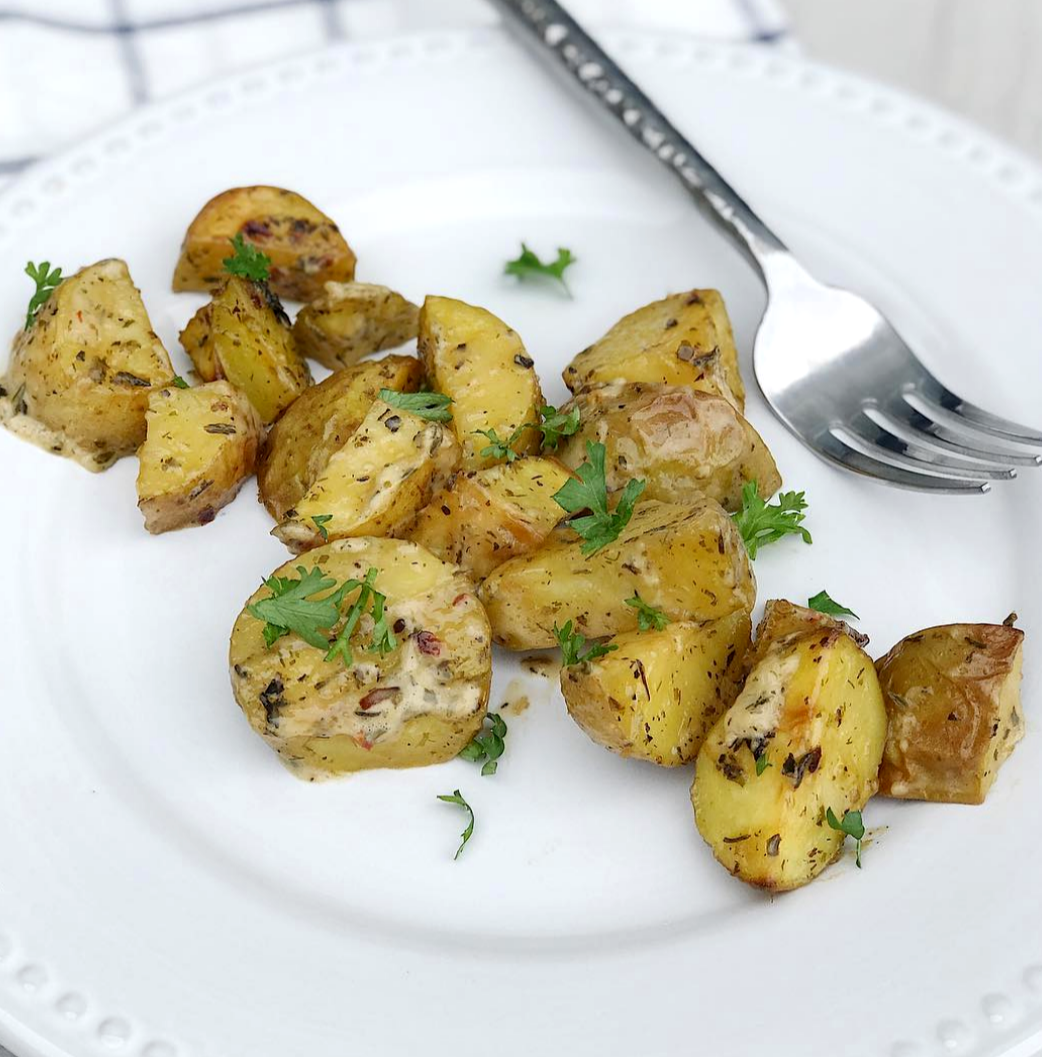 Caesar Tossed Roasted Herb Potatoes is a recipe I created after learning to make the most delicious caesar dressing recipe given to me from my friend Laurie who is the owner of the organic cafe  Basimo Beach Café. located in Belair Beach Florida. The dressing is so hard to stop eating that I just had to try it on something other than salad.
Though rosemary and garlic are a delightful combination of flavors for roasted potatoes, feel free to use any combination of herbs and spices that appeal to your palate.  Parsley, thyme, basil, dill and paprika combined with Himalayan sea salt pair perfectly with roasted potatoes.  It's the caesar dressing the creates the real magic in this dish.  Finally, sprinkling the tops with fresh cilantro adds an extra dusting of flavor that enhances the dish quite nicely.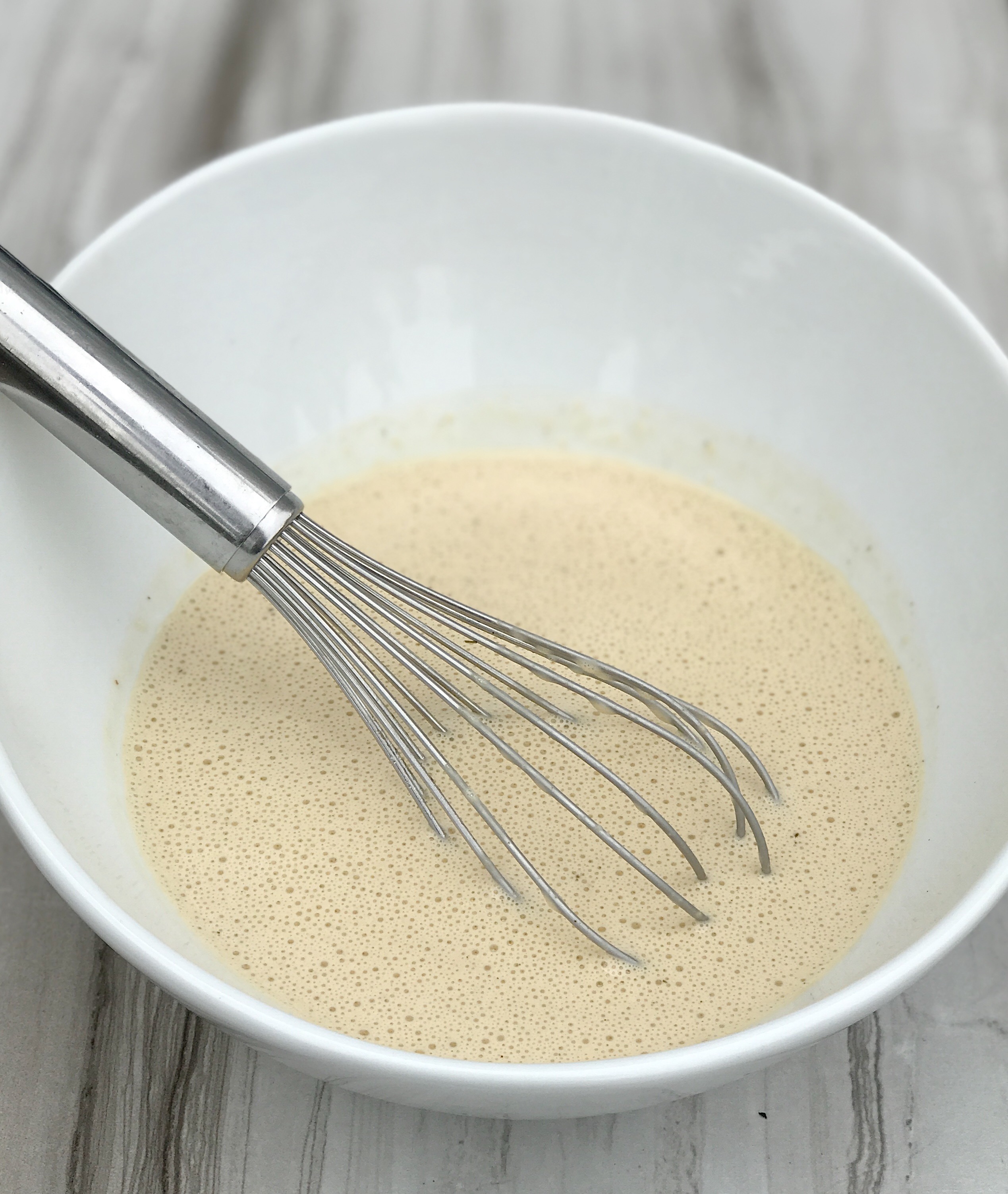 With the holidays just around the corner this recipe is at the top of my list for sides to serve at my Thanksgiving and Christmas dinner table.   This dish would be a delightful side to serve with Israeli Lamb Kabobs, Lemon Butter Chicken, Lemon Garlic Salmon or your favorite meal. Keep this recipe handy because there's a good chance your guests may be asking you for a copy.  It's really that good! Enjoy.
Print Recipe
Caesar Tossed Roasted Herb Potatoes
Yum
Caesar Tossed Roasted Herbed Potatoes is a deliciously creamy gluten-free, dairy-free dish that makes a perfect side for meats, fish, and poultry. Serve it hot or cold.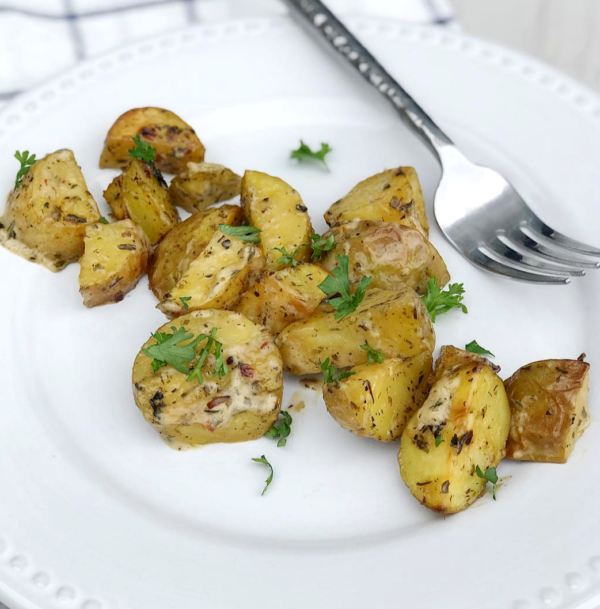 | | |
| --- | --- |
| | |
Preheat oven to 400° Fahrenheit.

In a medium bowl, toss potatoes, garlic, rosemary, salt, pepper and olive oil until evenly coated.

Lay potatoes in a single layer on a large baking sheet, transfer to oven and bake 40-50 minutes or until soft when pierced with a fork.

Remove from oven, set aside to cool 5-minutes before adding dressing.
In a small bowl, whisk together lemon juice, lime juice, garlic, Worcestershire sauce, balsamic vinegar, dijon mustard, dry mustard, salt, and pepper. Whisk in olive oil until blended.

Coddle egg by heating 3 cups of water to boiling. Drop in egg (still in shell) and let stand for 1 minute. Remove egg from water and let cool. Once cooled crack open and whisk egg into dressing. Whisk until thoroughly blended.

Mash the anchovies and whisk them into the dressing, or set aside for garnish.
Transfer potatoes to a bowl. Pour the desired amount of dressing over potatoes and gently toss until coated. Transfer to a serving dish and serve warm.

Transfer remaining dressing to a container and refrigerate for up to one week.
- Potatoes are delicious both hot and cold.
- Use extra dressing as a dip for vegetables and bread, pour over fish, lamb or beef, or spoon it over rice for a delicious side.
Potato recipe by Lisa Soldo-Johnson for www.culinarybutterfly.com
Caesar Dressing recipe by Laurie Kerkinni