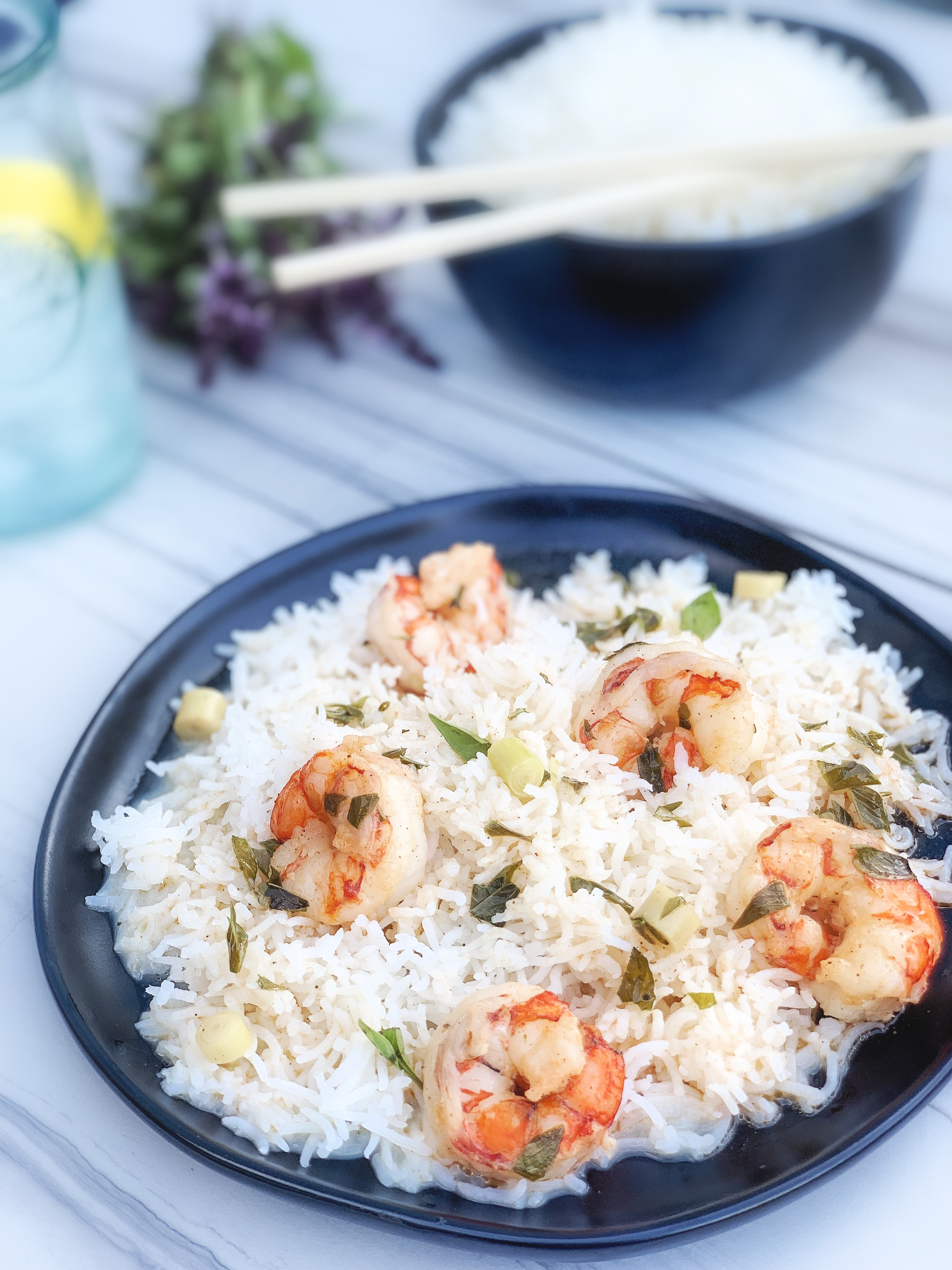 Argentinean Coconut Curry Shrimp with Rice is a gorgeous recipe created by my friend, Laurie, who is officially the first to submit a recipe for my new "Share the Love" feature on the blog. Share the Love is a fun opportunity to submit your favorite recipe creation either on Instagram, Facebook, by email, or the contact form for the chance to be featured on the blog.
I absolutely love a good quick and easy recipe!  Especially when they are super delicious and it makes my entire family happy.  To me, that's the winning combination for a recipe I will make again and again.  That combination is this recipe.  Made with coconut milk, shrimp, fragrant Thai basil, fresh lemongrass, a few spices you most likely have in your pantry, and everybody's favorite... rice.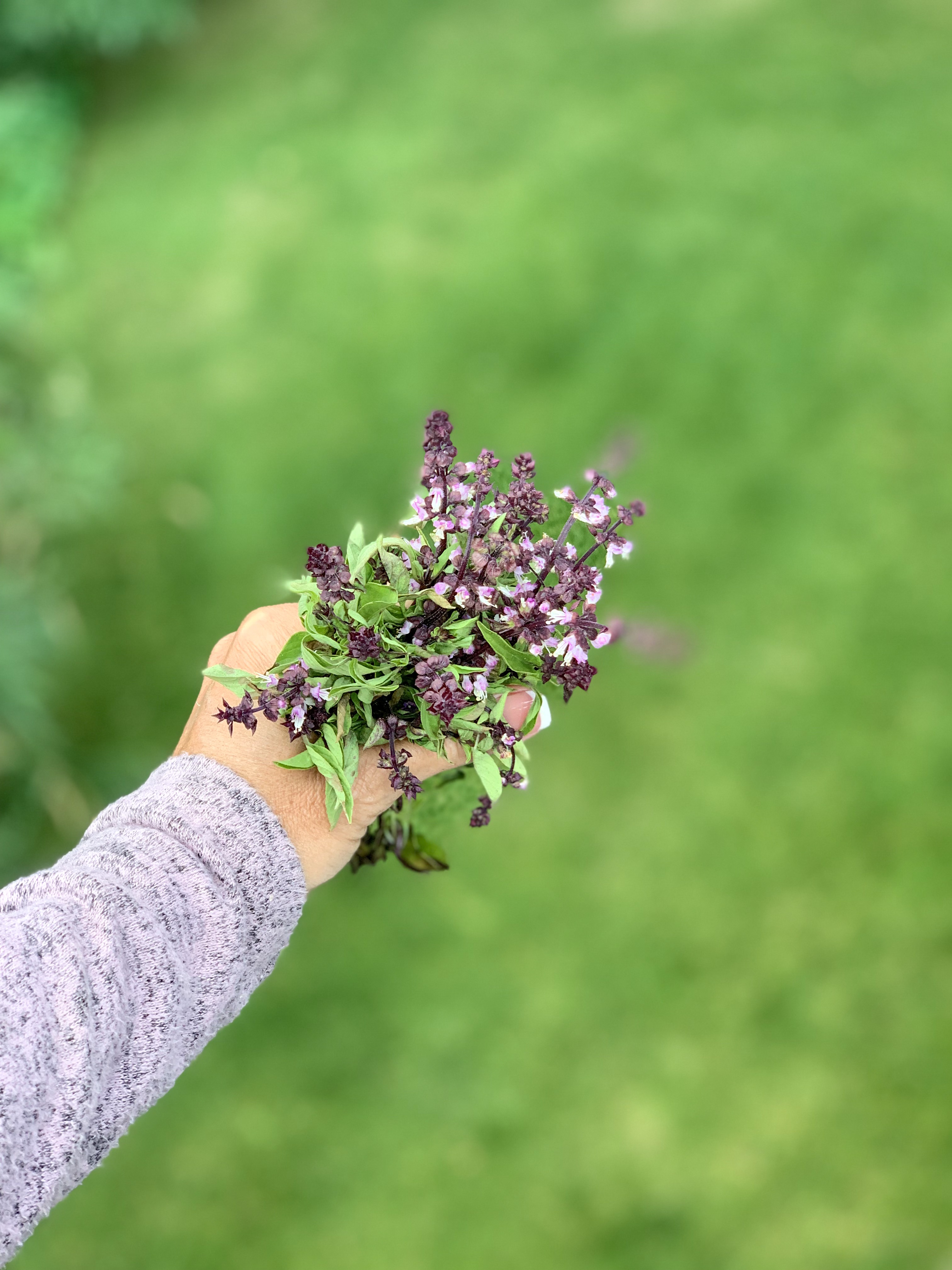 If you have a Trader Joe's near you, (I really hope you do!) you can find all the ingredients in this recipe there other than fresh lemongrass and Thai basil. You can find both at your local Asian market or often in grocery stores. Thai basil can be a seasonal ingredient depending on where you live, but you can substitute it with regular basil if you must, though Thai basil gives the flavor that little something special.
Laurie, who is also a recipe contributor in my new cookbook, It Begins at the Table, is the guru of all things healthy and clean with food.  She recommends using Argentinian shrimp in her recipe, which is only sold at Trader Joe's. The shrimp is plump and meaty and comes frozen, which is perfect when you only want to use a handful in your dish and save the rest for another time.  Take it a step further and serve it with my Crunchy Asian Ginger Salad or Chinese Smashed Cucumbers  for a delicious meal.
I always test out a recipe before I post it and since making it for the first time only two weeks ago, I have already made this recipe three times.  That's when I know it's a keeper!  Thanks for the recipe, Laurie!
I hope you enjoy this recipe! If you've made it please share it with me by tagging @culinarybutterfly on Pinterest.
Print Recipe
Argentinean Coconut Curry Shrimp with Rice
Yum
Argentinean Coconut Curry Shrimp and rice is a quick and easy dish perfect for a light but filling lunch or dinner meal. Made with simple ingredient and ready in under 25 minutes.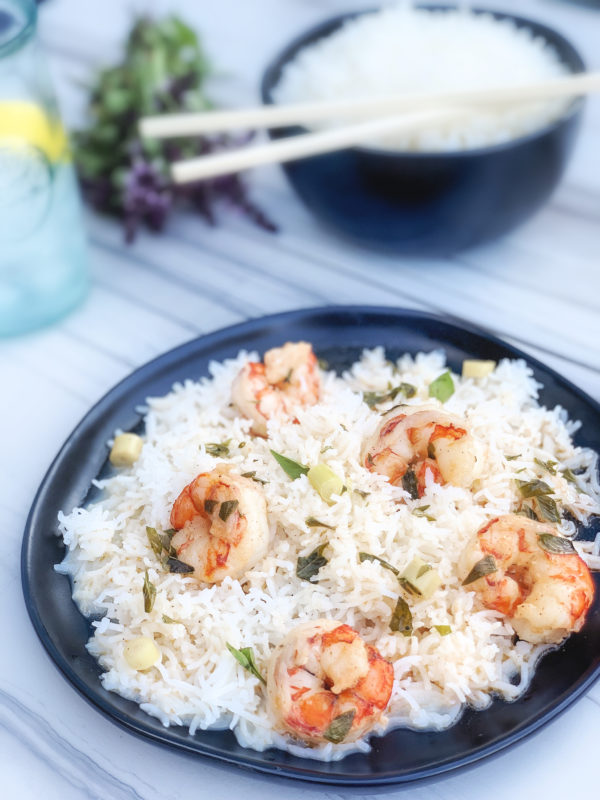 | | |
| --- | --- |
| | |
Prepare the rice first, letting it cook while you prepare the shrimp and sauce.

Heat the coconut milk in a saucepan over medium-low heat.

While milk is warming, bruise lemongrass stalks with the flat part of the knife blade before cutting them into 1-inch pieces. Add the lemongrass to the milk and heat 5 minutes to infuse flavor. Using a mesh strainer, strain the lemongrass from the liquid, discard, and return the milk to the pan.

Add in the shrimp, thai basil, honey, curry powder, cinnamon, garlic powder, and salt to the coconut milk. Increase the heat to medium and simmer an additional 5 minutes or until the shrimp has cooked.

Add the desired amount of rice on to individual plates or bowls, ladle the shrimp and sauce over rice and serve immediately.

Top with fresh ground salt if desired.
You may substitute the shrimp for chicken or beef if desired.
Recipe by Laurie Kerkinni for www.culinarybutterfly.com