Grandma Bertha's Rhubarb Pie is a family favorite passed down for generations in my family.  Bertha was my belly laughing German grandmother whose heart and  home  was filled with an abundance of love for family and friends, including her eight children and eighty-seven grandchildren, counting up to three generations while she was still on this earth.  That's a lot of love to go around, and she loved every one of us with a passion.
My grandmother and grandfather raised their family on a small farm during the Great Depression.  They grew all the food they ate and shared, including an abundance of fruits and vegetables.  Grams was a genius when getting creative in the kitchen.  Nothing wasted, and she turned every ingredient into a dish that got rave reviews from anyone who gathered at her table.
If you are lucky enough to have a rhubarb patch growing in your yard, you know how hardy and abundant this plant can be.  Bertha grew a massive amount of rhubarb and each year, she would spend the summer baking, canning, and stewing this tart vegetable (yes, it's not a fruit) into something wonderful.  Her rhubarb pie was my favorite and I can hardly wait until the summer harvest to fill my freezer with this irresistible baked dessert.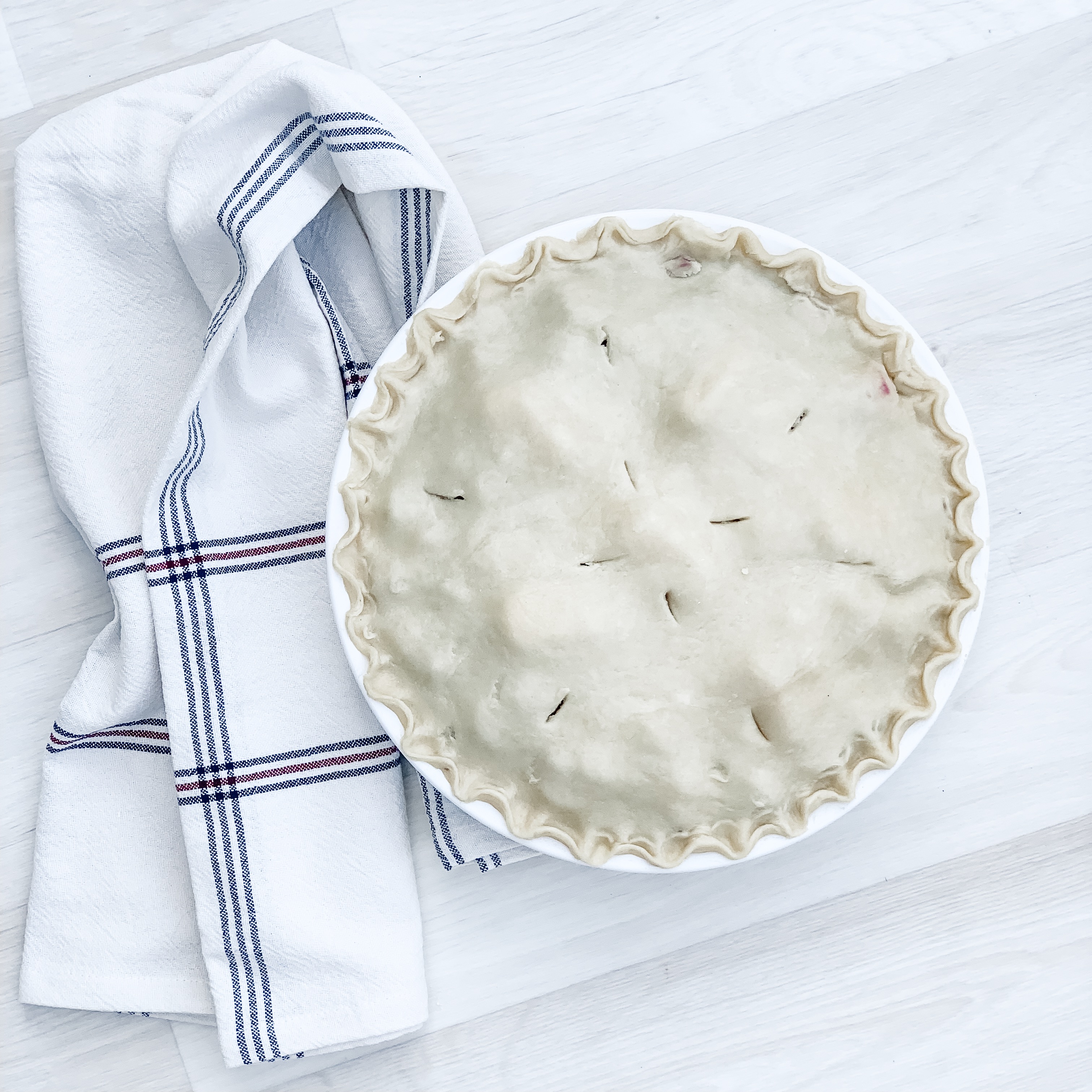 Like long-held traditions, recipes change from generation to generation, creating a new interpretation of the original. Sometimes it's improved, sometimes not.  I will admit, since gaining a broader understanding of ingredients including which to avoid and which to embrace,  I have made some adjustments to my grandmother's Rhubarb pie.
In the past, when ingredients were limited, they used lard as the preferred fat in pie crusts.  Even today some home cooks and culinary chefs use this ingredient and swear that it makes a much better crust.  But let's be honest, though a delicious piece of pie doesn't exactly make the top ten list of healthy foods to eat, there is just something freeing about eating pie that's made with healthier ingredients rather than fat from a pig. You know I'm right.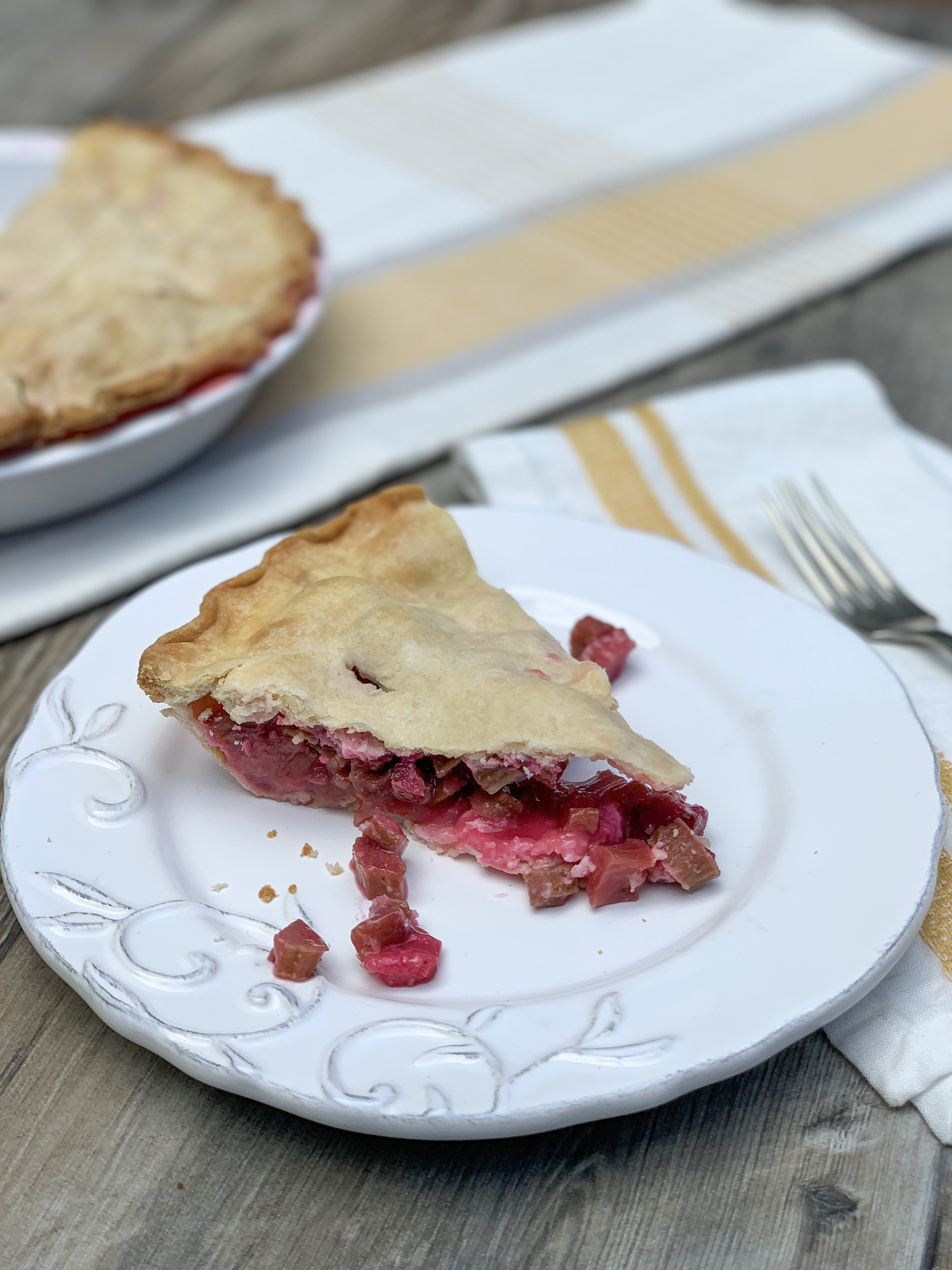 Instead, I use an organic vegetable shortening by Spectrum for my pie crust. Made from sustainable palm oil, it has zero grams of fat and is non-hydrogenated so it makes an excellent alternative for lard, margarine, and even butter. Rolling out the pie crust takes a bit more elbow grease because it doesn't have the fat found in lard or butter, but the flavor and texture of the crust is perfection. I also use organic eggs and, if possible, organic rhubarb when I can find it. Altering the quality of these three ingredients results in a much healthier pie without compromising the sweet-tart flavor of the dessert. I think Grams would approve.
I hope you enjoy this recipe! If you've made it please share it with me by tagging @culinarybutterfly on Pinterest,
Print Recipe
Grandma Bertha's Rhubarb Pie
Yum
Grandma Bertha's Rhubarb Pie is the perfect balance between sweet and tart. The tender, flakey crust is made with organic vegetable shortening for a healthier version of this homemade classic.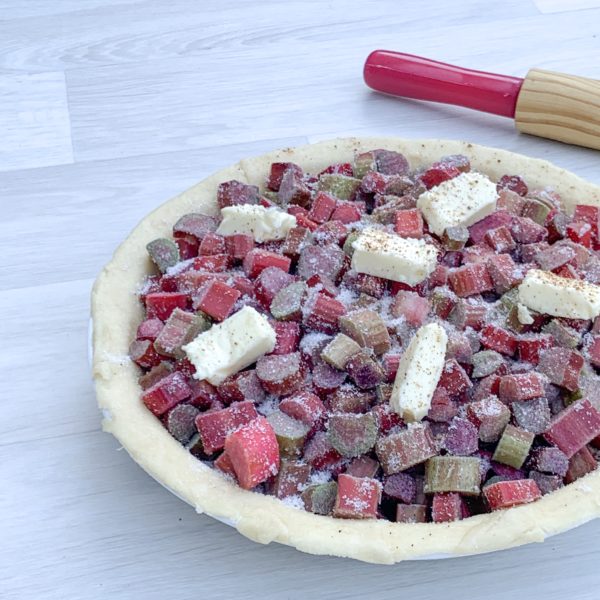 Crust - recipe makes a double pie crust
| | |
| --- | --- |
| Crust - recipe makes a double pie crust | |
To make the dough for the pie crust, add flour, shortening, and salt to a medium mixing bowl. Using a pastry cutter or your fingers, cut the ingredients together until dough becomes course. Make a small well in the center of the dough.

In a small bowl, whisk the egg and pour into the center of the dough. Add the vinegar and half the water. Using your hands, knead the dough lightly until it forms a clumpy dough, adding more water until it forms a soft pliable dough. (Do not overwork the dough or it will become stiff).

Divide dough into 2 equal parts, placing one piece of the dough in the center of a floured parchment paper. Cover with plastic wrap and refrigerate remaining dough. (NOTE: This recipe makes one double crust pie.

To form the pie shell, begin rolling dough outward in each direction until you achieve a 14-inch round crust. Lay a 9-inch pie plate face down on top of dough. Gently flip the parchment paper and pie plate over together, gently fitting crust into bottom and sides of the plate. Peel parchment paper away from the dough, lightly pressing dough down into the plate.

In a medium bowl, stir the sugar and 1 teaspoon flour together, add the rhubarb and toss until evenly coated. Pour rhubarb into the pie crust keeping the center slightly higher than the sides. Lightly sprinkle nutmeg over the top of rhubarb. Add the butter to the top of the pie.

Remove the second dough ball from refrigerator and repeat the rollout process. Gently lay top crust over pie, pinch sides together with a fork.

Using a sharp knife, trim dough that overhangs pie plate. Using your fingers, gently tap around the pie crusts edge to seal crusts together.

Using a pastry brush, gently brush milk over crust to create a golden finish when pie is baked.

Using a butterknife, cut slits into the top of the pie crust

Bake at 350° F. for 35-50 minutes, or until crust is golden brown and rhubarb is bubbling in the pie plate. Remove from oven and brush a light coat of butter over entire top of pie crust while it is still warm.

Let pie rest for 15 minutes before serving. Enjoy hot or cold with vanilla ice cream.