Union Rooftop Bar and Grill
Minneapolis, Minnesota
Last month I had the pleasure of dining at one of Minneapolis' most talked-about and trendy restaurants. To say it was a fun night out with my girlfriends would be an understatement. The Union Rooftop offers fresh, open-air seating with a bustling atmosphere, as well as a diverse selection of entrees prepared with unique combinations. Dining on the rooftop offers the perfect urban-eatery setting that can turn a fun night out with friends into a memory-making experience you are sure to talk about for weeks to come.
The Union Rooftop opened by locally owned by founder and CEO of Kaskaid Hospitality, Kam Talebi, and his brother Kevyn Talebi. The successful restaurateur duo also own the very popular CRAVE Restaurants, Figlio's, Boneyard, CRAVE Catering and MUSE Event Center.
There is a certain method to the success of The Union Rooftop. In my previous dining experience, I have found an interesting commonality with most restaurants. The majority of menus offer an extensive selection of entrees and appetizers that don't exactly win the "Healthy Choice" award. Oh yes, some restaurants say that they have healthy choices and indicate them with a subtle little symbol right next to their small selection of menu items. If you look closer, many of these recipes are often made with poor quality meat, non-organic pesticide-filled lettuce and vegetables, while prepared in sauces that are bursting with preservatives and other toxic chemicals that resemble anything but a "picture of healthy food." I will admit, I love a good juicy California Burger with hot crispy fries once in a while just like any other Patriotic American that I know. But it is a rare experience to find a restaurant that serves both savory comfort food and refreshingly healthy choices. The Union Rooftop is one establishment that offers both, and they do it very well.
The Strauss Grass Fed Beef Burger is one of The Union's most popular items which is constructed with pepper jack cheese, avocado, Russian dressing and fried onions, this burger may not make the healthy list, but if you are looking for a "Rock My World" burger, this is it! If you are in the mood for a burger but want a healthier choice, you can order the Turkey Burger with avocado, oregano, lemon-lime mayo, and romaine lettuce. I love that they have an exciting selection of burgers for both the health conscious customer and the person who just wants a mouth-watering burger to indulge their appetite.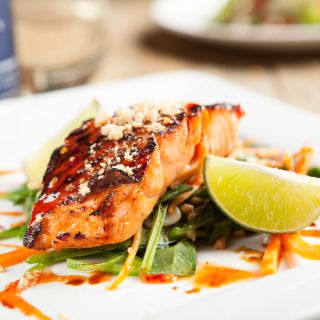 My friend Anna ordered the Lobster BLT with butter toasted brioche, bacon, avocado, tarragon aioli and fresh herbs. I sampled a bite and can honestly say that I have never thought of making a BLT with Lobster, and I am happy to report that it is a brilliant idea!
Mitra ordered the Scallops with Shellfish Risotto laced with a fresh herb pesto sauce. This dish is a cachet of culinary genius. A perfect marriage of tasty seafood and sweet, creamy risotto makes this dish one worth ordering a second time on your next visit to the Rooftop. If you are a fan of scallops and risotto, your mouth should be watering right now.
Natasha enjoyed the Smoked Salmon Flatbread with toasted sesame, avocado and wasabi cream. The combination of the cleverly combined ingredients on a crispy flatbread is deliciously unique and makes an excellent choice for an appetizer to share, or as your main meal.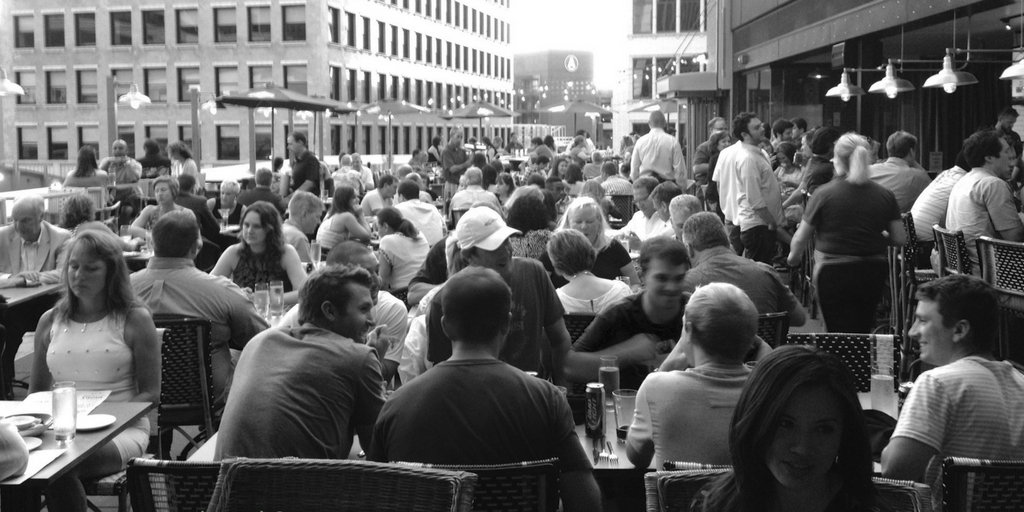 One of my very favorite dishes of the night was the Pork Chop with whipped potatoes and shaved brussels sprouts. Even though I make a conscious effort to avoid pork for health reasons, I fell in love with this dish at the very first bite! The pork chop was incredibly juicy and
flavorful. It was a taste of paradise for pork lovers.
A few of the most healthy items on the menu include:
-Kale Salad with Apple, baby greens, and pecans
-Pan Seared Duck Breast with cherry gastrique and herb roasted vegetables
-Pan Seared Halibut "gazpacho" sauce, grilled bread, red tomato salsa, watercress
If you are ever visiting Minneapolis, I would highly recommend The Union Rooftop restaurant for a memorable dining experience in both food and atmosphere. It is a perfect union between healthy food, comfort food, and a very fun and trendy hotspot right in the heart of downtown Minneapolis.
The Union Rooftop Restaurant
731 Hennepin Ave, Minneapolis, MN 55403
Phone: 612-455-6690
www.unionrooftop.com