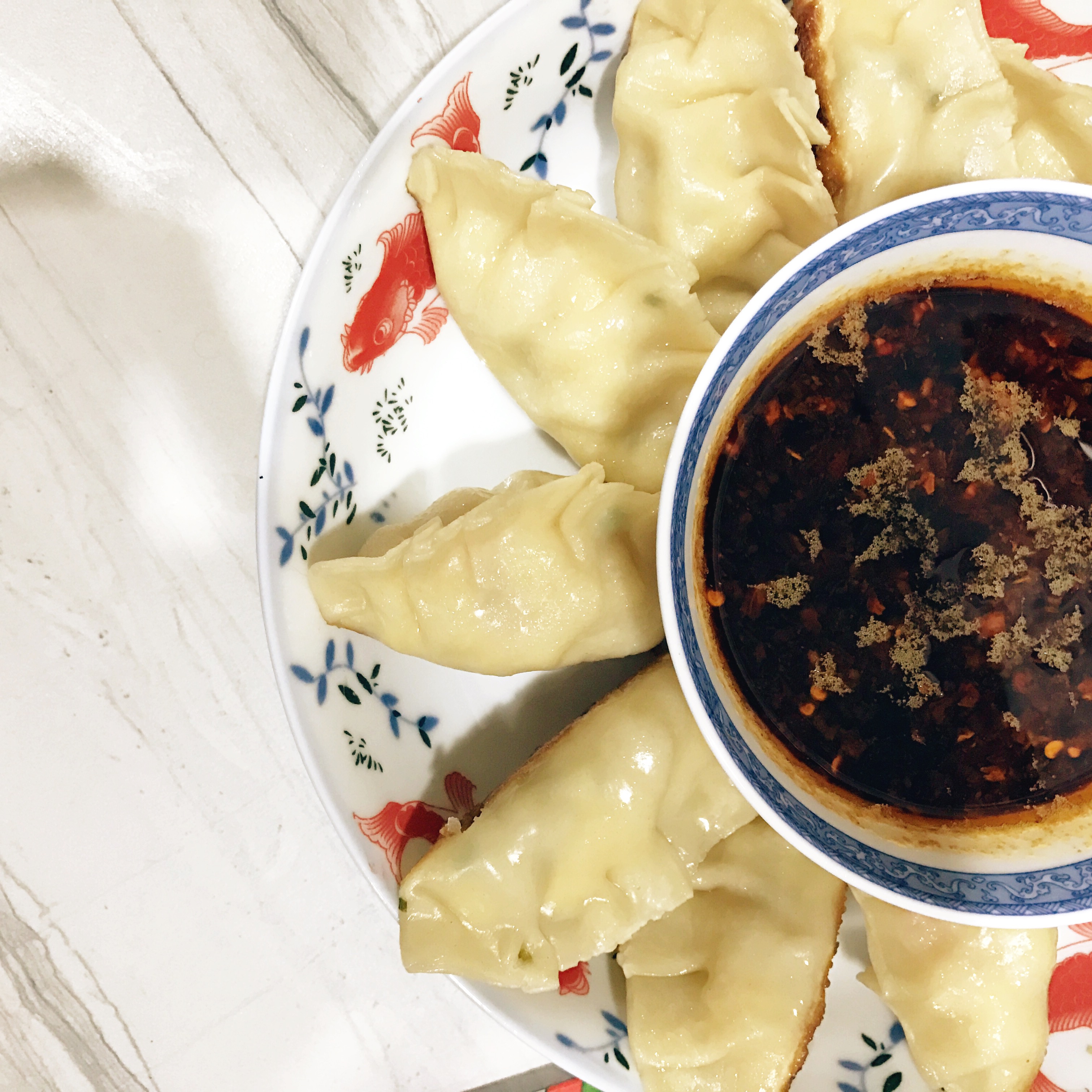 Who doesn't love pot stickers? The first time I posted the photo below of my newly assembled pot stickers, my social media feed blew up with likes. There is just something enticing about biting into a hot tender potsticker (or dumpling as some like to call it) filled with all kinds of flavorful ingredients. From shrimp and eggs to chicken, pork, tofu, or vegetables, the creative combinations inside these little gems are limited only by your culinary imagination.
My friend, Rachel, taught me to make her  potstickers using a combination of shrimp and scrambled eggs. As I watched her eight-year-old son, Jaden, assemble the potstickers like a pro, I was surprised to discover just how easy they are to make.  In the Chinese culture, making potstickers is a family affair. The entire family will sit around a table, exchange stories and laughs while creating dozens of delicious potstickers together.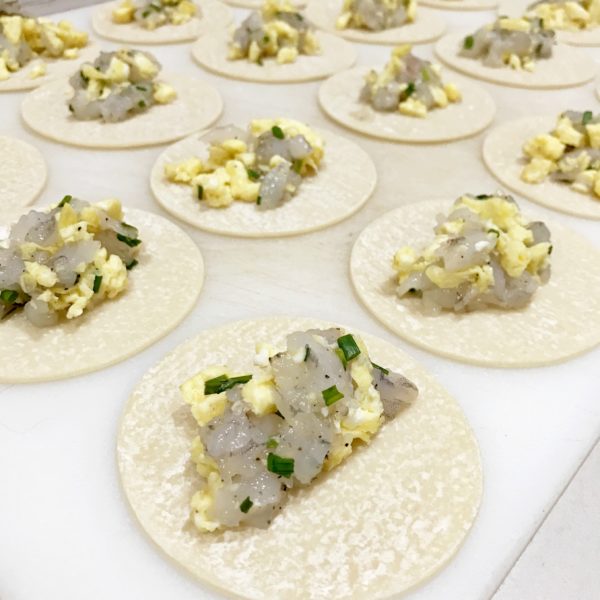 Once they are cooked, they enjoy a family meal of rice, pot stickers, and hot tea. I can't think of a more charming family tradition passed down through generations than their shared love of food, family, and Chinese pot stickers.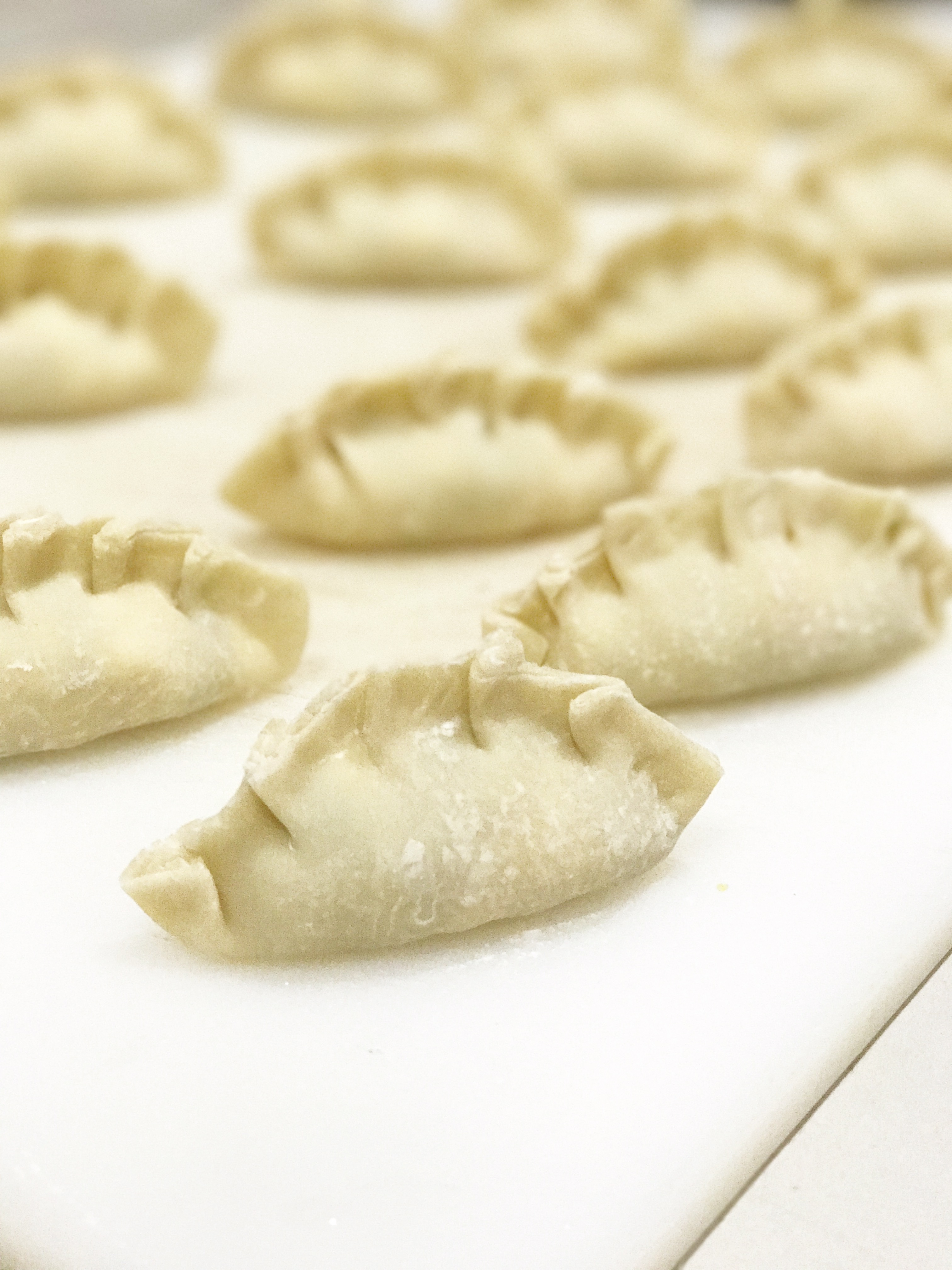 As a passionate consumer of history, this age-old tradition of making potstickers started me wondering how potstickers were invented and who was the first to create this dish. After a little research, I discovered the exact origins could not be confirmed, but legend has it that a chef in China's Imperial Court was preparing dumplings in a wok (a Chinese cooking pot) and forgot them on the heat. When the water boiled away, the bottoms of the dumplings were burned to a crisp. Since he had no time to prepare a new batch, he decided to serve them with the burned side up and proudly announced that this was his latest creation.
Needless to say, his guests loved them and the peculiar looking dumplings were reborn into what we now know as potstickers. To this day, people from all over the world are still enjoying this accidental dish, thanks to a forgetful chef. At least, that's what legend would have us believe.
I hope you enjoy this recipe! If you've made it please share it with me by tagging @culinary.butterfly on Instagram or @culinarybutterfly on Pinterest, or by using the hashtag #culinarybutterfly on Facebook
In a small bowl, beat eggs and 1/8 teaspoon salt.

In a medium-sized skillet, heat oil over medium-high heat. Pour in eggs and scramble lightly. Transfer eggs to a cutting board and chop into small pieces. Place eggs into medium bowl and set aside.

In the same bowl, add chives, shrimp, remaining 1/2 teaspoon salt, and pepper. Using a fork, lightly combine ingredients.

To assemble potstickers, spoon 1 tablespoon filling the center of each Gyoza wrapper.

Using your fingers, moisten the inside edges of the wrapper with water. Fold over, pinching edges closed to press out any air pockets. Finish by pinch-pleating the edges together. Set aside standing up with the bottom laying flat on a plate or counter top to make it easier for them to stand up in the pan. Repeat until all filling is used.

Heat oil in non-stick pan over medium heat. Lay potstickers in pan standing up, browning 2 minutes or until bottom is lightly golden.

Add 1/3 cup water, cover and steam on medium-high for 3-6 minutes or until the wrappers are soft the evenly cooked.

Transfer to plate and serve with dumpling sauce or soy sauce.
SUGGESTIONS:
If you are entertaining and want to prepare the dumplings ahead of time, assemble potstickers, lay them flat on a tray, and refrigerate up to 24 hours until you are ready to cook.
They are best if cooked the same day so the wrappers do not dry out.
Dumplings should be served hot.
You can also freeze potstickers uncooked up to one month by freezing on a sheet and transferring to a freezer bag. Do not thaw before cooking.
Serve with Rachael's Secret Sauce.
Recipe by Rachel Huang for www.culinarybutterfly.com