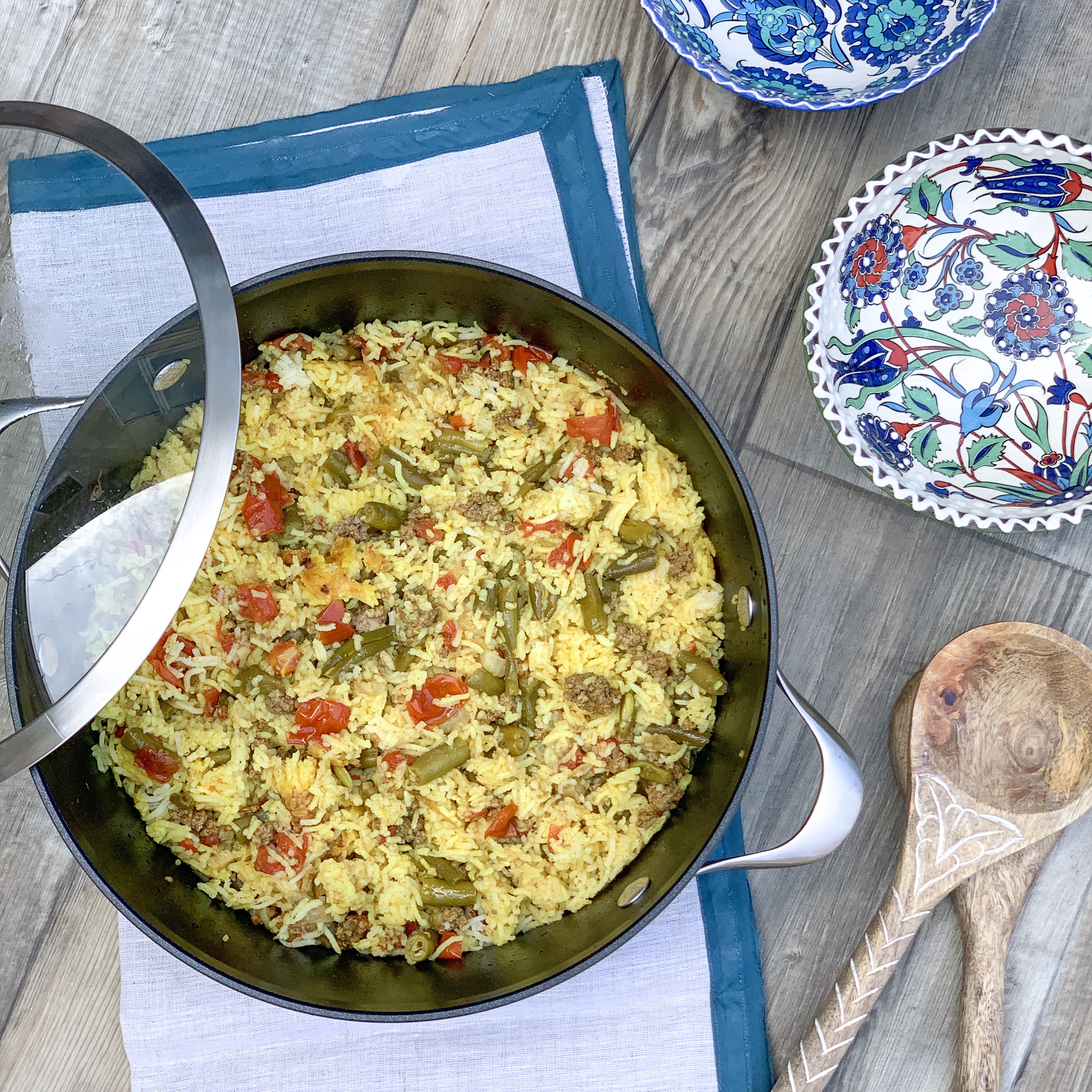 Lubia polow is a traditional rice dish made with green beans, beef, tomatoes, and aromatic spices. This one-pot meal offers the perfect portion of tender meat, healthy vegetables, and rice for a satisfying meal your entire family will love.
In Iranian cooking, polow is rice cooked with meat, vegetables, herbs and/or spices. Persian cuisine offers many wonderful varieties of polow dishes, each unique from the other. Slowly, simmered chunks of beef, lamb, or chicken are more commonly used in Lubia polow, but since I have ground beef on hand more often than a beef roast or lamb meat, I wanted to offer you simple approach to making this savory dish when you're looking for an easy lunch or dinner meal that takes little effort with great results.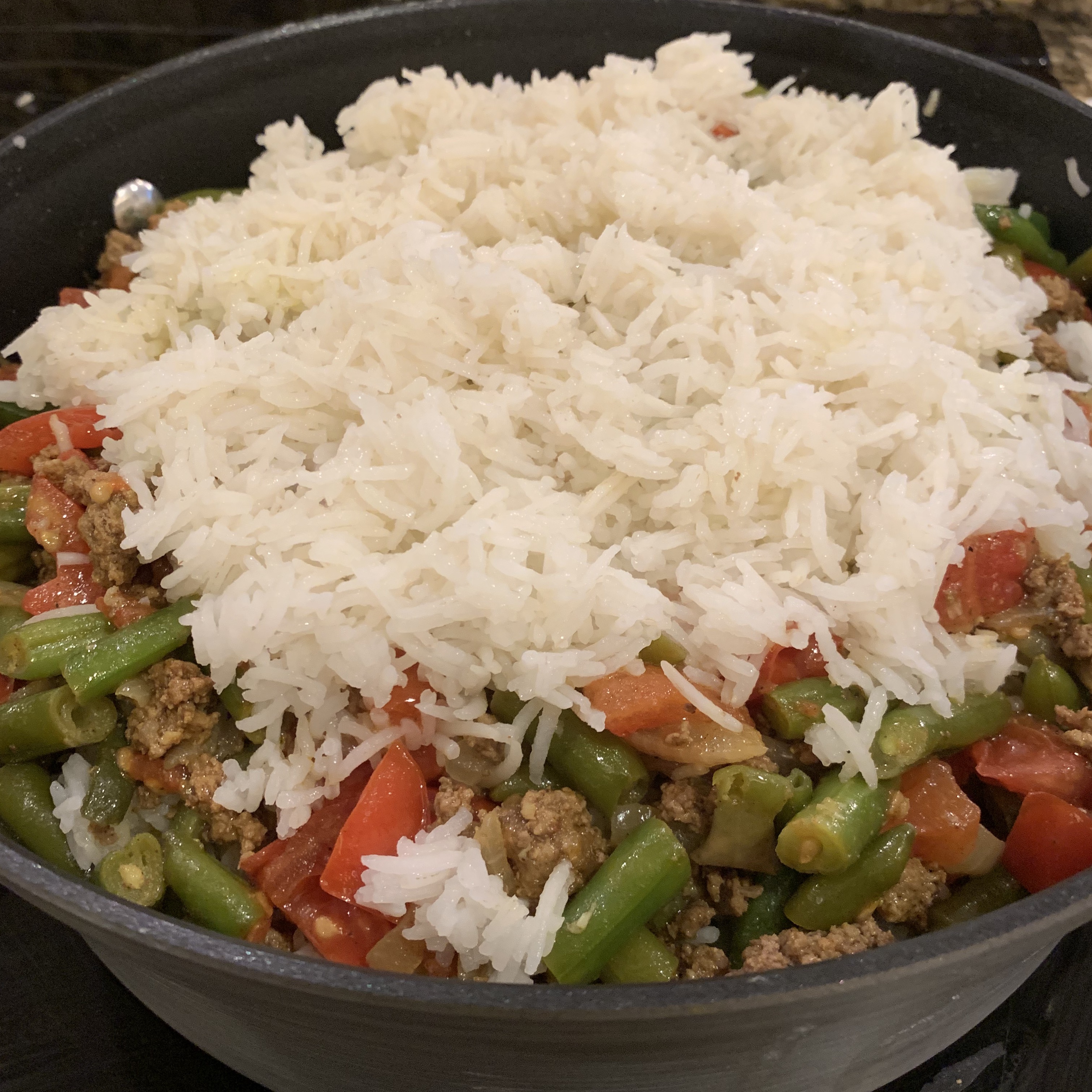 If you sit down to a Persian dinner table to enjoy Lubia polow, there is a good chance you will experience a slightly different taste depending on the cook behind the dish. That's the beautiful thing about polow - it can take on a unique flavor dictated by the herbs, spices, and ingredients used while still staying true to the character of the dish.
I love the charm of this dish. I used a combination of turmeric, cinnamon, salt, and pepper simmered in to ground beef, frozen green beans, and chunks of tomatoes. I love the way it creates the perfect combination of a warm and comforting blend of meat and vegetables tucked between layers of tender Basmati rice.
I hope you enjoy this recipe! If you've made it please share it with me by tagging @culinarybutterfly on Pinterest.
Print Recipe
Lubia polow - Persian Rice with Beans
Yum
Inspired by a traditional rice dish called Lubia polow, this easy to make one-pot meal is made using ground beef, green beans, fresh tomatoes, and a combination of aromatic spices.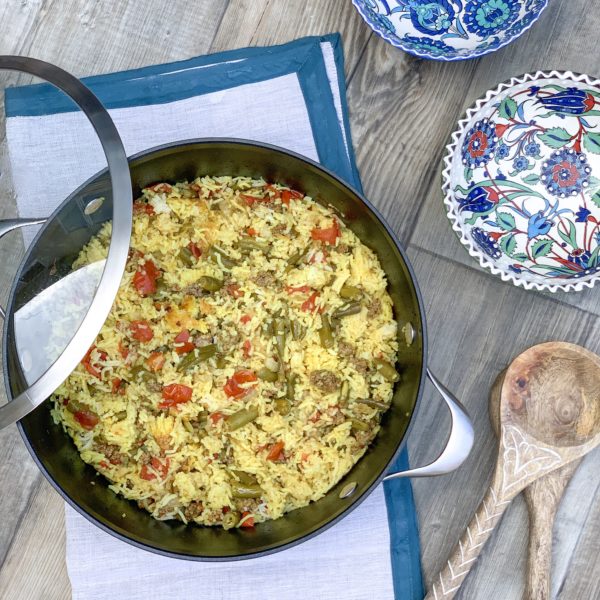 | | |
| --- | --- |
| | |
Heat the oil in a saute pan over medium-high heat. Add the onions, garlic, and ground beef, sauteeing until browned.

Stir in the green beans, salt, pepper, turmeric, cayenne, and cinnamon. Add the tomatoes, stir to combine and cover. Reduce heat to medium-low and simmer 20 minutes.

Place basmati rice in a bowl and rinse with cold water 4 to 5 times or until the water runs clear. This helps to remove excess dirt and starch before cooking.

Boil 8 cups of water and salt in a covered non-stick pot for 8 to 10 minutes until just slightly tender. Pour the rice into a strainer to remove excess water and rinse with cold water.

In a small bowl, spoon in 2 cups of rice, oil, water, and turmeric, stirring to mix. Pour the rice in to the non-stick pot and spread it out to cover the bottom completely.

Starting with a generous layer of rice, begin layering the rice then (using a slotted spoonto reserve the juices from the meat) layer the meat mixture, and repeat until the ingredients are layered in the pot. Pour the remaining juice over the top of the Lubia Polow.

Using a thin dish towel, wrap the lid of the pot, tying a knot near the handle and cover the pot. (This prevents condensation that forms on the underside of the lid from dripping down onto the rice). Simmer on low for 30 minutes. Remove from heat and let sit for 5 minutes.

Traditional Lubia Polow is served by gently spooning the rice mixture onto a serving platter until you reach the tahdig (the crust at the bottom of the pot.) Carefully remove the tahdig from the pot using a rubber spatula and serve in a separate dish or on the platter next to the Lubia polow. For a casual meal, serve Lubia polow from the pot.
Reheat left-overs by adding a small amount of water or beef broth and heat on medium-low until warmed.
Recipe by Lisa Soldo-Johnson for www.culinarybutterfly.com