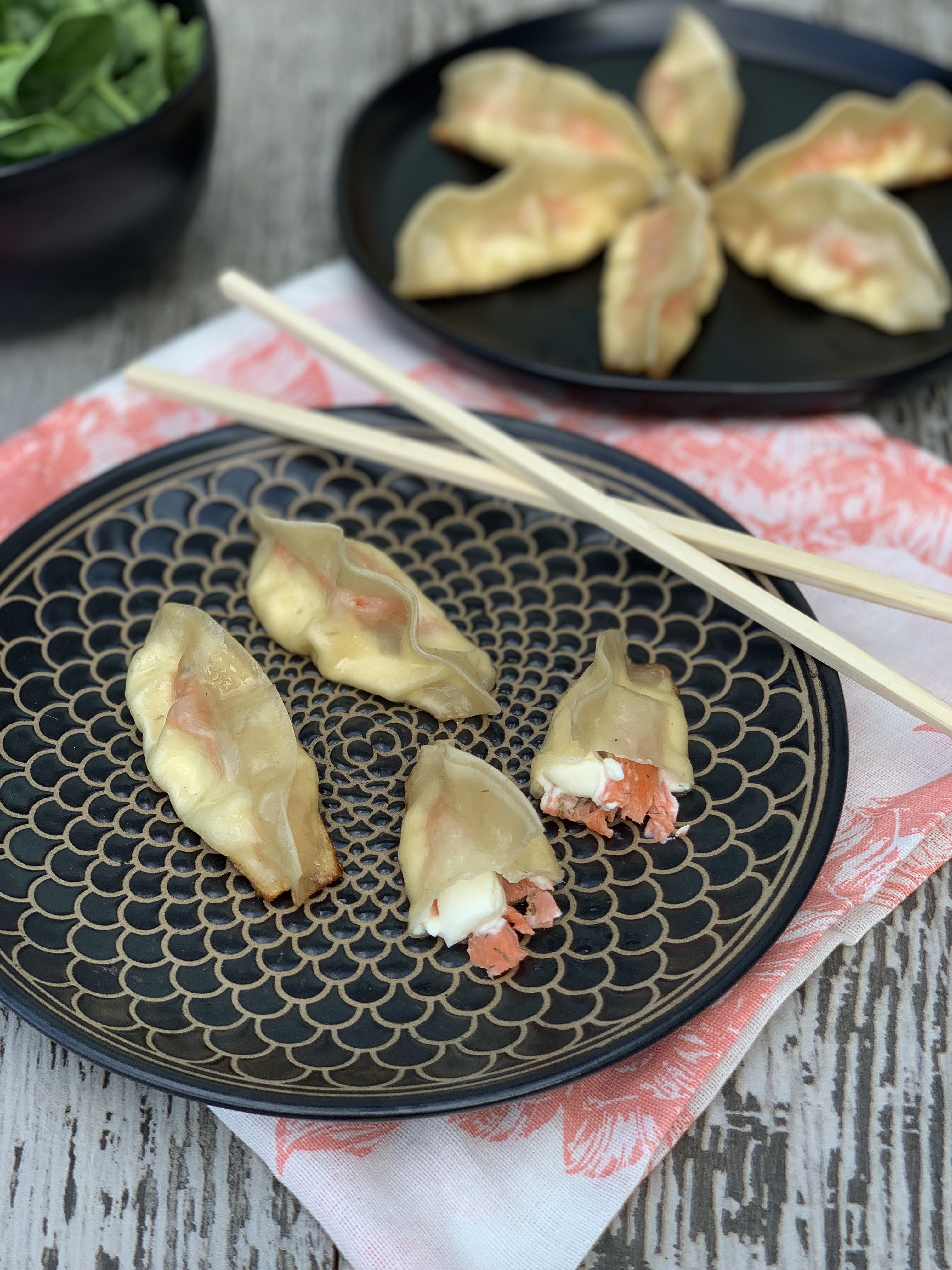 I've been experimenting with fun combinations of potstickers lately.  What I love most about this traditional Chinese favorite are the limitless combinations you can pack into the little rice-flour wrappers. Assembling potstickers are super simple, the steaming process only takes minutes, and these tiny edibles make a perfect choice for a light breakfast, impressive  appetizer, or a main course served with rice and a savory salad.
I'm a huge fan of salmon and cream cheese at any meal.  The duo ingredients pair beautifully in an omelet, over a salad, for a snack with crackers or bread, or tucked nicely into a perfectly ripe avocado topped with coarse salt and a sprinkle of fresh dill when you want a light but healthy meal.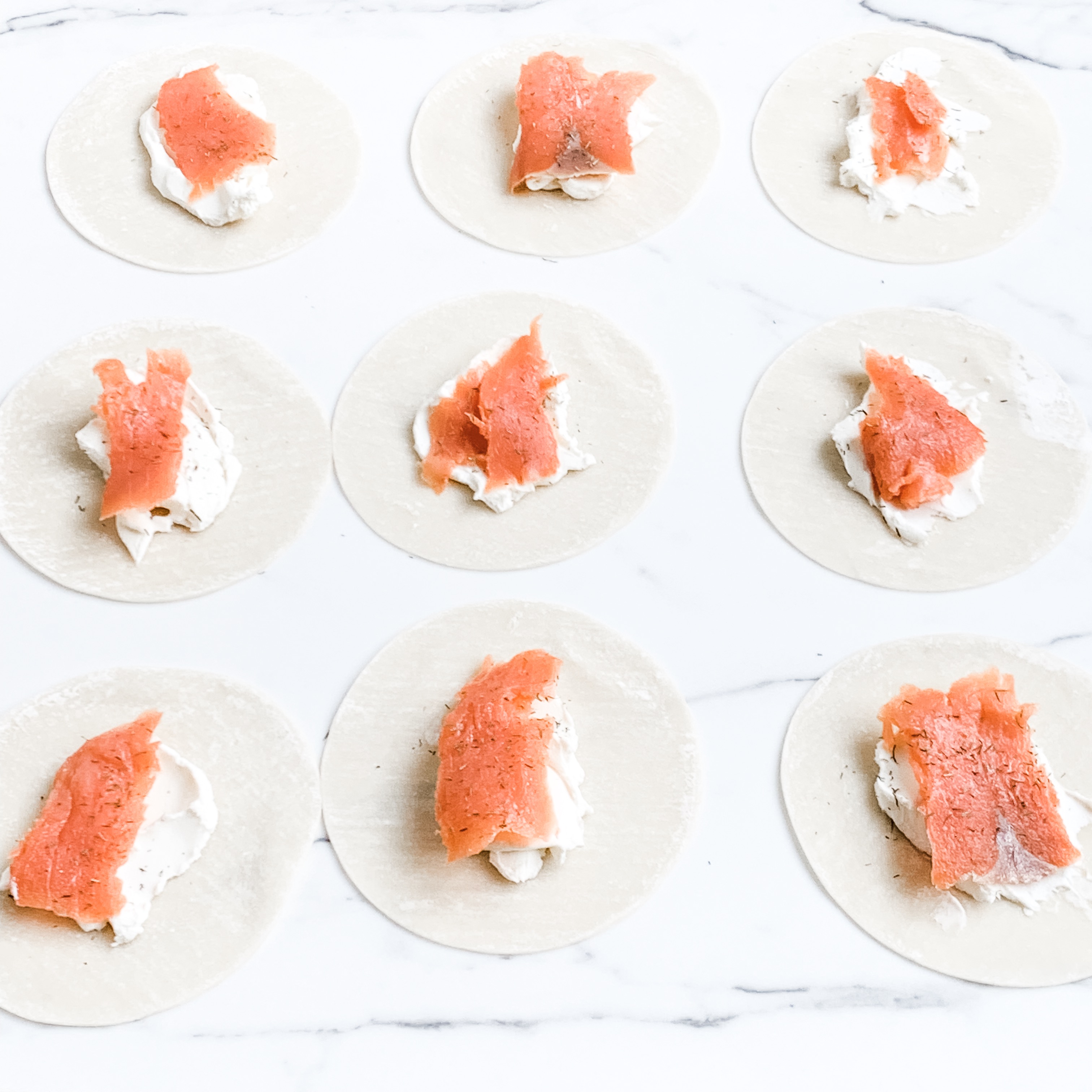 This morning, I took the predictable Chinese potsticker approach on a detour and packed a few Sue Gow wraps (also known as dumpling wrappers) with salmon and cream cheese. With only five minutes to assemble and 5 to 8 minutes steaming on the stove; a new approach to ancient favorite was born! The combination of smoked salmon bathed in melted cream cheese and tucked into a warm dumpling wrapper is genius if I do say so myself!
I purchase my wrappers at a local Asian grocery store but you can find wrappers at most larger grocery store chains too.  When shopping for your ingredients, you may find a number of different wrapper names and styles.  For potstickers, I recommend using Sue Gow Wraps (dumpling wrappers).  They are easy to work with when assembling your potstickers, and have a tender texture when cooked.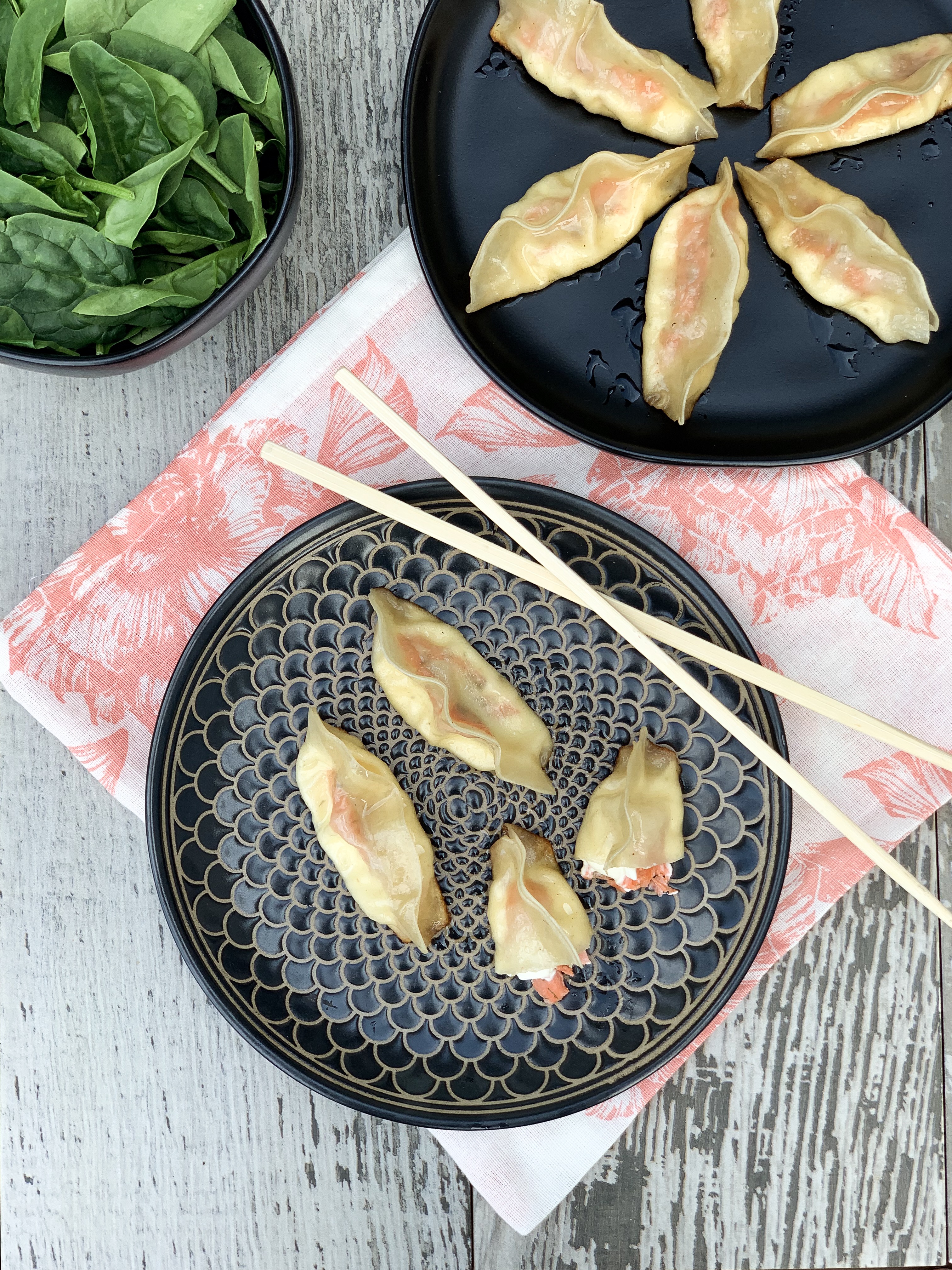 I hope you enjoy this recipe! If you've made it please share it with me by tagging @culinarybutterfly on Pinterest.
Print Recipe
Salmon Cream Cheese Potstickers
Yum
Enjoy a taste of Chinese cuisine with Salmon Cream Cheese potstickers. This easy to make dish is a perfect choice for a light breakfast, pleasing appetizer, or a main course served with rice and a healthy salad.
| | |
| --- | --- |
| | |
Gently Spread 1 teaspoon softened cream cheese in the center of the dumpling wrapper.

Top the cream cheese with a piece of smoked salmon large enough to cover the cream cheese.

Sprinkle the salmon with fresh or dried dill.

Dip your finger into a bowl of water and rim the outer edges of the wrapper. Fold the potsticker in half, pinching the wrap together at the center. Fold in both ends and continue to pinch-close the potsticker.

Gently press the bottom of the wrapper on a flat surface so it sands up. Using your fingers, create a waved edge around the edges of the potsticker and set aside. Repeat with remaining ingredients.

Heat a non-stick pan on medium-high heat until hot. Add the oil in the pan and heat until it begins to shimmer in the pan. Reduce the heat to medium-low.

Gently set the potstickers in the oil and cook until browned but not burned. Approximately 3-4 minutes.

Cover the pan with a lid and lifting the side of the lid, pour a little water into the pan and quickly close the lid to prevent the oil from splattering.

Steam the potstickers 5-8 minutes or until the wrappers become clear. Remove the potsticker from the pan and serve while hot.
Be careful not to add too much oil to the pan when browning the bottoms of the potstickers or they will become oily and not crispy.
Add a small amount of water to the pan when steaming, only adding more if the liquid has evaporated before the potstickers are done the cooking.
Recipe by Lisa Soldo-Johnson for www.culinarybutterfly.com