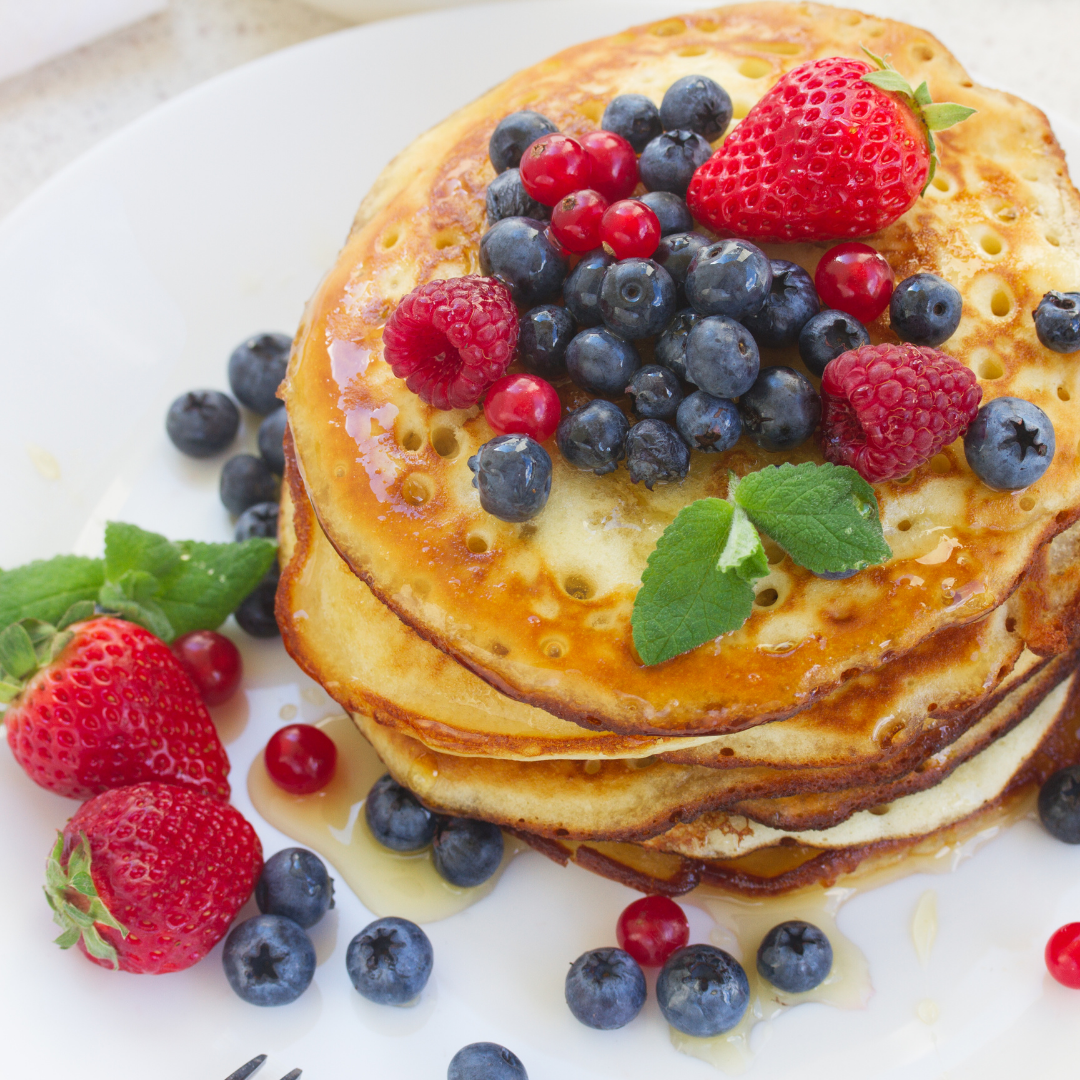 Growing up, Saturday mornings were for Bisquick pancakes and Old Log Cabin syrup. That was my mother's version of homemade pancakes. Even though she made them from a box mix, I was sure they were the best pancakes on the planet.
I don't know, maybe it was the thick corn syrup filled sweetness in the bottle and pads of margarine she slathered over those Saturday morning cake stacks that made them so wonderful. Or maybe it was just because she was making it.  Food nostalgia has a way of making our favorite foods taste wonderful.
It wasn't until I was in my early 30s and suffering from major gut issues that forced me to reconsider the ingredients I was putting into my body. Sometimes you just need a little personal health crisis to motivate you on the path to better eating. It was then I realized how nutritionally bankrupt processed and pre-made boxed food was. This began a journey of eliminating preservatives, pesticides, and artificial ingredients from my diet.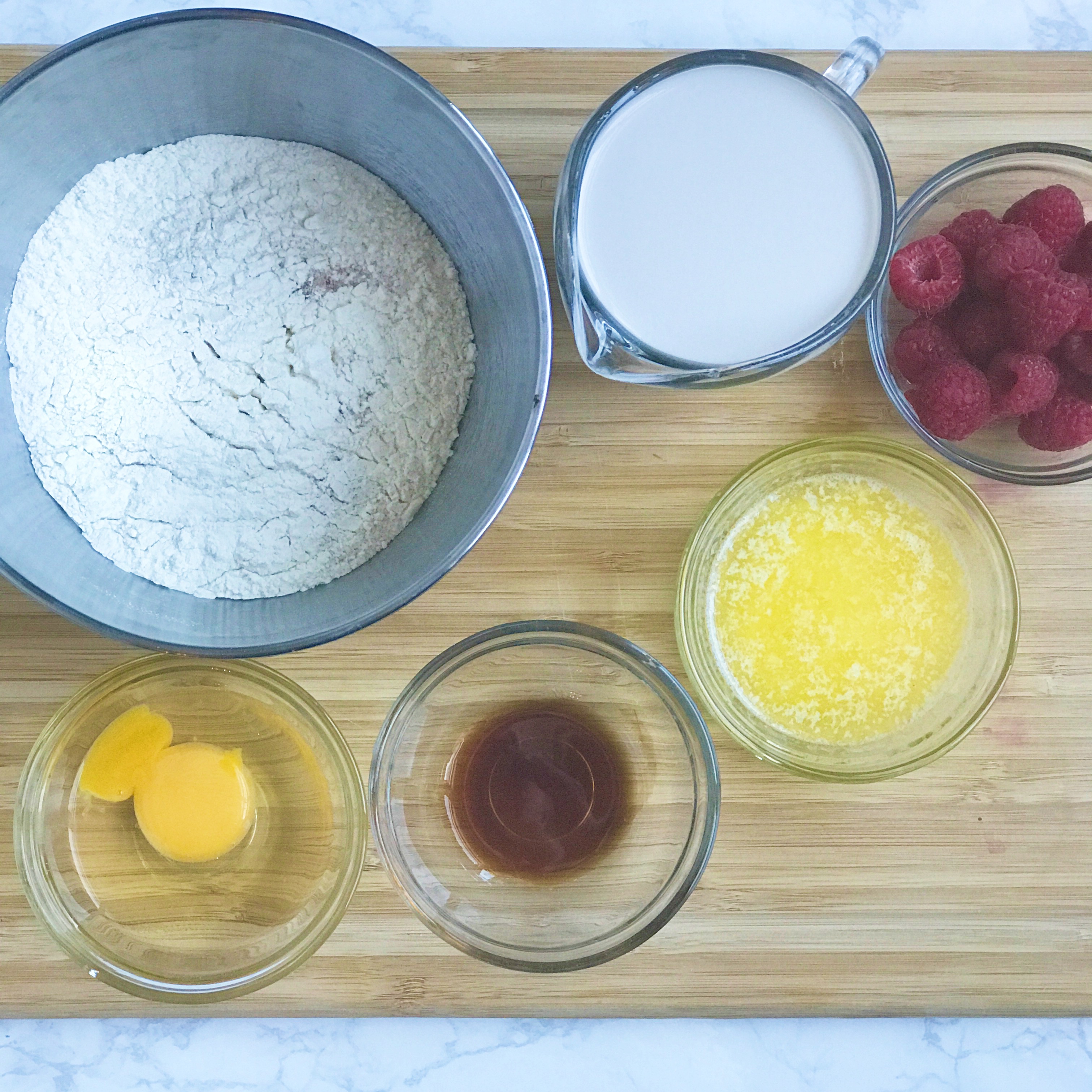 One recipe at a time I replaced some traditional recipes I grew up on with a healthier version. I traded in regular milk for almond milk, granulated sugar for coconut sugar, bleached white flour for organic flour, margarine for real butter (or ghee for dairy-free), and Old Log Cabin Syrup for pure maple syrup.
After making these simple ingredient changes into a lifestyle, I have seen a dramatic improvement in the overall health of myself and my entire family. I can still enjoy my mother's old-fashioned pancakes, but now I enjoy them made from good healthy ingredients I can feel better about.
Thankfully, my mother's tradition of Saturday morning pancakes
can
go on and maybe one day my kids will look back and say, "my mom made
the best Saturday morning pancakes on the planet". That's a tradition worth passing on.
Find some of my other breakfast recipes on the links below:
I hope you enjoy this recipe! If you've made it please share it with me by tagging @culinarybutterfly on Pinterest.
Print Recipe
Old-Fashioned Dairy Free Pancakes
Yum
A healthy dairy-free version of the old-fashioned pancakes we grew up on. Lighly sweet, and very addictive. Try them with Trader Joe's Coffee Syrup or Bourbon Barrel Aged Maple Syrup for a delightful twist on traditional syrup flavor.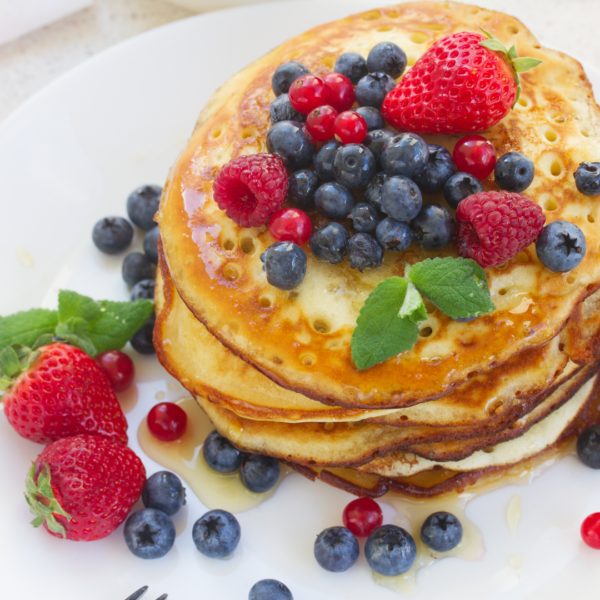 Cook Time

6-8

minutes per batch1
Cook Time

6-8

minutes per batch1
In a medium bowl, mix flour, baking powder, salt, and sugar.

In a small bowl, whisk together almond milk, egg, and butter. Pour into medium bowl and stir until well blended.

Heat griddle or pan on medium high. Add coconut oil spray or coconut oil to grease the pan. When oil is hot, ladle 1/4 cup batter onto oil and cook until lightly golden brown. Flip and repeat on other side. Transfer to plate and serve hot.

Serve pancakes with your favorite topping or try Trader Joe's Coffee Syrup or Bourbon Barrel Aged Maple Syrup.
I love to use Trader Joe's private label syrups on these pancakes.
You can purchase both Trader Joe's Syrups in stores.
Look for Trader Joe's Coffee Syrup and Bourbon Barrel Aged Maple Syrup while they are in season.
Recipe by www.culinarybutterfly.com