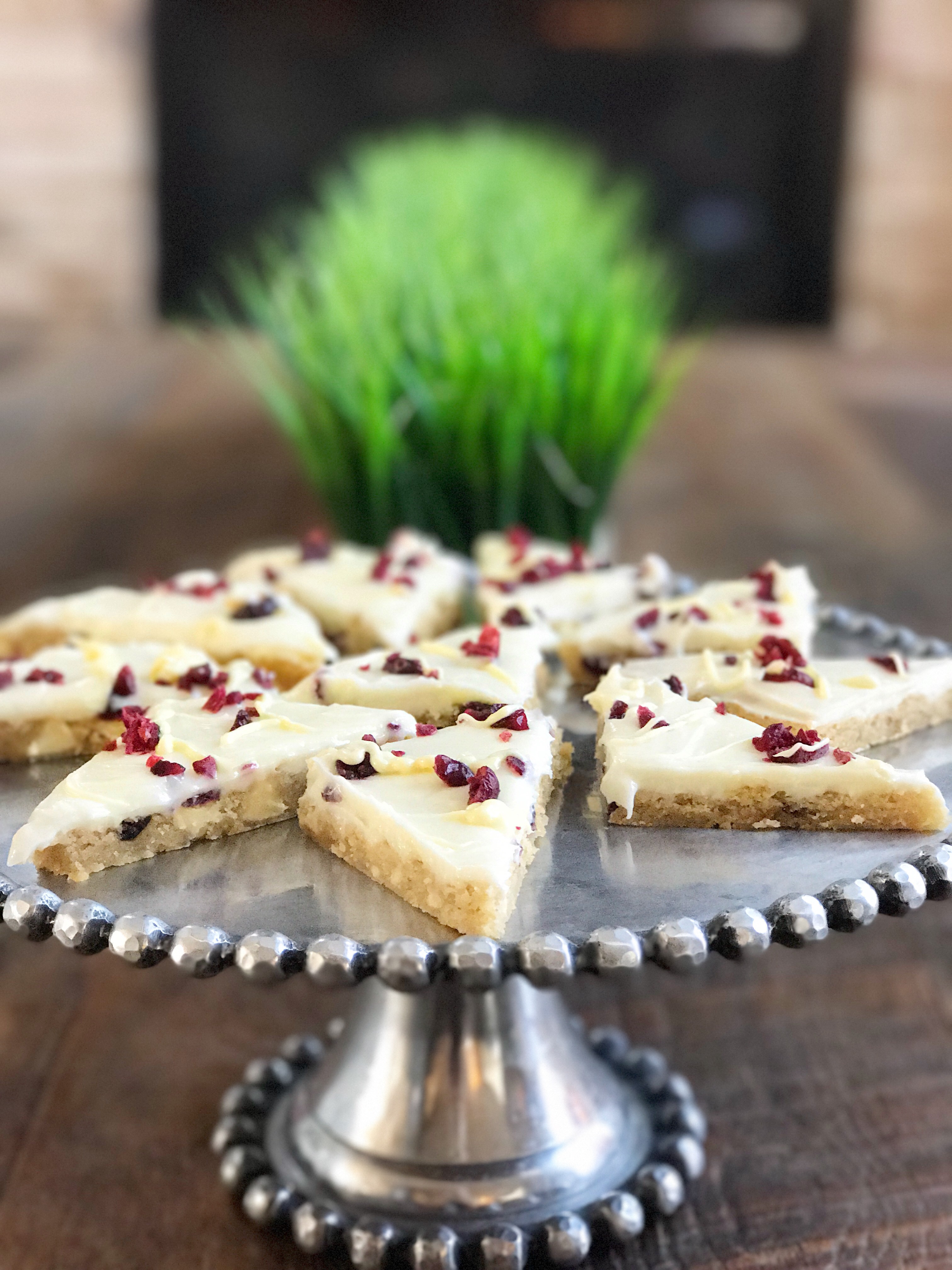 Every Christmas season when Starbucks comes out with their beloved Cranberry Bliss Bars I feel like the clock is frantically ticking towards the last bar in the case. Well, no more waiting till the snow falls to enjoy these bad boys ever again. Starbucks copycat Bliss Bars have made their way to my kitchen and I welcome them with open arms!
If you look on Pinterest you will find a sea of recipes for Copycat Starbucks Cranberry Bliss Bars. But, because I like to make my recipes my own, I found a handful of recipe versions that inspired me, and after tweaking a combination of ingredients in the three batches I made, I finally landed on the flavor and texture I liked best.
I also doubled my frosting recipe from all of the others because, well you know, can you really have enough cream cheese frosting on top of any dessert you eat? In my world, the answer is a resounding no!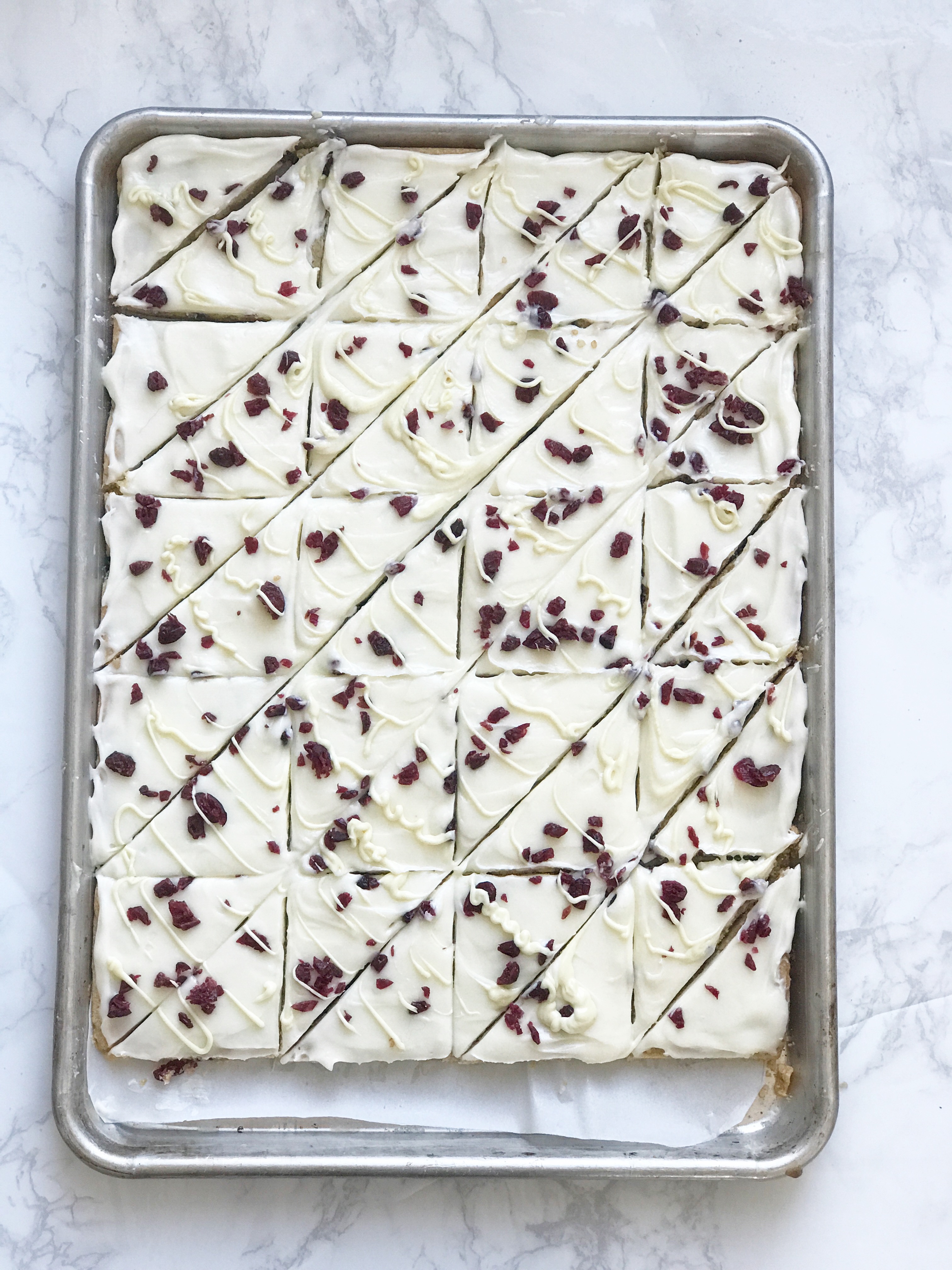 My favorite part of making these cranberry bliss bars is that I never ever have to feel the frantic rush to beat the clock on the end of the season Starbucks Cranberry Bliss bars again. Now I can make these dreamy little bars all year round, and best of all, so can you!
Happy Holidays!
Print Recipe
Cranberry Bliss Bars Just Like Starbucks
Yum
Tastes just like Starbucks Cranberry Bliss Bars but even better! Soft chewy crust topped with a cream cheese cranberry topping. This easy to make dessert can be enjoyed all year round.
Preheat oven to 350° Fahrenheit.

Line a jelly roll pan or cookie sheet with parchment paper.

Using a standing mixer or hand mixer, cream together butter and brown sugar.

Add 1 teaspoon vanilla extract and 1 teaspoon orange extract, and one egg at a time, beating until well combined. Add in ground ginger, baking powder, and salt and continue to beat until all ingredients are blended.

Slowly add in flour, beating ingredients just until flour is blended into the batter but not smooth.

Add in 1 cup white chocolate chips and 3/4 cup Craisins, stirring by hand just until blended into batter.

Scoop batter on top of pan and spread out evely about 1/2-inch thick. Transfer pan to oven and bake approximately 18-20 minutes or until crust is just lightly browned. Be very careful not to overbake it. The crust will continue to harden after it's removed from the oven. It is better to slightly under-bake it than to over-bake it. Let it cool completely before adding the frosting.
In a medium mixing bowl, cream together softened cream cheese, 1 teaspoon vanilla extract, 1 teaspoon orange extract, and powdered sugar intil smooth.

Once bars have completely cooled, spread the frosting over top of crust. Sprinkle chopped craisins over frosting evenly.

Melt remaining 3/4 cup white chocolate chips or chocolate bars in a pan over the stove or in a heat-proof dish in the microwave. Pour melted chocolate into a plastic sandwidh bag, cut off tip of bag and gently squeeze chocolate over frostig in a thin diaganol line until the entire pan is covered.

Using a sharpn knife, cut bars into 20-24 square bars. Cut squares diagonally to create triangle shaped bars. Cover and refrigerate until ready to serve.

Serve at room temperature.
Recipe Notes:
The Cranberry Bliss Bars stay fresh up to three days refrigerated.
You can freeze the bars for up to six months.
Recipe found on www.culinarybutterfly.com