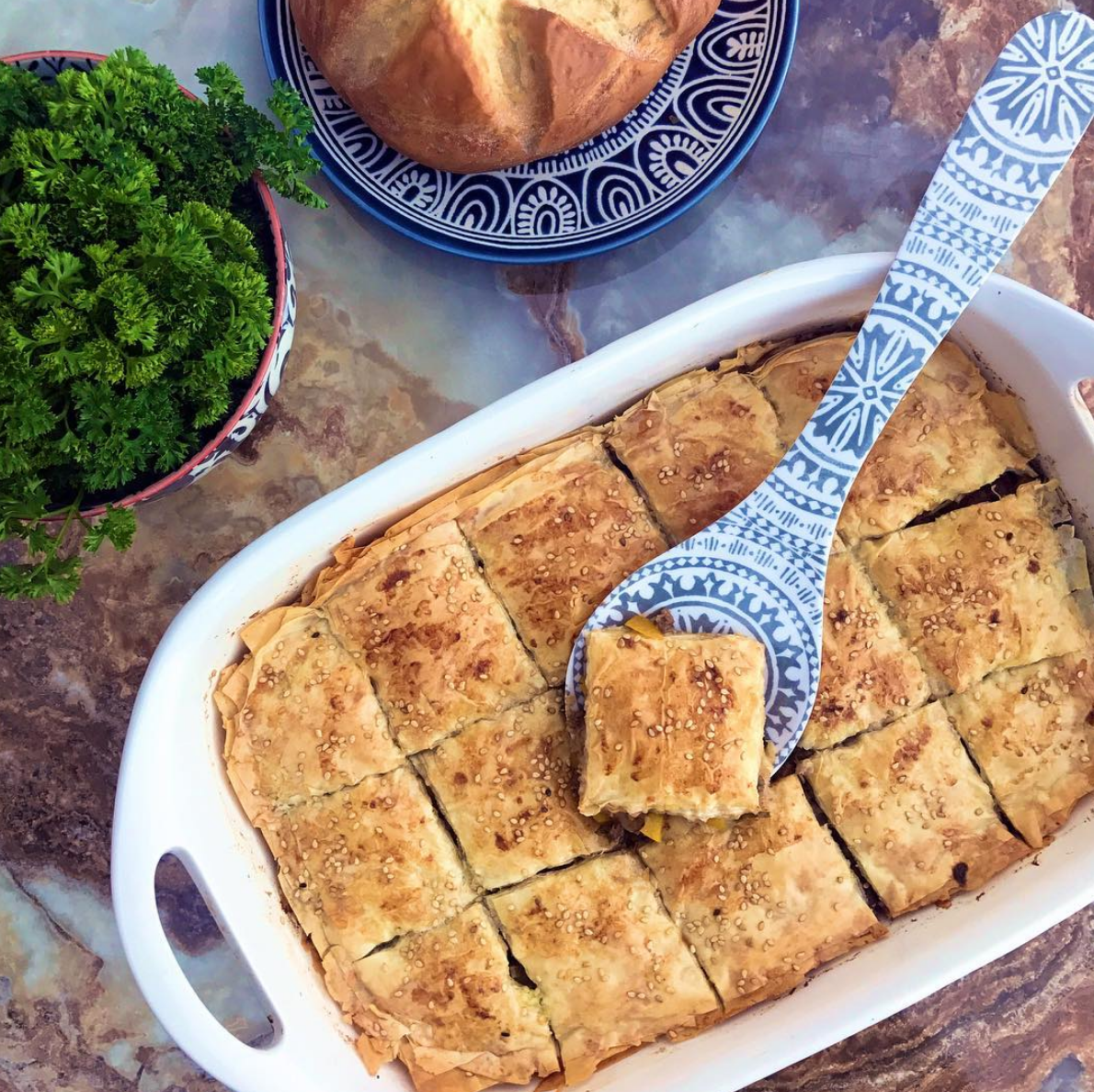 Have you ever considered where a recipe got its start and how it came to be? Take for example apple pie. Who was the very first person to ever create a dough and discover the process of baking it into a shell? Or for that matter, pouring fruit on top, covering it with another layer of dough and successfully creating what is now considered a symbol of American food.
Have you ever heard the saying, "As American as apple pie"? His name was Geoffrey Chaucer, and he created the first fruit-filled pie in 1381. Ironically, Geoffrey wasn't American at all - instead, he was from England. That's the beauty of food - it often has an origin that remains a mystery to the world, yet even today we have the privilege of enjoying it.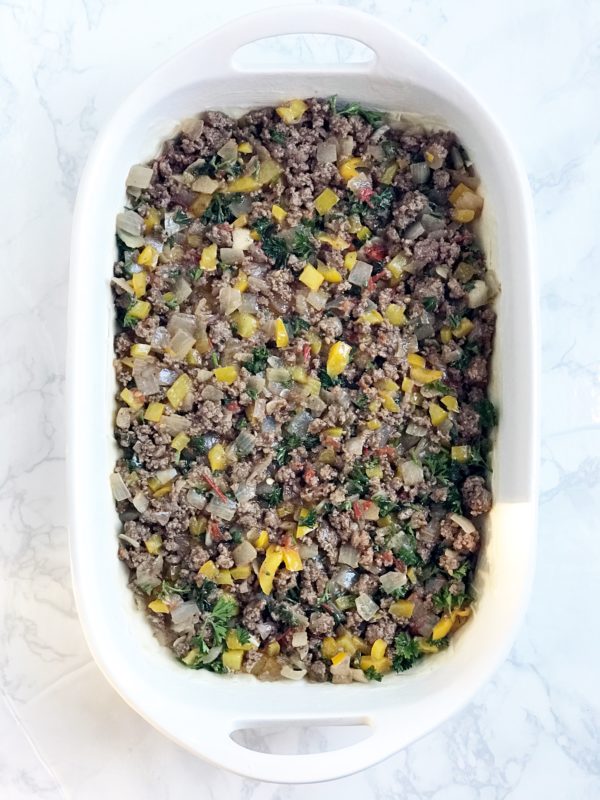 The thing I find most intriguing about Börek is its long history that dates back thousands of years, yet is enjoyed even today. Börek is a dish made from thin flaky dough and layered with a variety of ingredients such as meats, cheeses, vegetables, or fruits depending on which area of the world it reinvented itself.
History tells that Börek got its start in Turkey and more specifically the Anatolian provinces of the Ottoman Empire in about 160 BC. That's 2,177 years ago, and yet countries around the world are still making this ancient Turkish dish today.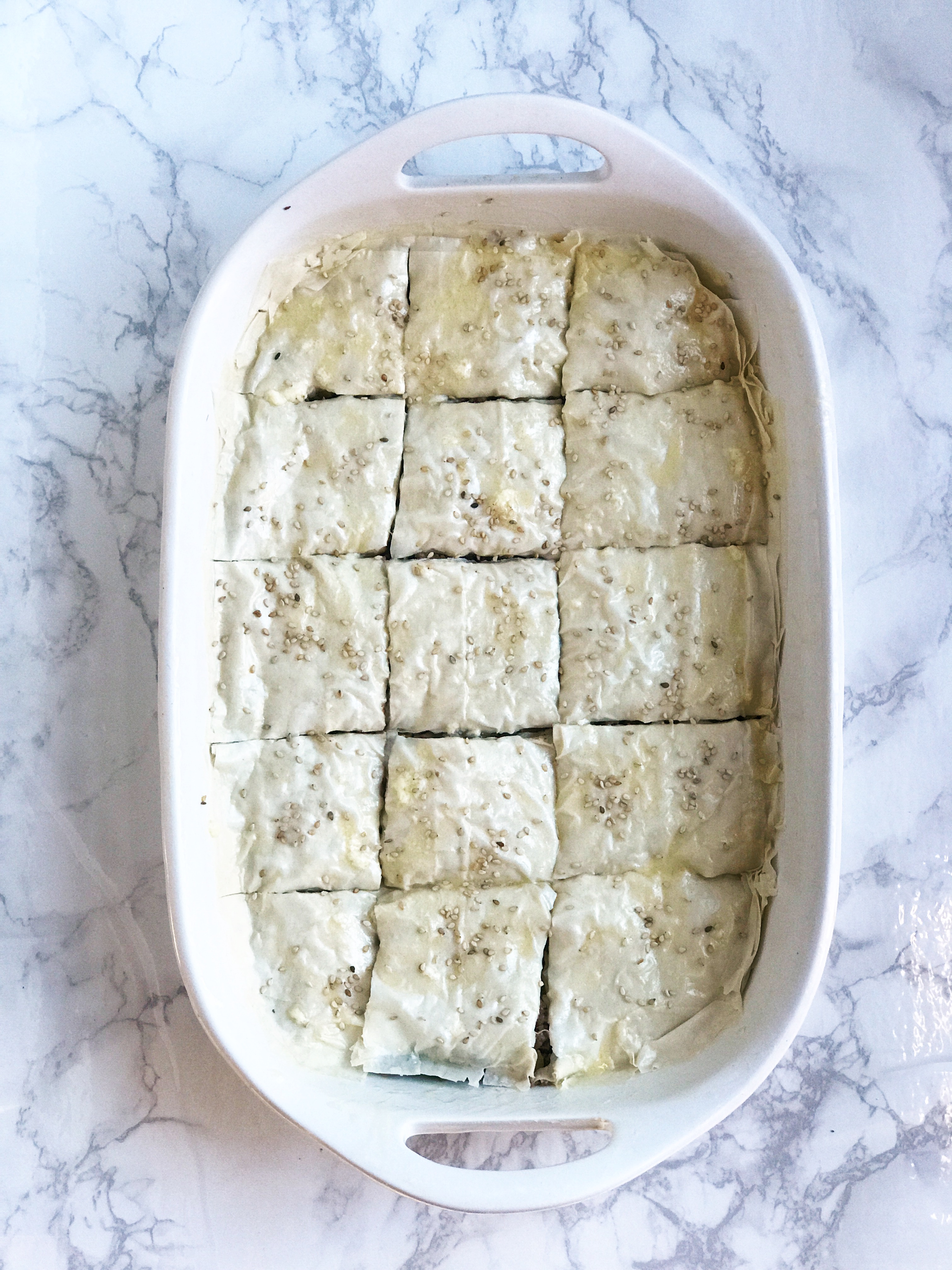 I was first introduced to this Turkish Börek recipe by my sweet friend Suheyla. She was born in Midyat Turkey and moved to the United States with her family over 40 years ago. The beauty of Suheyla and her family is how they honor their heritage and traditions by celebrating their culture together through traditional food, music, and their age-old Aramaic language. I most admire Suheyla's effort to preserve her culture by passing these traditions down to her children and grandchildren.
The commitment to honor her roots is how recipes like Börek have survived the test of time. I am thankful for the privilege to learn from Suheyla, not only about her beautiful culture but how to appreciate and enjoy her food as well.
Check out a few other Turkish recipes on my blog below: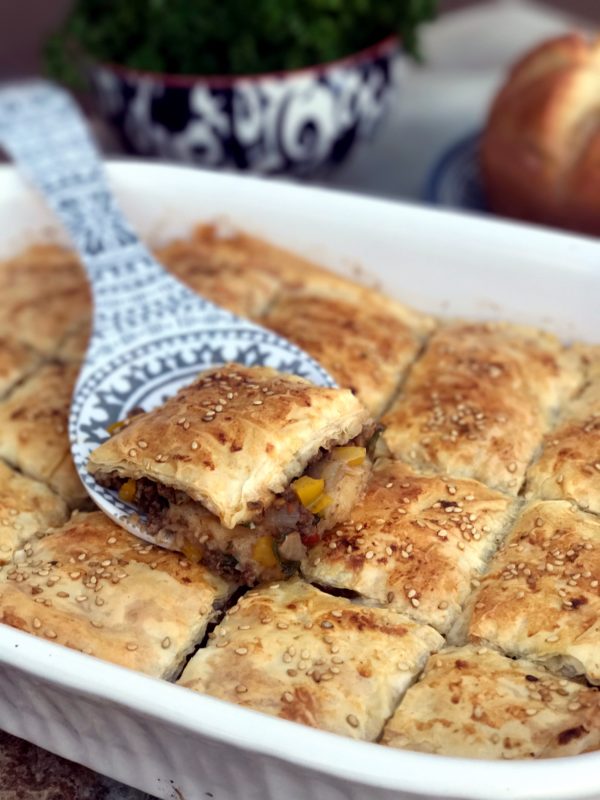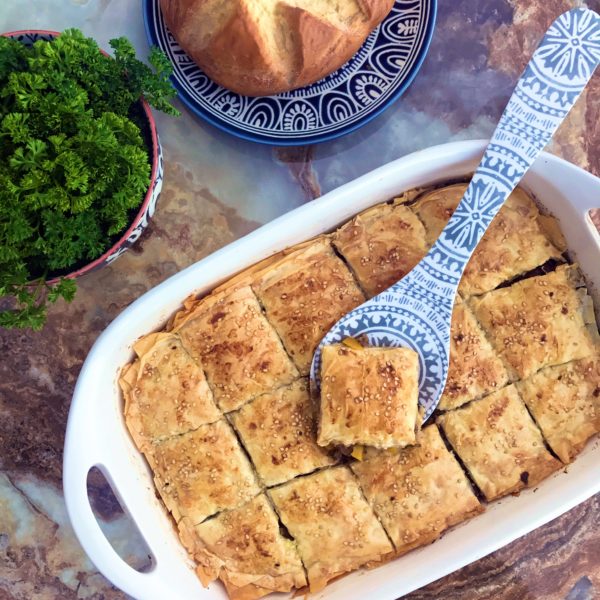 | | |
| --- | --- |
| | |
Prepare your ingredients ahead of time.

Melt 4 tablespoons butter in a large frying pan over medium heat. Add ground beef and sauté for 5 minutes.

Add onions and continue to sauté for an additional 5 minutes.

Add peppers and tomatoes, sautéing for 10 minutes. Remove from heat and set aside.

Place remaining butter in a heat proof bowl and microwave until melted.

Beat egg and add to the bowl of butter along with the milk, whisking until combined.

Prepare a 12 x 15 baking pan with oil or butter.

Lay one sheet of pastry dough on bottom of pan, cutting the edges and sides to fit the pan if necessary. Brush butter mixture over dough and repeat by layering the dough and butter until half of the phyllo dough is used.

Spread the meat mixture over the dough evenly.

Continue to layer the remaining dough and butter mixture until all of the dough is used. Sprinkle the top with sesame seeds. Cut the Börek into 16 even squares.

Bake for 30 minutes or until the top is lightly browned. Remove from oven and let rest for 10 minutes before serving.
Recipe by Suheyla Kerkinni for www.culinarybutterfly.com