Borani Esfanaaj is a Traditional Persian appetizer made with Yogurt and spinach. I first tasted this delightful dish at a dinner party hosted by my gorgeous friend, Sohiela, who makes the most wonderful Persian food.
The word "Esfanaj" in Farsi means Spinach and "Borani" is the yogurt part of the dip. What I love about Sohiela's version are the fresh Persian cucumbers she incorporates into the dip, giving it a soft juicy crunch with every bite.
What I appreciate about this Persian yogurt dip is the simplicity of making it. It requires only three basic ingredients and a little salt and pepper to create a full-bodied dip that pairs perfectly with pita bread, crackers, and vegetables.
Because this dip is made with Greek yogurt which is thicker than other store-bought yogurts, it has a heartier texture. This makes it perfect for stuffed chicken and turkey breasts, as a topping for fajitas or lettuce wraps, as a stuffing for celery sticks, or as a side dish with Basmati Rice.
There are a number of creative uses for Borani Esfanaj, but my favorite way to enjoy it is as a traditional dip with fresh baked pita bread, a few olives on the side, and Sohiela's Meyers Lemon Coconut Margarita.
You gotta love a friend who can cook!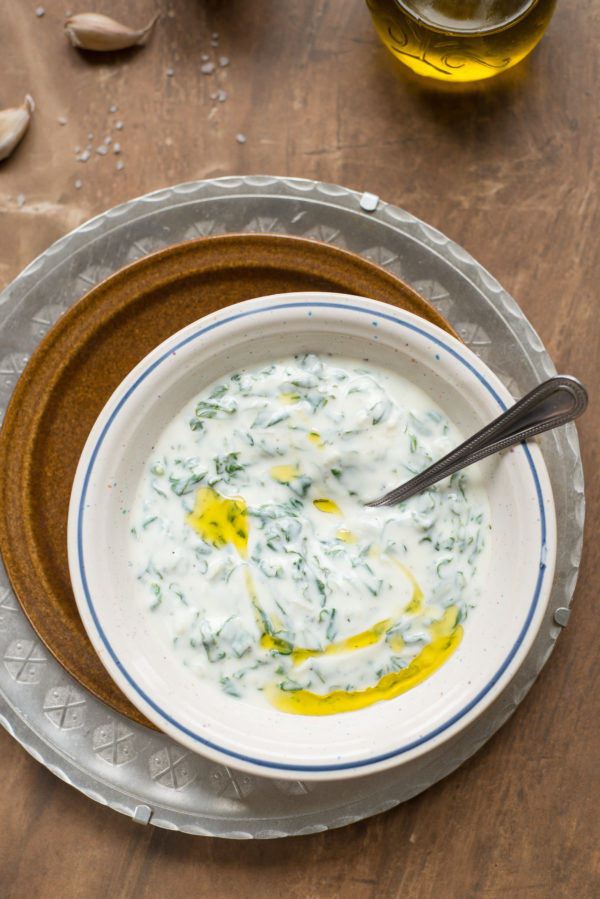 | | |
| --- | --- |
| | |
Prepare your ingredients.

Steam spinach for 5 minutes or until completely wilted.

Pour spinach into colander to drain water and let cool to the touch.

Using your hands, squeeze as much of the liquid from the spinach as possible. Lay spinach on cutting board and chop into 1/2-inch pieces. Transfer to a medium bowl.

Add in yogurt, salt and pepper, stirring until completely combined. Adjust seasoning to your taste.

Cover and refrigerate until ready to serve. Place cucumbers into a small bowl, cover and refrigerate separately.

Just before serving, drain any liquid from cucumbers and add to the dip, stirring to combine.
NOTES AND COOKING TIPS
Adding the cucumbers just before serving keeps them crisp and prevents excess liquid from forming in the dip.
Serve with Pita bread, chips, vegetables, or as a side to rice and meat.
You can also use this dip as the stuffing in stuffed chicken breasts.
Recipe by Sohiela Mirsharif for www.culinarybutterfly.com