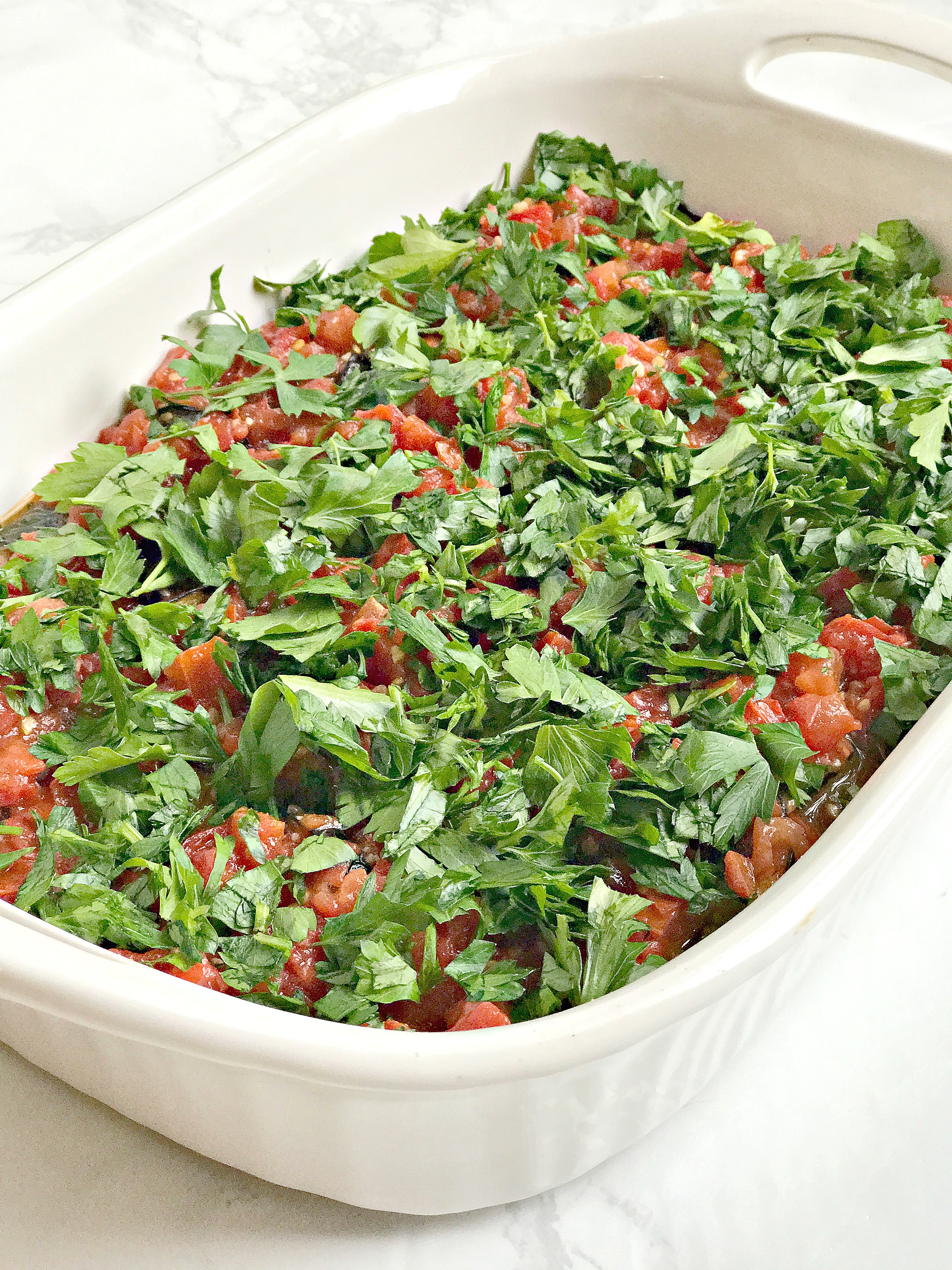 Last year I visited my friend Laurie in Florida for a long weekend of recipe testing her collection of recipes for my book. That is when I was introduced to Schloof, a traditional Suryani recipe served as an appetizer or side dish. To be honest, I didn't think the usual combination of basic ingredients found in the many Mediterranean dishes - like eggplant, tomatoes, and parsley could create a startling new eating experience, but boy oh boy was I ever wrong!
Although Laurie is American, I like to brag when saying she has mastered the art of Mediterranean cuisine better than any Mediterranean restaurant I have been to. Laurie's husband and his family are Assyrian and settled in the United States from Midyat, Turkey over 40 years ago. Laurie, being a knowledgeable wiz on all things food, (visit her website here) learned to make many Assyrian and Turkish recipes from her Mother-in-law and the family. I am thrilled to say, Schloof is one of them and even more ecstatic that she is willing to share the recipe with you and me.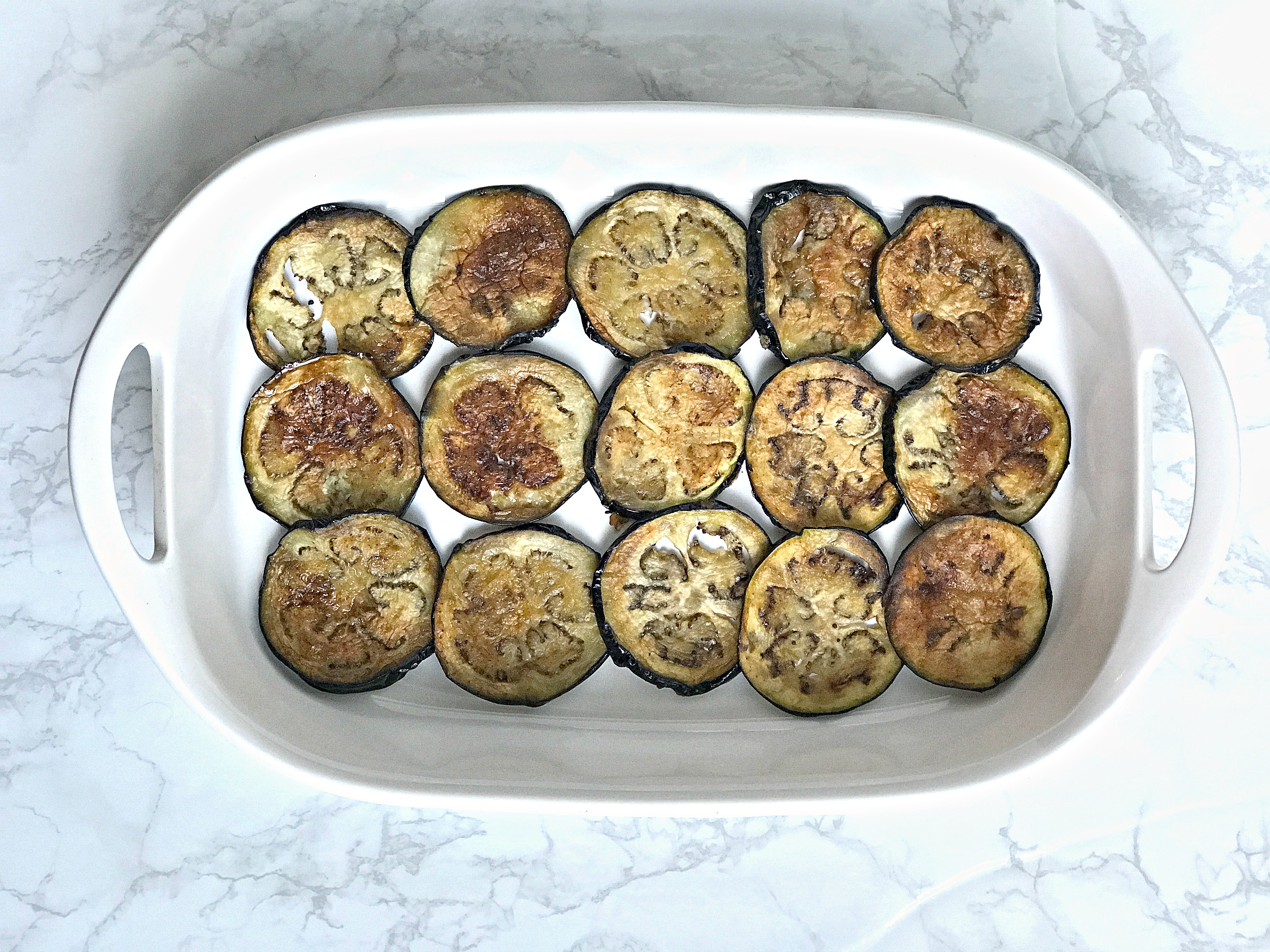 Schloof is one of those dishes you just can't stop eating. It's made with layers of sauteed eggplant, tomatoes cooked in garlic and oil, a sprinkle of Anaheim peppers, and topped with fragrant parsley. Once it sits for an hour, the flavors infuse together to create a symphony of flavors, unlike any other dish you have eaten. It's hard to explain why these ingredients taste uniquely delicious in this dish, but they do. Maybe that's why I have a hard time stopping myself from eating the entire dish all by myself. Think I'm exaggerating? Take a look at the photo below of the half eating Schloof. Yep, that was me. Guilty and proud. Since learning to make this traditional Suryani classic last year, I have made it at least 5 times and plan to make it again soon. It's just one of those recipes worth enjoying again and again.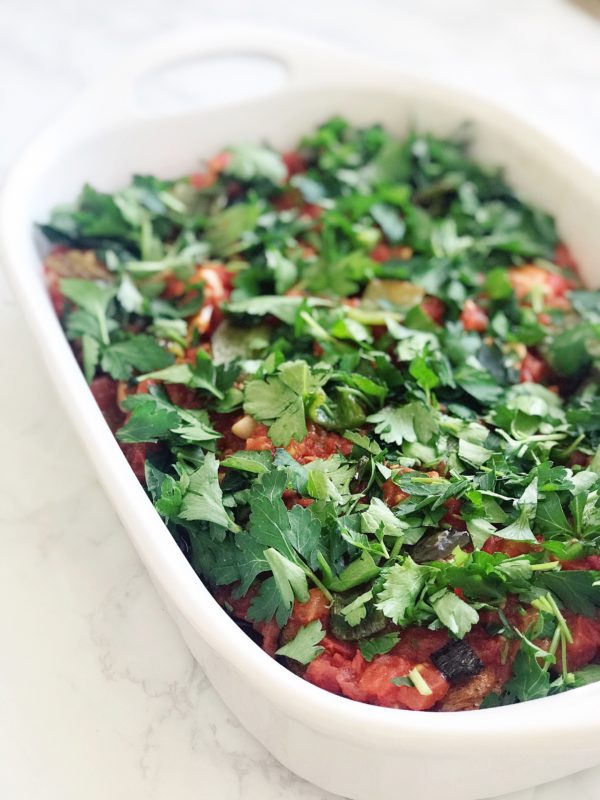 | | |
| --- | --- |
| | |
Start buy preparing your ingredients

Slice eggplant 1/4-inch thick, set on paper towels and lightly salt. Turn over when water droplets come to the top (approximately 20 minutes) lightly salt again. When water droplets form, pat dry with paper towel.

Heat oil in large pot over medium heat. Lay eggplant in a single layer, sauté until lightly golden brown, turn and repeat. Remove from pan and set aside on a paper towel. Repeat until eggplant is cooked. Discard oil.

In same pot heat 2 tablespoons oil on medium heat. Add Anaheim peppers, cover and simmer 3 minutes. Toss peppers, cover and simmer an additional 3-4 minutes or until peppers are lightly toasted and slightly soft. Using a slotted spoon, remove peppers from pan and set aside on paper towel.

Add garlic and salt to oil in the pan and sauté 2 minutes or until aromatic, add tomatoes and sauté 5 minutes on medium-high heat, making sure it doesn't completely cook down to a sauce. Stir occasionally.

When you are ready to layer the Schloof, use a slotted spoon for the tomatoes to prevent excess liquid from making the dish soggy. You want the Schloof to be juicy but not soupy. (see example)

In 8 x 8 or 11x7 glass serving dish, layer eggplant, tomatoes, Anaheim pepper, repeat with eggplant, tomato, parsley. Set aside and let cool for 1 hour before serving, or refrigerate until ready to serve.

Serve an appetizer or side dish.
This is a traditional Suryani recipe.
This is a make ahead recipe because it is served cold or at room temperature.
Choose fresh tomatoes. Older tomatoes tend to cook down faster and become liquidy.
Choose the most fragrant parsley for this recipe.
Serve as an appetizer or entree served with rice.
Meal idea:
-Serve with white fish, lamb, or beef, and Jasmine or Basmati rice.
Recipe by Laurie Kerkinni for www.culinarybutterfly.com