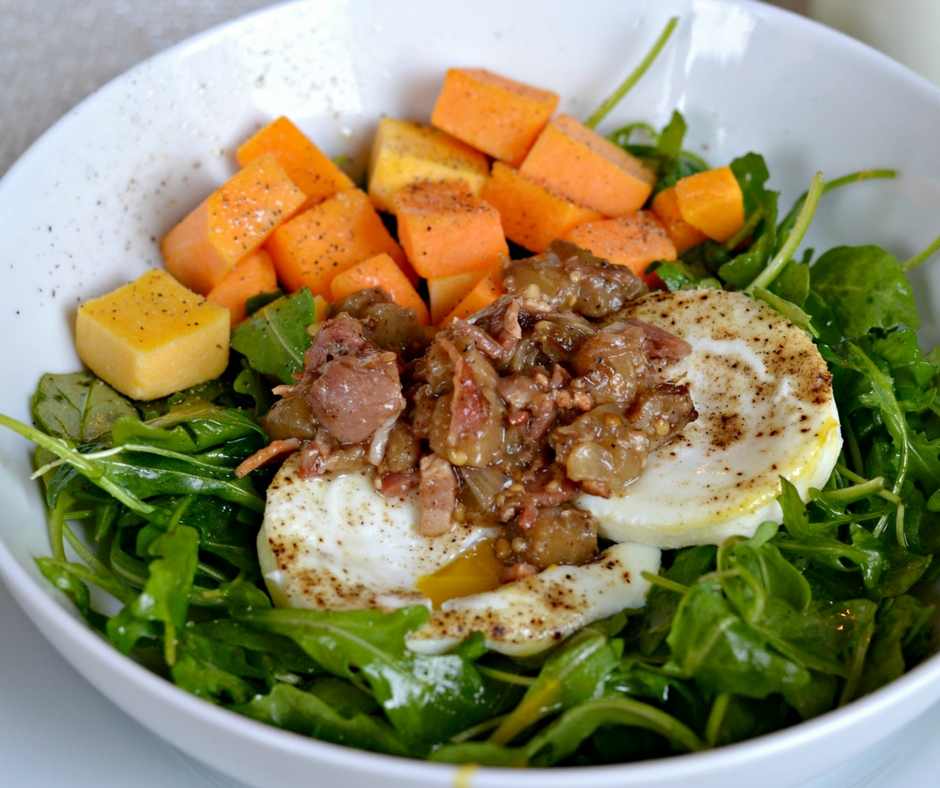 Some mornings, I find it challenging to get creative in the kitchen. Maybe it's because I'm not a morning girl and whipping up something deliciously original that everyone will love before they hurry out the door is not exactly my favorite way to start the day. At least not until after the first cup of coffee. Can you relate?
Poached eggs topped with warm bacon and eggplant was a recipe idea I pulled together using leftovers from my warm bacon and eggplant dip recipe. What a flavor explosion! The combination of creamy poached eggs laid over a bed tender arugula and topped with the salty bacon and eggplant was perfection.  Add a side of sweet potatoes and enjoy!
Print Recipe
Poached Eggs with Bacon Eggplant Chutney
Yum
Poached Eggs with Bacon Eggplant Chutney is the perfect quick and easy breakfast meal that your entire family will enjoy.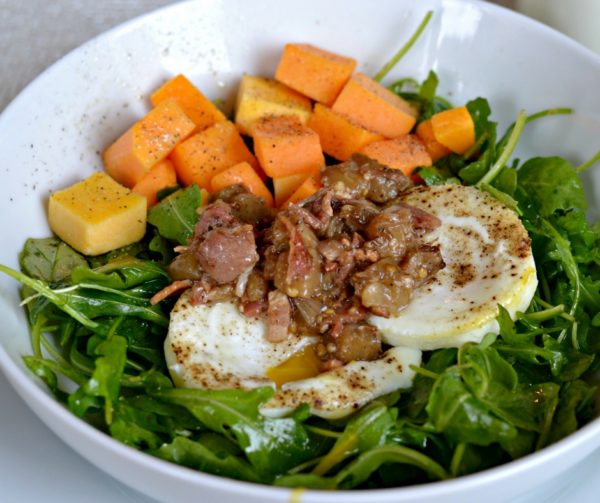 | | |
| --- | --- |
| | |
Fry bacon in a large skillet until soft cooked. Remove the bacon from the pan to drain on a paper towel, leaving remaining oil in the pan.

Add the eggplant and shallots to the pan and saute on medium heat, stirring frequently, until the eggplant becomes soft. Add additional olive oil if needed.

While the eggplant is cooking, cut bacon strips into 1/2 inch pieces. Add the bacon to the eggplant and combine together, sauteeing until the eggplant is fully cooked.

Stir in the garlic powder, salt, and pepper until well blended.
Fill a large saucepan about 2/3 full with water and bring to a boil. Lower heat and let the water cool to a simmer.

Add 1 tablespoon rice wine vinegar to the water, then gently crack the eggs into the water making sure the eggs stay separated while cooking.

Cook for 3 to 4 minutes or until the eggs is done to your liking.
Place arugula into a small bowl, adding olive oil, salt, and pepper. Gently toss leaves until combined. Transfer the arugula on to two serving plates.

Using a slotted spoon, gently remove the eggs from the water and place on top of arugula leaves. Top the eggs with Bacon Eggplant Chutney and serve immediately.
Recipe Notes:
This bacon eggplant chutney makes an excellent appetizer with crackers, french bread, stuffed celery sticks or as a side for almost any meal.
Recipe by Lisa Soldo-Johnson for www.culinarybutterfly.com