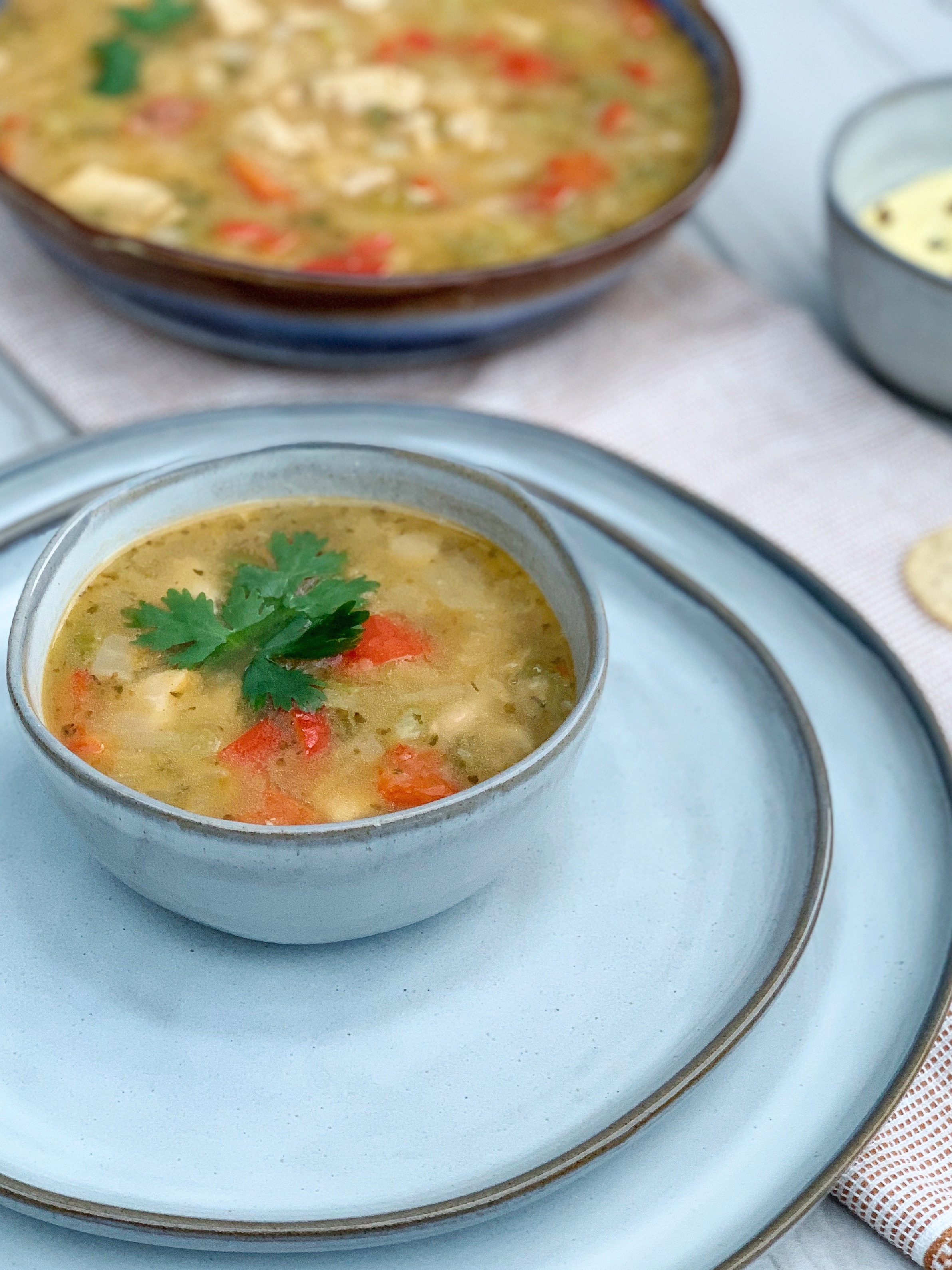 Fall is one of my favorite season of the year, especially in Minnesota where colder weather means it's time to pull out those big cozy sweaters and create some of my favorite comfort foods like this warm Chicken Chili with Turmeric and Barberry infused sour cream. If you haven't guessed by now, I'm a huge fan of international cuisine. I get inspired by re-imagining a take on classic recipes with a global twist. One of my favorite ingredients, often used in Persian cooking, is barberries. In Iran, dried barberries, called Zereshk are typically used in rice, stews, and sauces to add a subtle sour flavor to the dish. I like to use Zereshk in as many dishes as I can since it adds a tiny bite of unexpected sour flavor to the dish.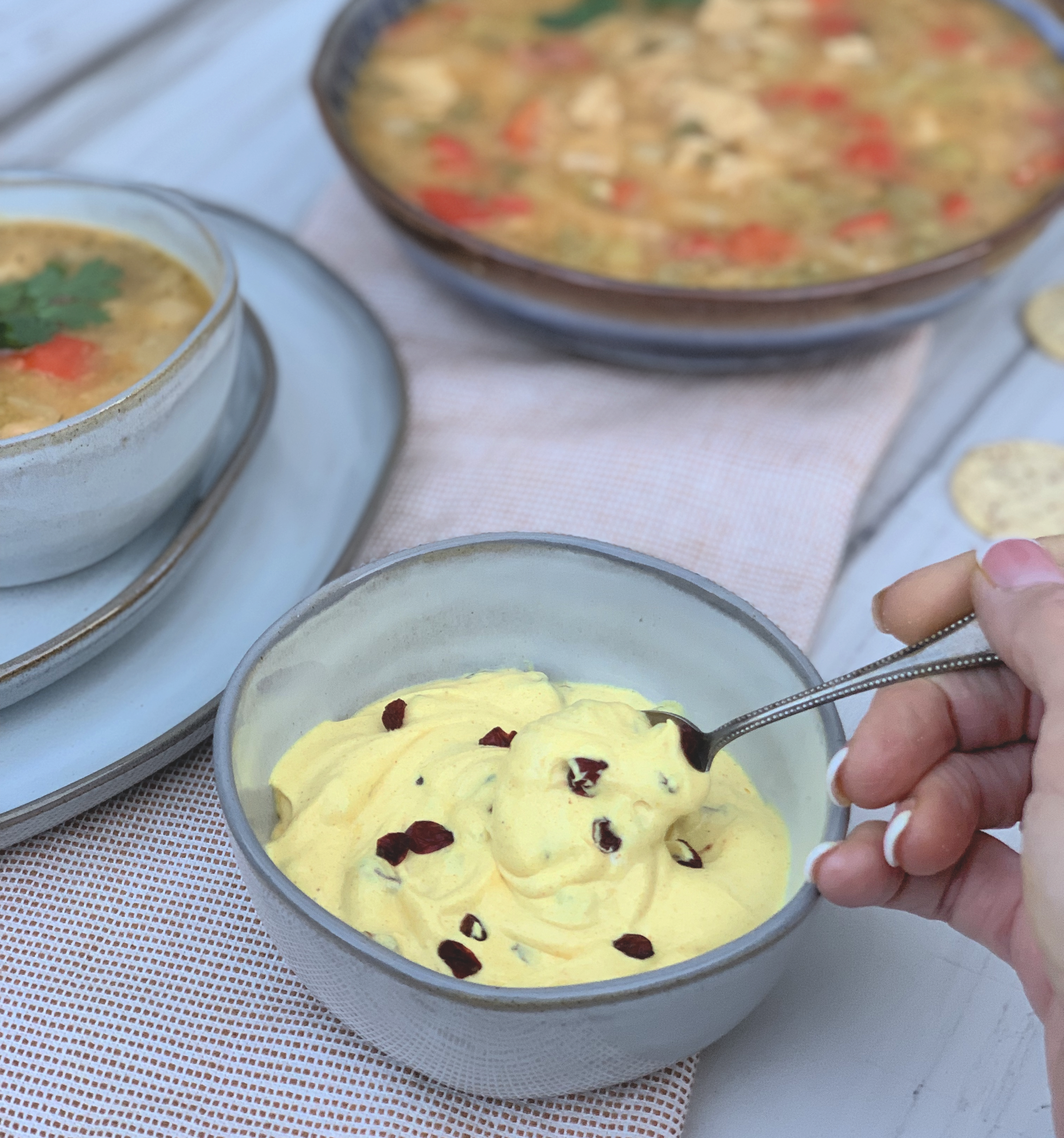 Fall and winter are the months I liked to use my slow cooker and my Instant Pot (affiliate link).  There is something wonderful about putting all of your ingredients into one cooking vessel and with little to no extra effort, you have a full meal on the table in a fraction of the time it takes for a stove top or oven method. I refer to these meals as set it and forget it. I made this Chicken Chili recipe in my Instant pot but if you are a slow cooker family, this dish can easily be adjusted for that method by adding more time to the cooking process.
While the chili was cooking, (which takes about 30 minutes from start to finish) I created a Persian-inspired sour cream by adding a teaspoon of turmeric powder and 2 generous tablespoons of barberries (affiliate link) that were soaked in water to soften ahead of time. Honestly, this sour cream takes the classic chicken chili to an entirely new level of deliciousness! The turmeric gives the sour cream a warm earthy flavor, while the barberries creates a just so subtle kick of sour with every spoonful. One bite of this dish and you'll never look at Chicken Chili the same. Enjoy!
I hope you enjoy this recipe! If you've made it please share it with me by tagging @culinarybutterfly on Pinterest.
Print Recipe
Instant Pot White Chicken Chili with Turmeric and Barberry Sour Cream
Yum
Instant Pot White Chicken Chili with Turmeric and Barberry Sour Cream is an easy to make, one-pot meal. Topped with a turmeric and barberry sour cream to give it a lightly creamy, slightly sour taste with every bite.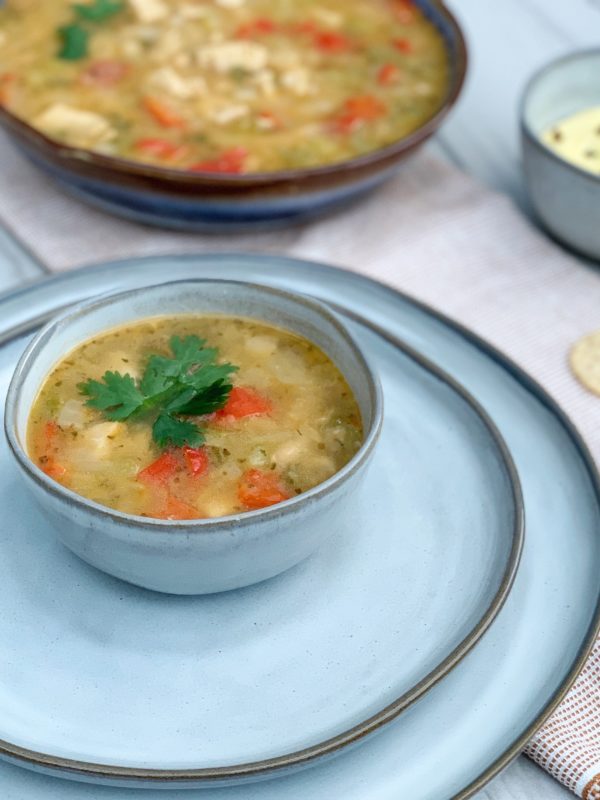 | | |
| --- | --- |
| | |
Turn the Instant pot on to the saute setting. Add the olive oil and garlic, sauteing for 1 minute to infuse the garlic and oil.

Add the peppers, jalapeno, celery, and onion, stir and saute for 5 minutes.

Add the chicken breast and beans, sauteing for an additional 2 minutes until chicken begins to whiten.

Stir in the cumin, coriander, oregano, salt, and pepper. Add in the chicken broth and gently stir.

Cover the instant pot with the lid to the lock position. Turn the instant pot to off to reset the cooking process. Turn the pressure level to high and the instant pot to pressure cook for 15 minutes.

While the chili is cooking, prepare the sour cream. First, soak the barberries in warm water for 10 minutes, pour it into a mesh strainer to remove the water. Add the sour cream, turmeric, and barberries in a small bowl until combined.

Allow the timer to come down to approximately 7 minutes before manually quick releasing the pressure until all of the steam has been removed from the instant pot. Unlock the lid and serve the chili hot with Turmeric and barberry sour cream and chopped cilantro.
Recipe by Lisa Soldo-Johnson for www.culinarybutterfly.com