Russian beef Stroganov with Italian Tagliatelle is an Instant Pot Recipe I created using basic ingredients from my refrigerator and pantry. This dish is everything you want a down-home comfort food meal to taste like.  And best of all, it's a hardy meal that feeds 4-6 people and is ready in just over an hour.  To me, that's the perfect meal when life is busy.
Of all things to stop working in my house; it was my stovetop.  The good news is, we have a home service repair company that will either fix it or replace it.  The bad news is, they won't be out to my home for ten days and if they have to order a part, that will take another week before my stove works again.  Unless they replace it in which case will be another few days.  Ugh! Almost four weeks without a stove?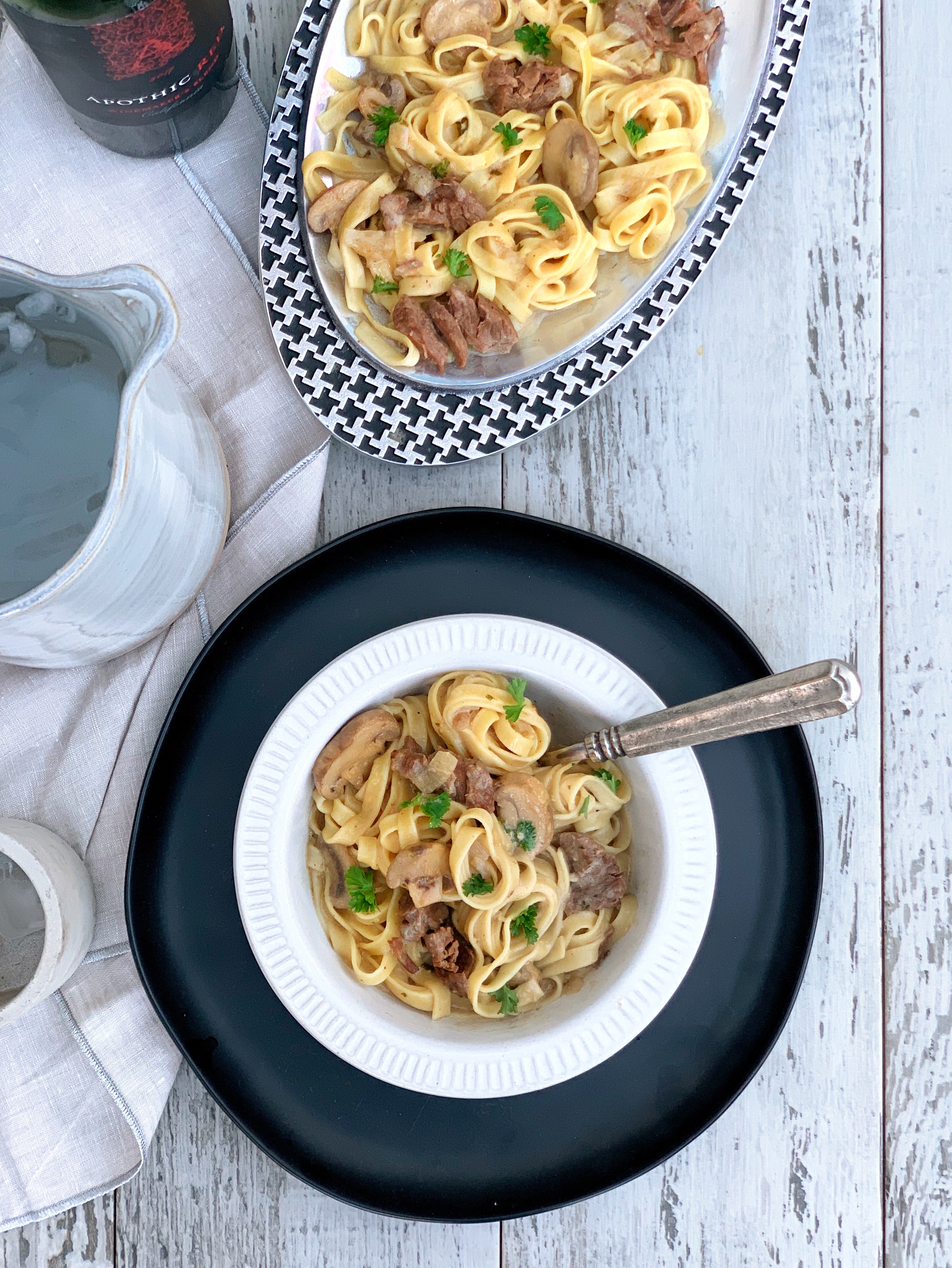 Thankfully, I own an Instant Pot (affiliate link). Unfortunately, I have hardly used it.  The good news is, I have been creating brand new recipes from this impressive vessel that I now get to share with you!
A few days ago, I created a White Chicken Chili with Turmeric and Barberry Sour Cream recipe that was so delicious, an entire pot of this soup disappeared in 15 minutes.  Tonight, it is tender, creamy Russian beef Stroganov with Italian Tagliatelle.
Most beef  stroganoff  recipes are made with wide egg noodles, but because I had Tagliatelle noodles on hand, I used them and wow oh wow was it perfect!
You can purchase Tagliatelle noodles at Hyvee stores or online here (affiliate link). Use egg noodles if you like, but I highly recommend trying this pasta with the recipe. You won't be disappointed!
I hope you enjoy this recipe! If you've made it please share it with me by tagging @culinarybutterfly on Pinterest.
Print Recipe
Russian Beef Stroganov with Italian Tagliatelle - Instant Pot Recipe
Yum
Russian Beef Stroganov with Italian Tagliatelle is easy to make Instant Pot Recipe that puts a hardy meal on the table in a little over an hour.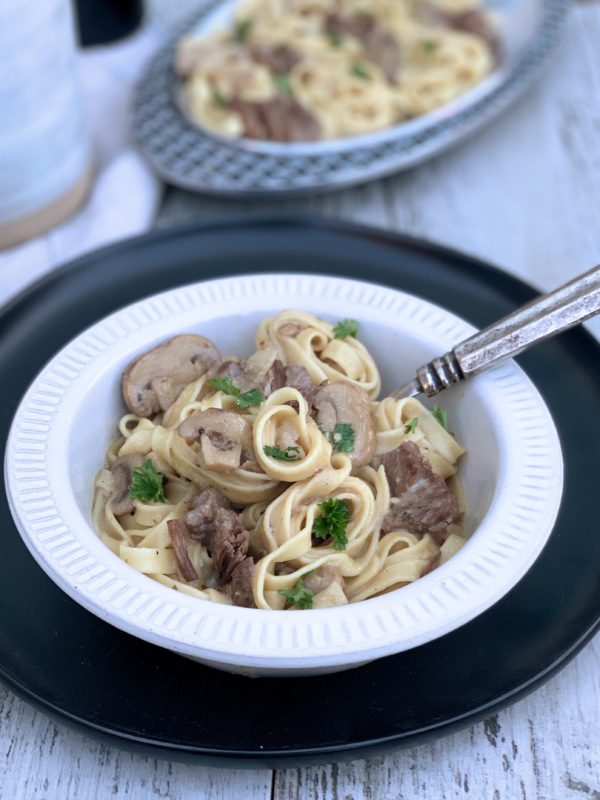 Cook Time

1

hour, 15 minutes
Cook Time

1

hour, 15 minutes
Heat olive oil on the sauté setting in the Instant Pot.

Season the beef with salt, pepper, and paprika. Working in two batches, sauté the beef on each side until just browned on the outside. Transfer the meat to a plate and set aside. Discard the liquid from the pot, wipe clean, heat oil remaining 2 tablespoons oil and continue browning the remaining meat. Add this batch to the reserved meat and return the inside pot to the base.

Add the butter and stir until melted. Add the onions and mushrooms, stirring occasionally for ten minutes until soft. Add the garlic and continue to cook for two minutes. Add the flour,, stir to combine, and cook for one minute.

Pour in the wine and brandy and simmer for two minutes. Pour in three cups of broth and bring to a boil. Add the sour cream, mustard, lemon juice, and 1 teaspoon of salt.

Add the beef back to the Instant Pot, cover and secure the lid to the lock position. Hit cancel and press the Manual (high pressure) button, setting the timer for 12 minutes. When the machine beeps (about 23 minutes later). Hit cancel and use the quick release to release the steam before removing the lid.

Add in the noodles and parsley, cover and seal the lid. Press the manual (high pressure) button, setting the timer for 5 minutes. When the Instant pot beeps (about 12 minutes), quick-release the pressure and remove the lid.

Season to taste if needed and serve warm.
Recipe by Lisa Soldo-Johnson for www.culinarybutterfly.com