Cucumber mango mint salad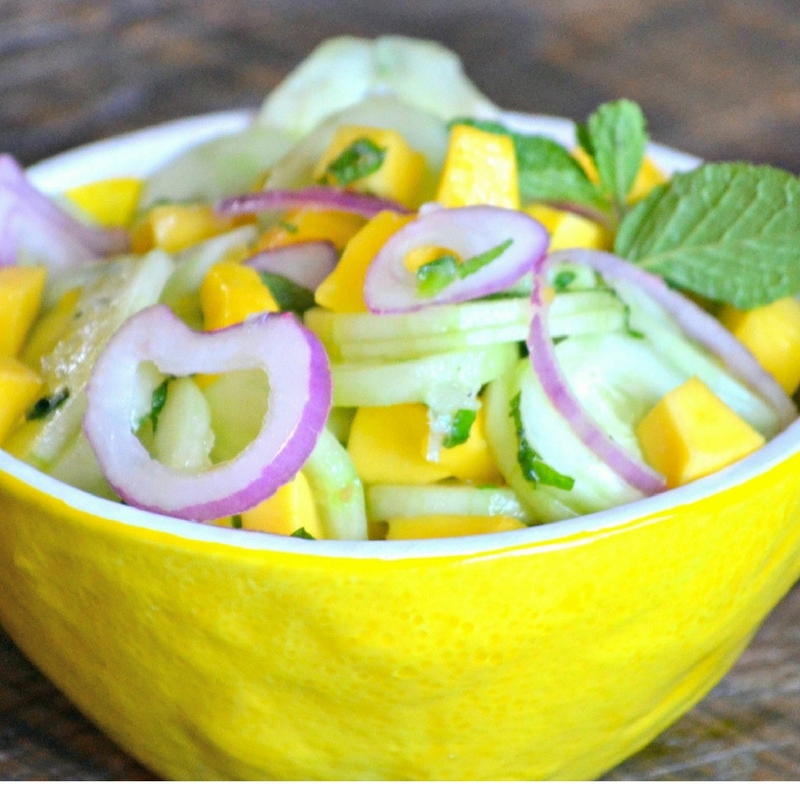 When it comes to salads, there is no end to the variety of ingredients you can use to create an appetizing palatal experience.
For me, that combination has to draw me in, keep me interested, and leave me wanting more for it to be considered a great salad.
Call me a salad snob if you will, but those salads don't just happen at the corner market salad bar. They happen on purpose when you create a salad with just the right ingredients, a perfectly blended dressing, and a touch of passion used in every part of the salad making process.
The thing I like most about this Cucumber Mango Mint Salad is the simplicity of it.
Using only a few ingredients, the sour mangoes, crisp cucumbers, crunchy sweet red onions, and cool mint pair perfectly together, especially when you add a splash of lime juice and sea salt. It's a flavor explosion that leaves your taste buds euphoric indeed.
I love to serve this salad with white fish or chicken, or as a filling for fish tacos. It's an excellent compliment to any meal for lunch or dinner, and it keeps well in the refrigerator if you want to keep any leftovers for tomorrow's meal.
The trick to making this salad perfect is using ripe mangoes, and fresh cucumbers, mint, and onions.
Try this salad as a side with my Melt in Your Mouth Chicken or Pan Fried Garlic Shrimp recipes for a dining experience worth repeating again.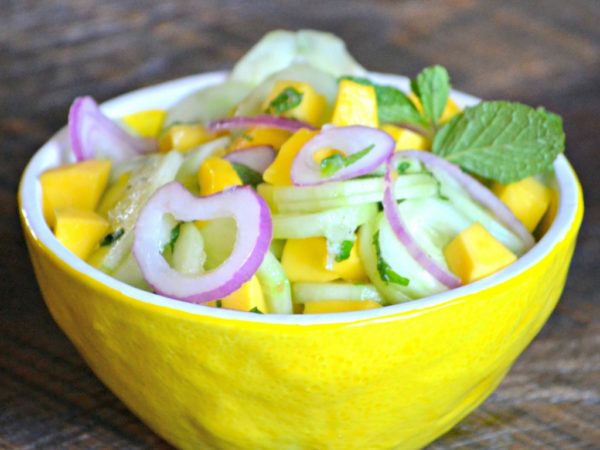 | | |
| --- | --- |
| | |
In medium bowl, toss together mango, cucumber, onion, red pepper, mint, salt and lime juice.

Refrigerate until ready to use.
Recipe by www.culinarybutterfly.com