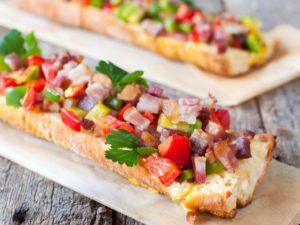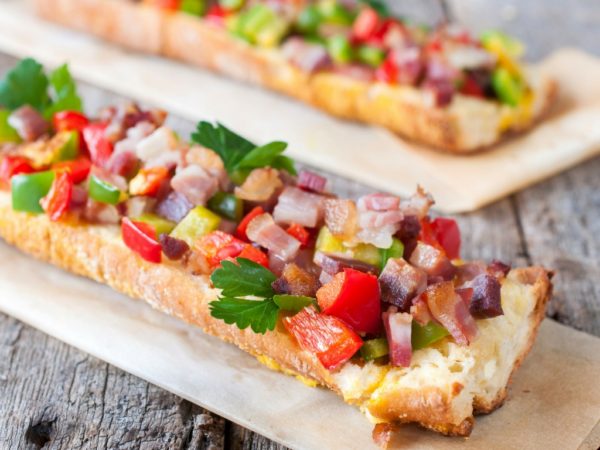 | | |
| --- | --- |
| | |
In large bowl, toss together peppers, onions, bacon cilantro and marinade. Let marinate for 20 minutes stirring occasionally.

Using a colander over a bowl, strain the vegetables into the colander to remove liquid. Set the marinade aside for later use.

In medium pan, heat 2 tablespoons of olive oil on high heat, adding in the vegetables once oil is hot. Saute, for 2 minutes or until vegetables are slightly soft. Remove pan from heat and set aside.

Place bread halves on baking sheet and drizzle 1 tablespoon olive oil on each half. Sprinkle garlic powder and dried basil on the bread and broil for 3-5 minutes or until bread is lightly toasted, being careful not to let the bread burn. Remove from oven.

Using a large spoon, layer the vegetables across the bread halves. Sprinkle the tops with a pinch of salt

Return to the oven and broil for an additional 3-4 minutes or until the vegetables are warmed, being careful not to burn the vegetables or bread. Remove from oven and serve hot.
Idea:
- Spoon extra marinade over the vegetables before serving for an extra burst of flavor.
- Refrigerate the marinade and use it for a delicious salad dressing.
- Have fun with this recipe by using any of your favorite vegetables or meats.
Recipe by www.culinarybutterfly.com