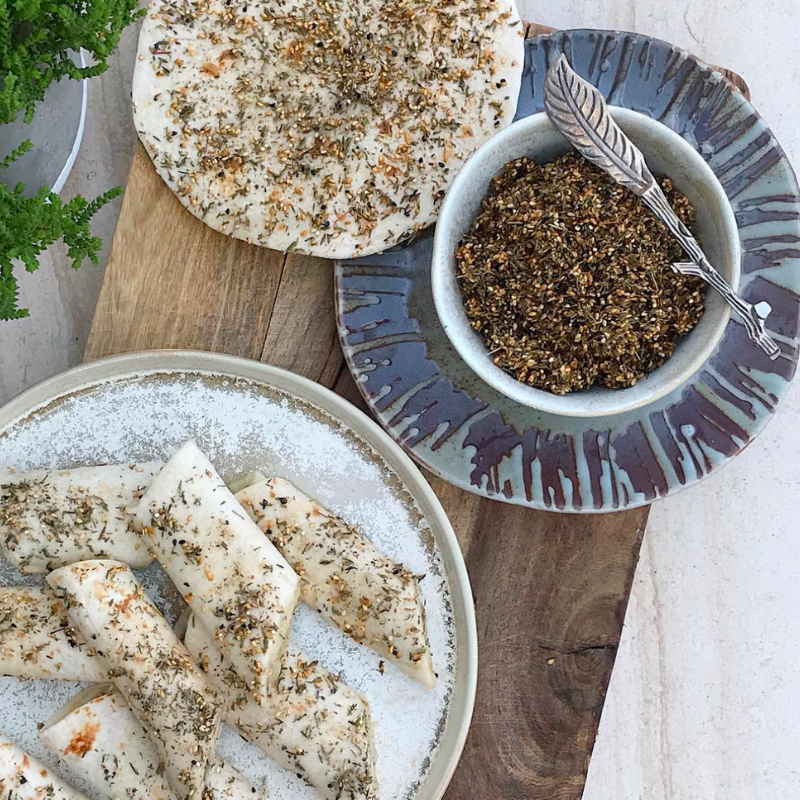 Stuffed Pita with Mozzarella and Zaatar is one of my new favorites! These delicious little finger foods are made with soft pita bread slathered with irresistibly aromatic herby Zaatar and stuffed with warm melted mozzarella cheese.
I created this recipe quite by accident when I was testing a new recipe for homemade Zaatar created by my friend Laurie. I instantly fell in love with the explosion of flavors bursting from the exotic herb mix.  Excited to try out the new creation on something more than bread, I used what I had on hand in the refrigerator and created what I consider to be a big winner in appetizer ideas!
Good news! You can make this recipe both gluten-free and dairy-free by using corn tortillas and dairy-free cheese.
You can find Laurie's recipe for homemade Zaatar here.  So, the next time you need a quick side to your family meal or you are in charge of making appetizers for a festive gathering, give this recipe a try and prepare to impress the crowd with an entirely new experience in delicious finger foods.
Print Recipe
STUFFED PITA WITH MOZZARELLA & ZAATAR
Yum
Fresh Pita bread stuffed with cheesy mozzarella and slathered with aromatic Zaatar creates a unique and delicious appetizer or side to any meal.
Generously spread zaatar over top of each piece of pita bread. Lay zaatar side down on baking sheet. Sprinkle cheese evenly over each pita and transfer to oven. Broil 3-5 minutes or until cheese is melted. Be careful not to let the bread burn.

Remove tray from oven, carefully roll each pita up tightly and transfer to a cutting board. Slice each pita in half on the diaganol. Serve immediately.
Recipe by Lisa Soldo-Johnson for www.culinarybutterfly.com