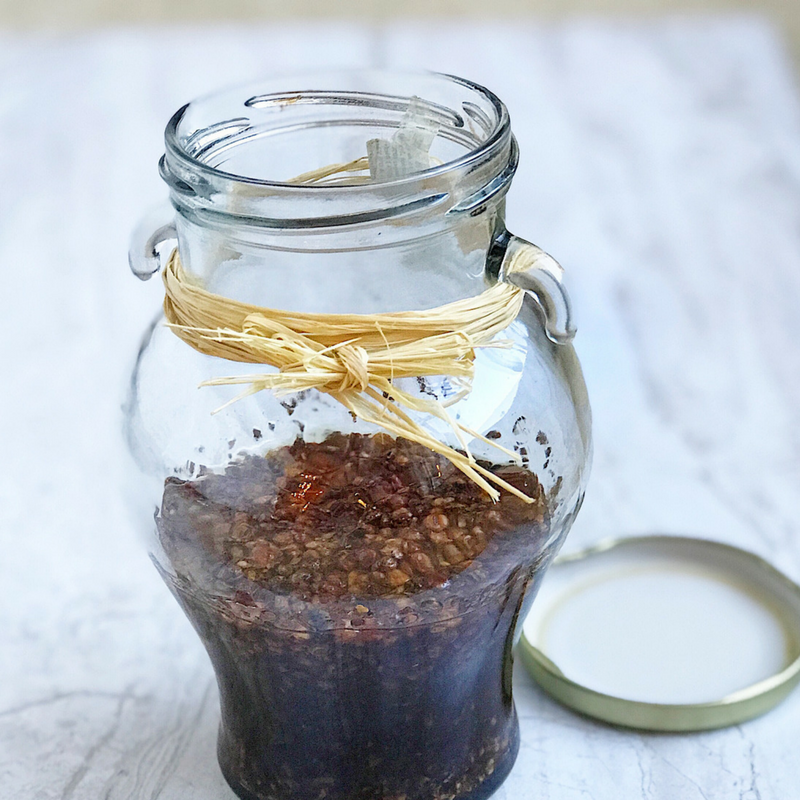 In today's world of global cooking, many recipes call for specialty oils that you can't typically find at the local grocery store. Sichuan Peppercorn Oil is one of them, at least in my area of town. This lack of access to global spices and oils (without driving 45 minutes into the city and fighting traffic) for a tablespoon of Peppercorn Oil, is what prompted me to create a "make your own" section in my cookbook and on this blog. Although, this particular oil has numerous uses for adding a distinctly wonderful flavor to dishes, one of my favorite ways to incorporate it is in the Chinese Spicy Shaved Beef Bites recipe created by my friend Rachael from China.
You can also use this fragrant oil in stir-frys, sautees, dipping sauces, or anywhere you'd like to add a little zing to your meal. The sky's the limit. Enjoy!
Heat medium saucepan over high heat for 30 seconds.

Add the peppercorns, reduce heat to medium-low, toasting 2 minutes or just until they become aromatic.

Transfer peppercorns to a bowl and cool. Using the back of a large spoon to lightly crush the peppercorn.

Using the same pan, heat the olive oil in the saucepan over medium-low heat until it comes to a slow simmer. Add the peppercorns, reduce heat to low and simmer 5-6 minutes or until peppercorns turn dark.

Strain oil in to a glass container and store in a cool place for up to 2 months. If you prefer a stronger oil, leave the peppercorns in the oil for 1 hour before straining.
Recipe by Rachael Huang for www.culinarybutterfly.com