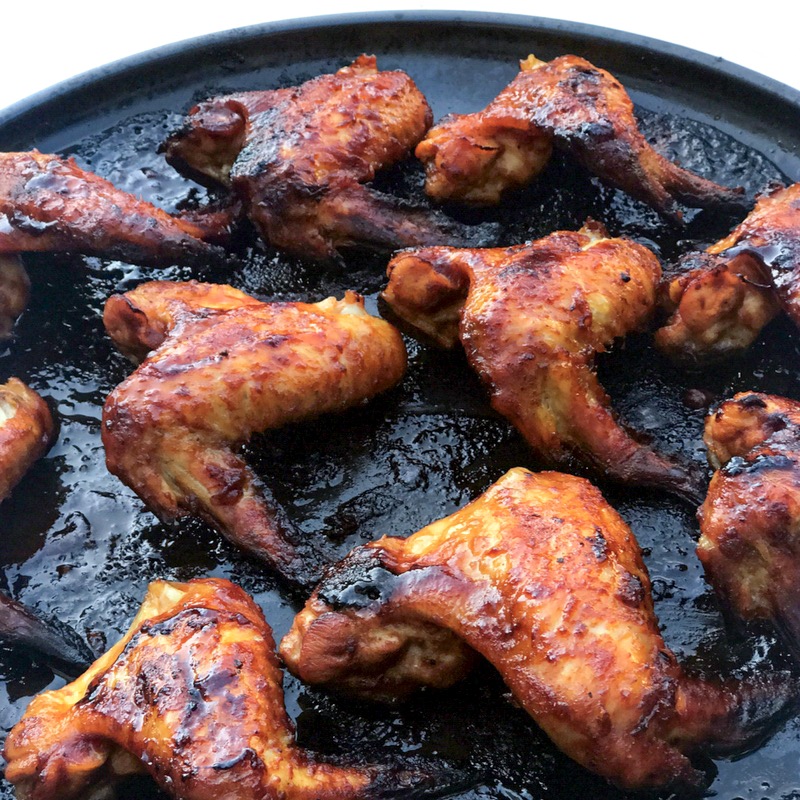 Chicken wings are on the list of "Great American Foods," right after hot dogs and apple pie. Add a little hot sauce, and they suddenly become buffalo wings. I'm not sure why the animal changes from chicken to buffalo when you introduce a little hot sauce, but whoever thought of that idea was brilliant since chicken wings are one of the biggest selling menu items in sports bars and restaurants.
One reason I have never been a fan of chicken wings or making them is that they are typically deep-fried or coated in a sauce packed with preservatives. For a tiny food that takes a lot of work to eat (especially if you take the skin off like me), it just didn't seem worth it. That is until I discovered how to make chicken wings in the oven with the same great taste as deep-fried but healthier.
You can bake your wings on a pizza wheel, glass baking dish, or any oven-proof dish that leaves room enough for your wings to spread out.   One of my favorite high-heat pans by Pampered Chef called Rockcrok Grill Stone. You can find it here, but any baking pan will do.
What I love most about this two-ingredient recipe is it requires almost no work, the results are finger licking good, and the baking method creates a fried chicken texture and taste without the extra oil and fat. Tender, juicy, meaty, and packed full of flavor. You can also add miniature chicken legs to the mix for those who like the legs and the wings.
Because I like my ingredients clean, I use Annie's organic BBQ sauce with no preservatives but feel free to use your favorite brand and flavor. Now I can finally add oven fried chicken wings to my list of family favorites. Next time, we're going buffalo style!
I hope you enjoy this recipe! If you've made it please share it with me by tagging @culinarybutterfly on Pinterest.
Print Recipe
Baked BBQ Chicken Wings (Oven Fried)
Yum
Forget deep frying your chicken wings and turn on the oven because you are about to get the same great taste of deep fried wings but healthier!
Preheat the oven to the highest temperature for 10 minutes.

Place the top rack on the highest notch in the oven. Set the baking sheet in the oven and heat for 10 minutes.

Cut off any excess fat from the wings and discard. Rinse and pat dry the chicken wings and transfer to a large bowl.

Generously coat the chicken wings with your favorite BBQ sauce.

Remove the hot pan from the oven, and lay chicken wings in a single layer. The pan will sizzle. Bake 10 to 15 minutes depending on the size of your wings.

Turn the wings over and bake an additional 10 to 15 minutes.

Turn oven temperature to broil and broil each side 5 minutes for extra crispness. Remove from oven and let cool slightly before serving.
Recipe Notes:
12 wings will serve 4-6 people depending on your wing size.
Recipe by Lisa Soldo-Johnson for www.culinarybutterfly.com