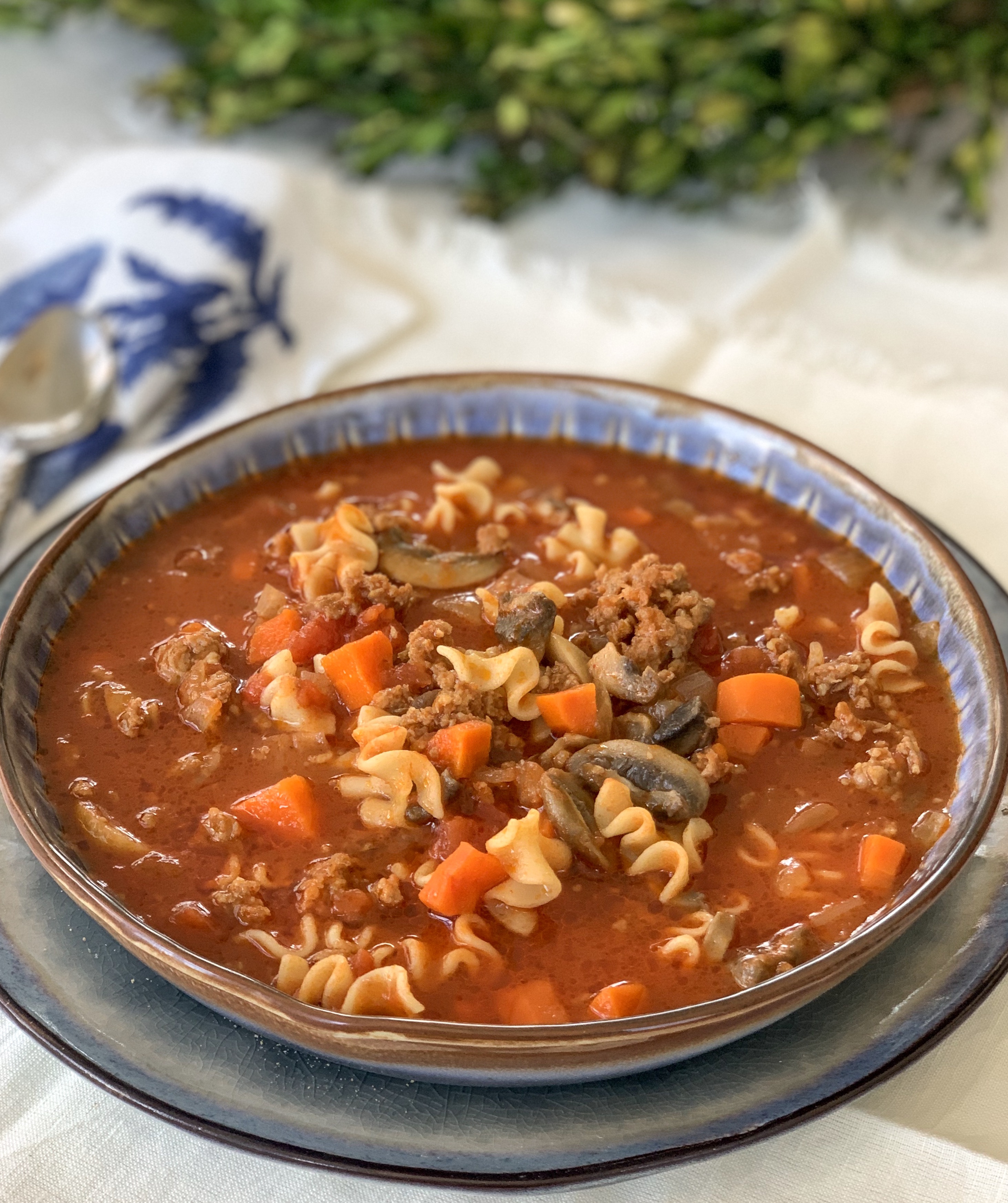 Italian Lasagna Soup is a recipe I learned to make years ago from a dear friend, Kristi, who made dining at her home a culinary adventure to be excited about!  This hardy one pot meal is right at the top of my favorites list of fall and winter soups.  One spoonful of this flavor-packed soup and you will be planning your second bowl long before the first is empty!
Though this dish is bursting with flavor, there is literally zero spices in this soup.  Not even salt and pepper - unless you decide to add it.  But, believe me, this recipe does not need adjustments.  Made with a combination of spicy Italian sausage and ground beef, all of the flavor comes through the meat and tomato sauce that simmers together.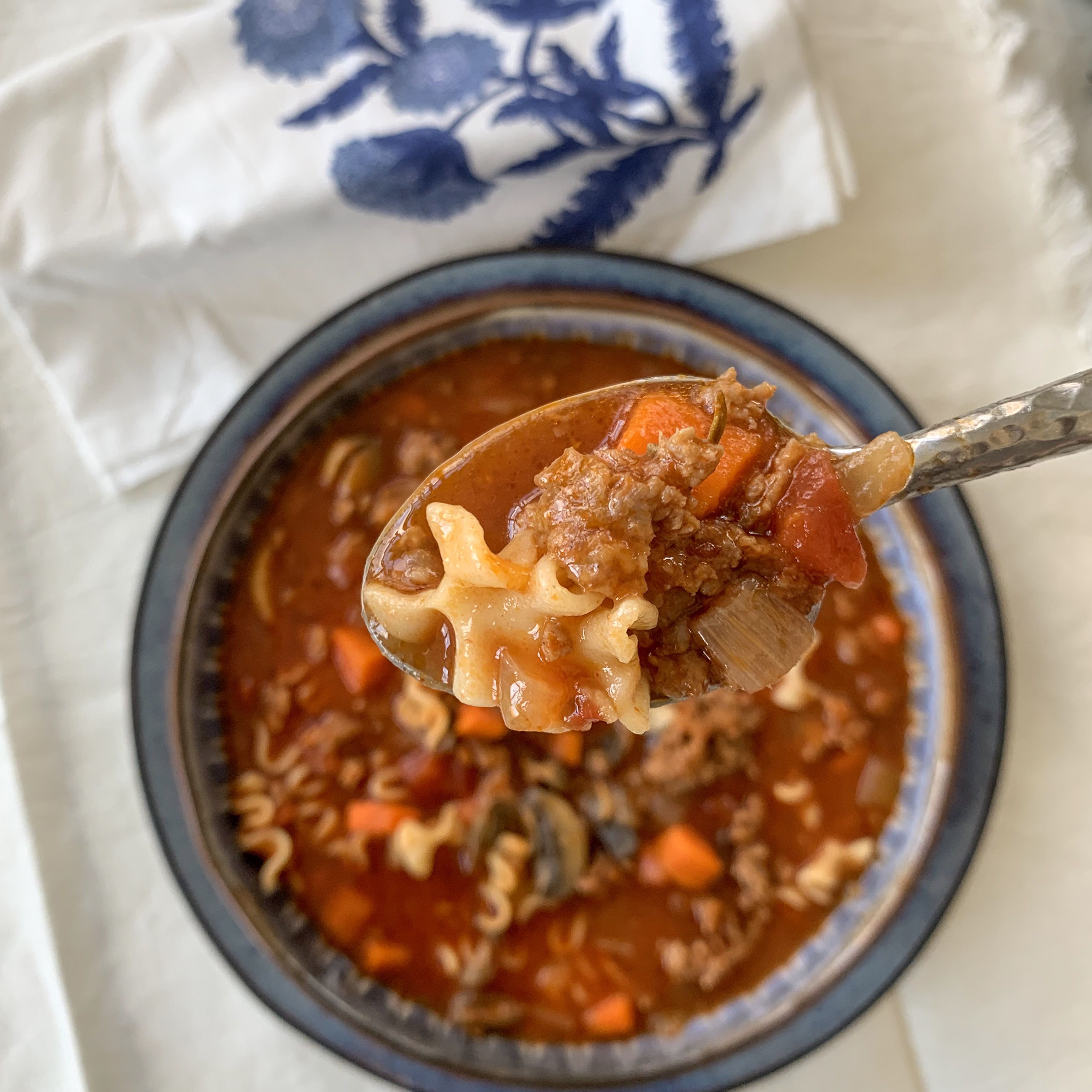 If you are a detailed person like me, you will notice the recipe calls for spinach but there is none in the finished soup photo. That's simply because I was out of spinach when I made it recently.  Because it's a family favorite, I made it again the following day using spinach as shown in the other photos.  I do recommend using it whenever possible because the spinach adds a wonderful texture, taste, and color to the bowl. The spinach is the only ingredient I would recommend altering if needed since the remaining ingredients really help to create the irresistible flavor profile of this soup.
I use Mafalada noodles in this recipe because they are a miniature version of lasagna noodles.  I have not tried it yet, but gluten-free noodles might work nicely in this soup for those who are gluten-intollerant.  The other option is to omit the noodles and enjoy the soup noodleless (if that's a word).
Finally, this soup is a crowd pleasure so plan to make it first for your family to enjoy and then add it to your menu when entertaining and prepare to hear plenty of yums, wows, and quello e buono! Which is Italian for, that's good!
I hope you enjoy this recipe! If you've made it please share it with me by tagging @culinarybutterfly on Pinterest
Print Recipe
Italian Lasagna Soup
Yum
Hardy Italian Lasagna Soup is the perfect fall and winter comfort-food meal in a bowl. Easy to make and so delicious you will be planning on seconds before your bowl is empty.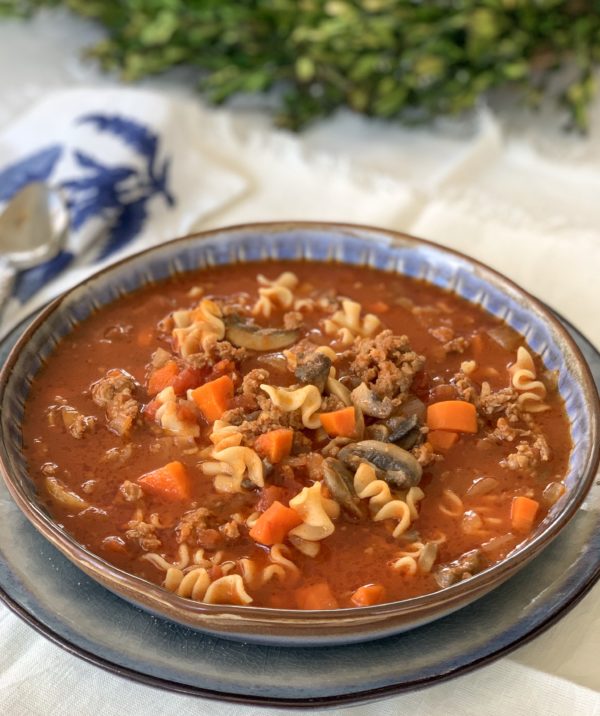 | | |
| --- | --- |
| | |
Heat the oil in a large pot over medium-high heat. Add the onions, and carrots, sauteing 5-minutes or until slightly softened.

Add the Italian sausage and ground beef, stirring often and sauteeing until browned. Take extra care in breaking apart the Italian sausage so they become the same size as the ground beef once cooked.

Stir in the garlic and mushrooms, sauteing until mushrooms are softened.

Add broth, stewed tomatoes, and tomato sauce and bring to a boil. Stir in the pasta and continue to simmer 10-minutes.

Stir in the spinach until wilted.

Fill individual bowls and top with mozzarella cheese (optional).