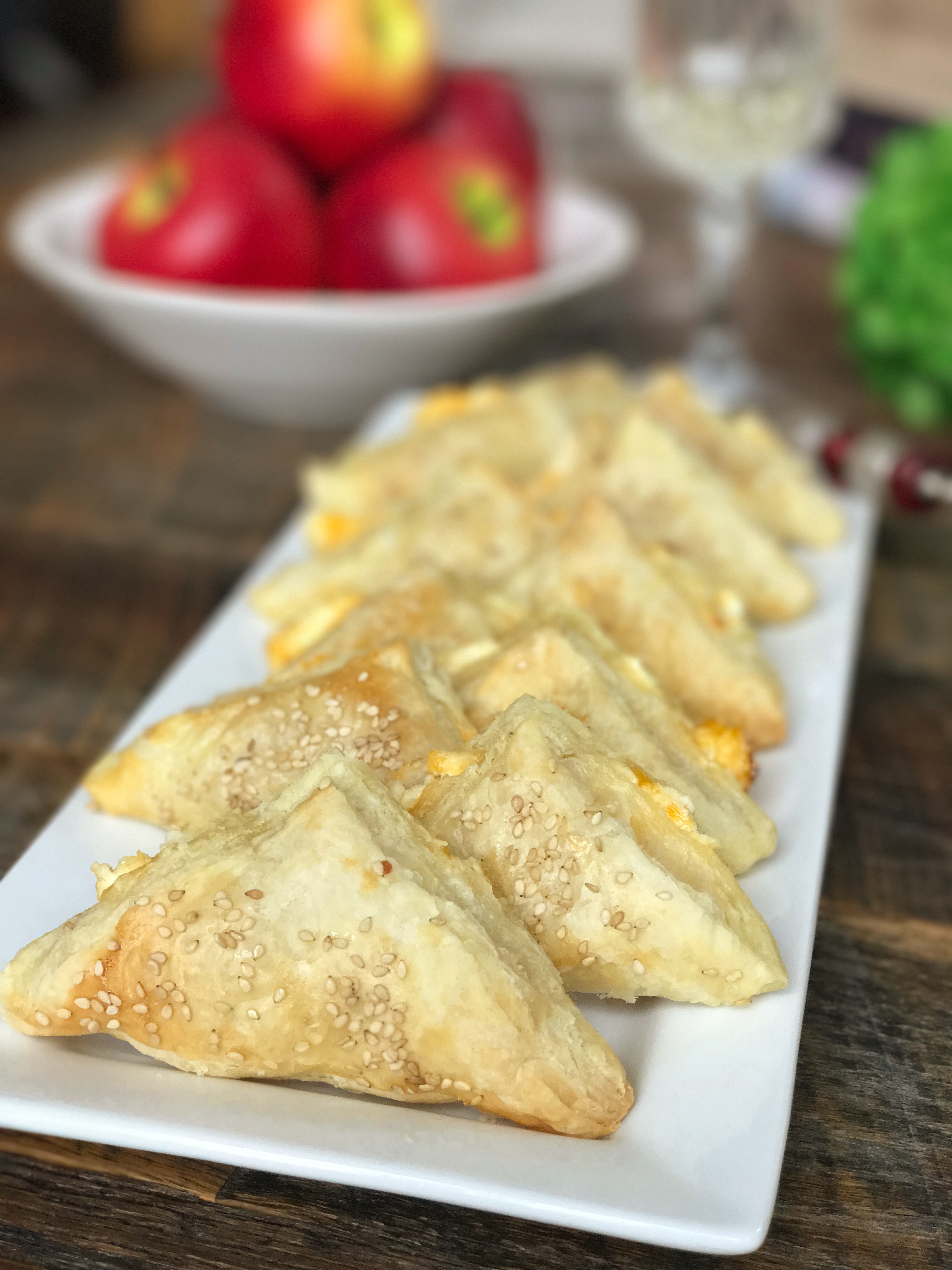 Who can resist a freshly baked puff pastry filled with all kinds of yumminess? Definitely not me. I confirmed my weakness when I tasted, my friend, Vivi's cheese filled Bourekas. After one bite I was hooked.
Bourekas are delicious, breaded hand pies that originated in the Middle East. Israeli cuisine is famous for making some of the most delightful bourekas in the world. There are many versions of these heavenly baked pastries, including well-known versions made famous by other cultures like Indian samosas, Italian calzones, and German strudel to name a few. Although bourekas originated in Asia as a stuffed dumpling, the Turks of central Asia migrated to the country of Turkey and over many generations, changed the recipe into a layered pastry known as börek.
History tells that when the Sephardic Jews settled in Turkey, they combined börek with their traditional empanada recipe and renamed it Boureka. Luckily for me, that recipe made its way from Turkey to Israel, then eventually to the United States, through my friend Vivi, who taught me an easy way to create this scrumptious cheese-filled puff pastry. Now, I get to share the recipe with you. Don't you just love a good history lesson!
I hope you enjoy this recipe! If you've made it please share it with me by tagging @culinarybutterfly on Pinterest.
Print Recipe
How to Make Israeli Cheese Burekas
Yum
3-cheese filled puff pastry topped with sesame seeds. The perfect quick and easy appetizer, snack, or side to any meal.
Preheat oven to 350°F and prepare your ingredients.

Defrost the puff pastry for one hour before using. Open dough out flat. Using a pizza wheel or sharp knife, cut dough into thirds length-wise and thirds width-wise to make 9 squares.

In a small bowl combine the sour cream, 1 egg (beaten), mozzarella cheese, feta cheese, oil, salt, and pepper.

Arrange 1 tablespoon filling in the middle of each square. Fold over to form a triangle, press edges to seal. Fold side edges over 1/2-inch to secure, turn over and lay on baking sheet lined with butter-greased parchment paper.

Separate remaining egg yolk from whites. Brush top of Burakas with yolk and sprinkle with sesame seeds. Repeat with remaining dough and filling.

Bake until golden, about 20 minutes. Let cool 5 minutes before serving.
Recipe by Vivi Mizrahi for www.culinarybutterfly.com