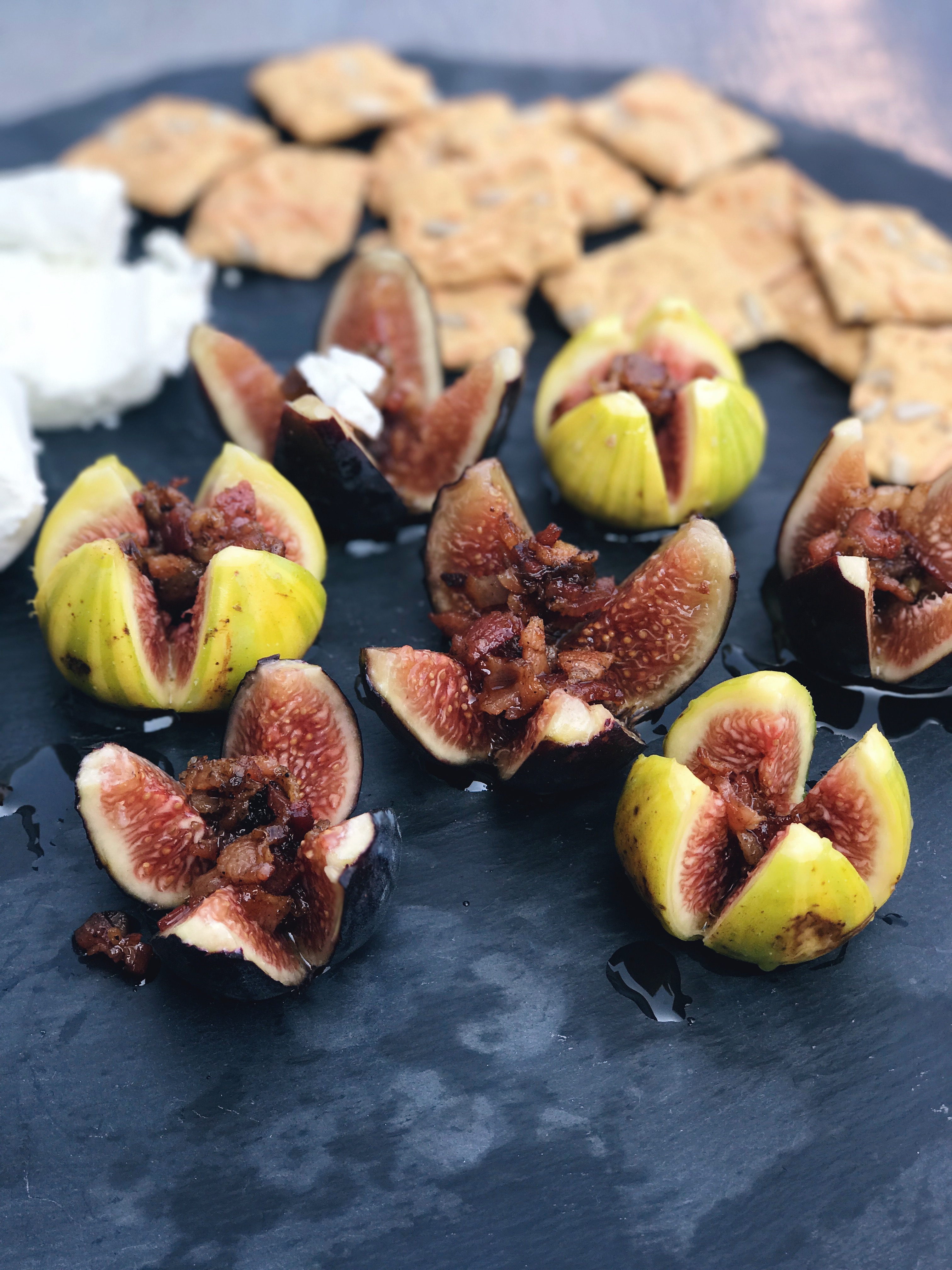 In Minnesota, fall is when fresh figs are in season. Unfortunately, fig season comes and goes quickly. What I love most about this elusive little fruit is the versatility it has in recipes. I try to incorporate fresh figs into my dishes like my Warm Cinnamon Quinoa with Sweet Figs for breakfast, or Arugula with Fresh Figs and Goat Cheese salad, for an easy lunch or dinner salad. I also love serving the figs in this recipe as part of an appetizer platter when entertaining.
The combination of a sweet maple glaze and salty smoked bacon spooned over tender sweet figs is as wonderful as it sounds. This dish makes an elegant choice when hosting a formal gathering, while also perfect for your next casual get together with family or friends at the table.
I hope you enjoy this recipe! If you've made it please share it with me by tagging @culinarybutterfly on Pinterest.
Print Recipe
Fresh Figs with Maple and Hickory Smoked Bacon Glaze
Yum
Fresh figs lightly drizzled with maple and hickory smoked bacon glaze is like a little taste of sweet and salty heaven on earth.
Prepare the ingredients before starting.

In a large skillet over medium-high heat, fry the bacon so that it is pliable, not crispy. Remove bacon from the pan and transfer to a paper towel. Discard bacon grease, reserving 3 tablespoons for the glaze.

Using same skillet, add bacon grease, olive oil, and scallions to the pan, sautéing over low heat for 30 seconds. Whisk in vinegar, syrup, mustard, salt, and pepper, and simmer for an 1 minute. While glaze is simmering, chop bacon into small pieces and add to glaze. Stir until well combined. Remove from heat and transfer to a serving bowl to cool.

Starting at the top, cut figs crosswise towards the base of the figs without cutting through the fruit, leaving 1/2 inch uncut at the bottom. Arrange figs on serving platter.

Just before serving, stir glaze and lightly drizzle 1 teaspoon of glaze and bacon pieces inside and over each fig. Serve with blue cheese, goat cheese, or your favorite soft cheese and crackers.
Recipe by Lisa Soldo-Johnson for www.culinarybutterfly.com