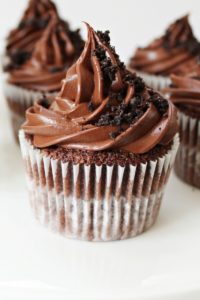 | | |
| --- | --- |
| | |
Preheat oven to 350 degrees Fahrenheit.

In small pan, melt the butter and baking chocolate and peanut butter on low heat, stirring continuously. Remove from heat and set aside to cool.

In a medium bowl, add flour, cocoa powder, baking soda, baking powder and salt, mixing with a fork to combine.

Using a hand mixer, mix together eggs, chia seeds, sugars and vanilla in a medium bowl until combined. Add in chocolate sauce and mix until combined.

Begin to mix in the flour and buttermilk a cup of each at a time until they are incorporated into the batter.

Line a 12-cup cupcake pan with liners. Spoon batter into liners filling a little over half way.

Bake 16-18 minutes or until an inserted toothpick comes out clean. Remove from oven and let cool before frosting.
Using a hand mixer, mix the melted butter and cocoa powder together. Mix in vanilla and milk until smooth.

Gradually add in the powdered sugar and continue to beat until the frosting is smooth and creamy.
Recipe by www.culinarybutterfly.com