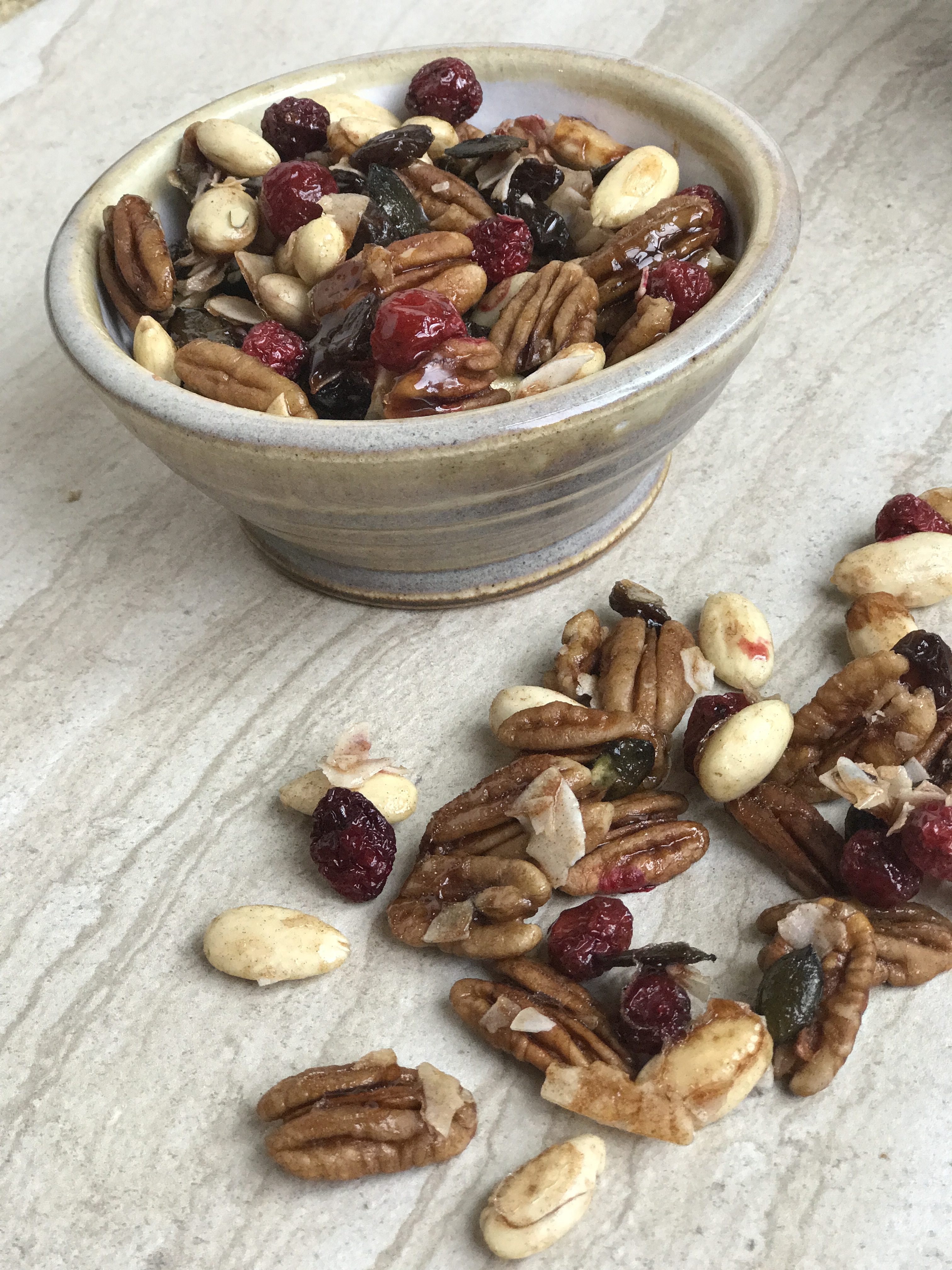 When I hear the word "Nut Brittle" I think of my grandmother at Christmas time.  She had beautiful glass dishes filled with old-fashioned hard sugary candy and crunchy nut brittle sitting on her living room table for guests to enjoy.
My mother had a strict rule never to help yourself to anything unless someone offers. I was about as tall as the coffee table, so that bowl of nut brittle called out to me at eye level. My grandmother always offered, and I was happy to oblige. I must have had my fill of corn syrup and peanuts because eating nut brittle now doesn't have the same appeal as it did when I was five.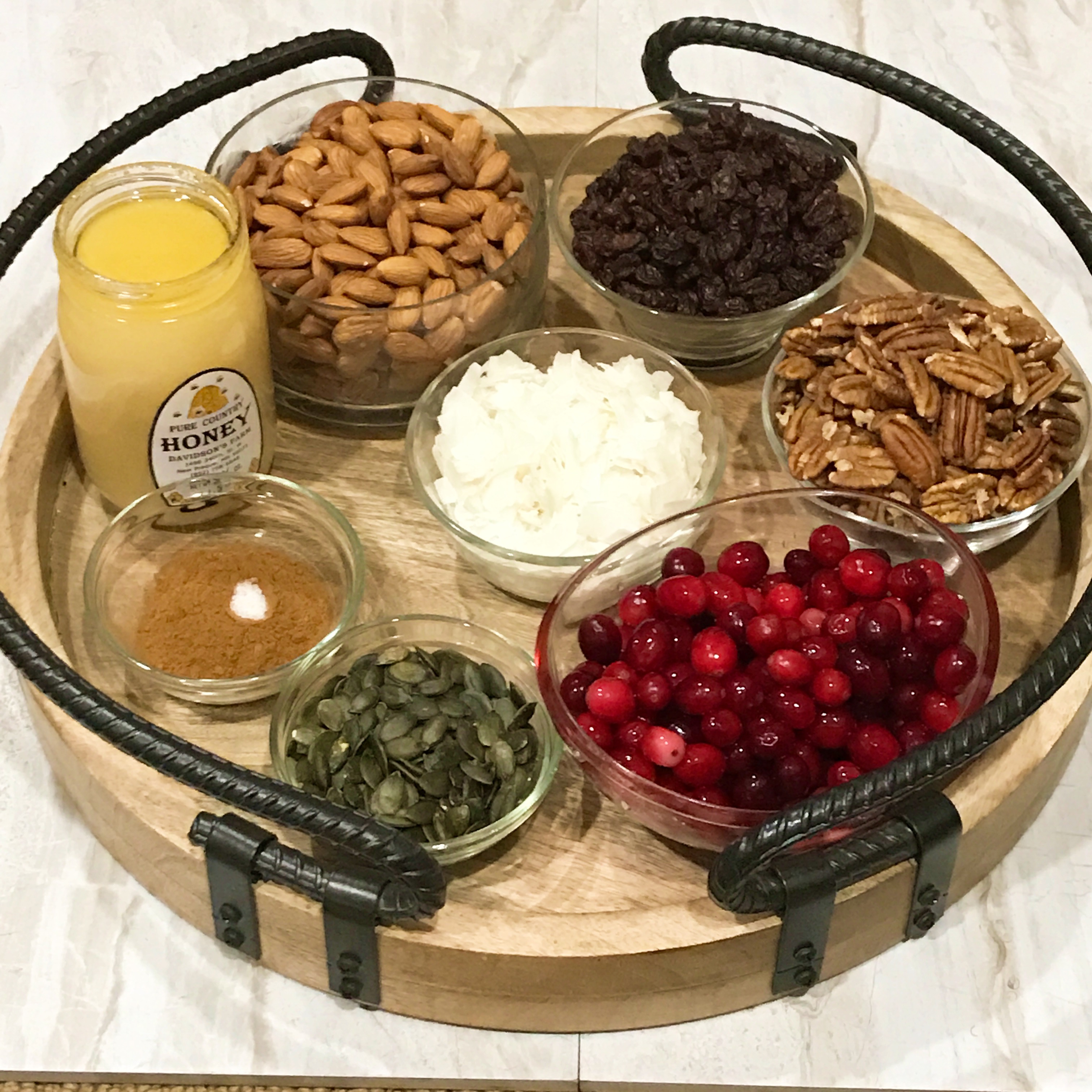 A few years ago, my friend, Laurie, who is  committed to clean eating, taught me to make this healthy nut brittle recipe. When explained what she put into her recipe, I was more than excited to try it. Since it has the consistency of a trail mix rather than an actual brittle, it's easy to get carried away with the amount you eat in one sitting.
The combination of sprouted nuts, sour cranberries, and raisins, sweet coconut and cinnamon combined with raw honey will make you say no to any other nut brittle.   Sorry, Grandma. After one bite of this amazing snack; I was completely hooked.
The art of this recipe is the dehydration process. The dehydrator slowly pulls excess liquid out of the nuts and berries over a 48-hour period while caramelizing the honey and cinnamon mixture it is soaking in.
If you have a dehydrator, you are in luck. If not, I highly recommend investing in one because there are several delicious foods you can make with
a quality dehydrator. The Excalibur is the one I use, but any dehydrator will work fine for this recipe. Binge-worthy nut brittle is my personal favorite.
Binge-Worthy Nut Brittle makes beautiful holiday gifts or on the appetizer table for your next gathering. This is one gift I would love to get!
I hope you enjoy this recipe! If you've made it please share it with me by tagging @culinarybutterfly on Pinterest.
Print Recipe
Binge-Worthy Nut Brittle
Yum
I named this recipe"Binge-worthy" because you will want to binge on an entire bowl of this irresistible mix the moment you taste it. The combination of crunchy nuts and dried fruits dehydrated in a sweet cinnamon honey glaze simply is divine.
In a small bowl, soak the almonds in water 8 to 10 hours or overnight. Remove the skins from half of the almonds by pinching nut to slide skins off.

In separate small bowl, soak pecans in water 4 hours, drain, rinse, and set aside.

In separate small bowl, soak raisins and cranberries together in water, 4 hours, drain and set aside.

In separate small bowl, soak pumpkin seeds in water 2 hours, drain and set aside.

In large bowl, combine almonds, pecans, raisins, cranberries, pumpkin seeds, and coconut flakes. Stir to combine.

Add honey, cinnamon, and salt stirring to combine.

Turn on dehydrator to 115 degrees. Using 4 to 5 Teflex lined dehydrator tray, spread nut brittle over sheets covering most of the tray, but not to the ends. In order for the brittle to stick together, make the pieces to touch each other. Repeat until thr mixture is gone.

Dehydrate 48 hours. Remove trays from dehydrator and let cool. Store nut brittle in glass jars in a cool place.
Recipe Notes:
Peeling some but not all of the skins off of the almonds after soaking lends to the beauty of the finished product.
Which ever honey you use, make sure its local and it appeals to your pallet. If I'm in Minnesota I will use a different honey than in Florida.
If you can't find Vietnamese cinnamon, feel free to use your favorite aromatic cinnamon.
Recipe by Laurie Kerkinni for www.culinarybutterfly.com