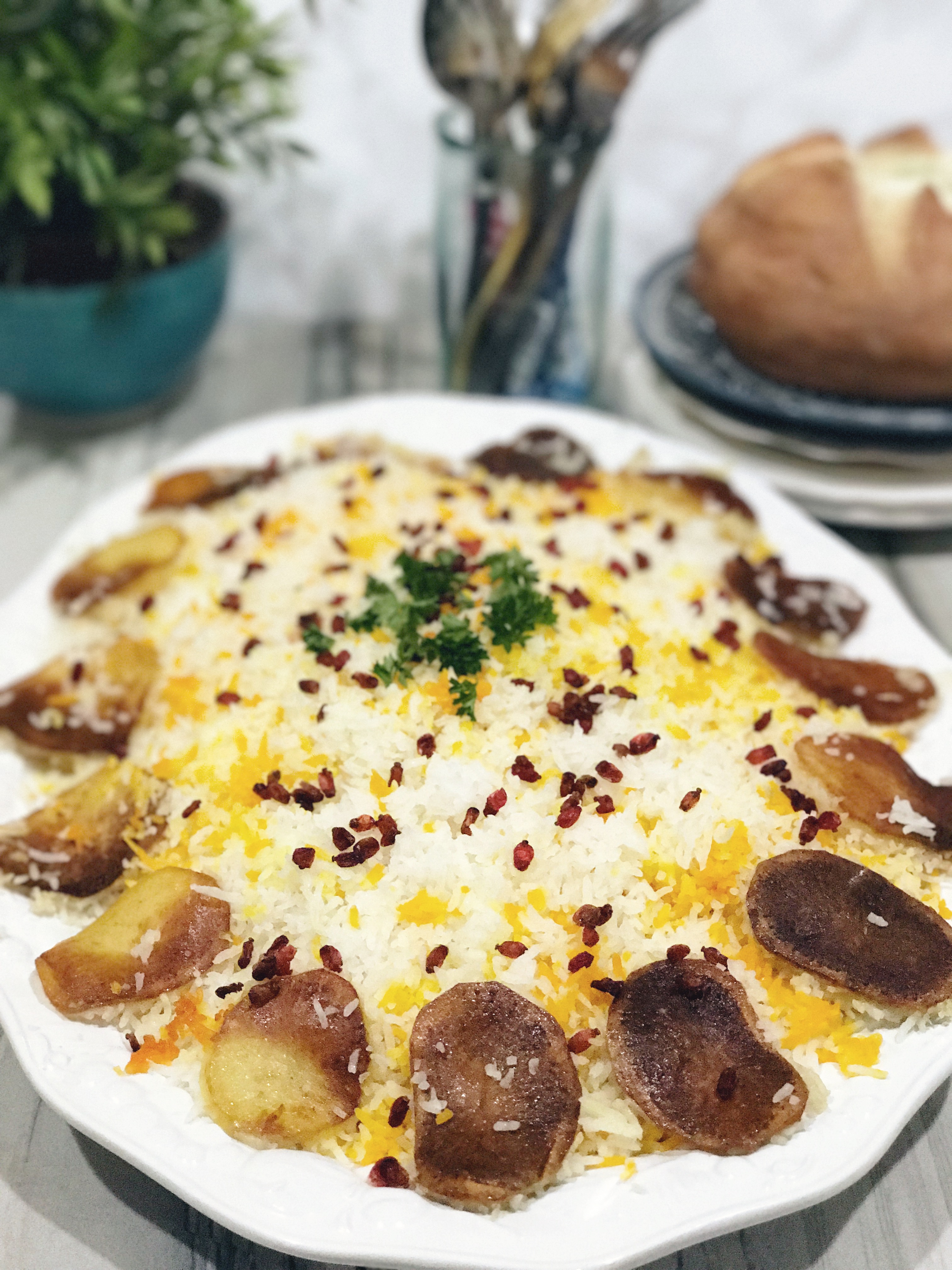 The first time I was introduced to basmati rice was years ago by my Persian girlfriends who have all mastered the art of making the perfect rice and tahdig.  Tahdig is formed at the bottom of the pot by using, potatoes, pita bread or rice.  In the Iranian culture, tahdig is everyone's favorite part of the rice. There is a charming tradition of friendly fighting over the tahdig to see who gets the last piece. Don't laugh. Once you taste this crunchy indulgence, you will want the last piece too.
There are many ways to make Tahdig depending on your preference. I learned to make potato tahdig from my recipe from my friend Ameneh, using thin slices of potatoes to create a crispy, crunchy golden tahdig.  Ameneh is an inspiration in the kitchen, especially when it comes to Persian food. Each of her traditional recipes are made to perfection because of the love and passion she puts into the preparation of her food.
Ameneh has a gift for creating a delicious journey through every part of her meal from her mouthwatering salads to her juicy kabobs and of course her light and fluffy rice and tahdig that sings perfection each time she makes it. Give Ameneh's basmati rice & potato tahdig recipe a try and look for many more of Ameneh's delicious Persian recipes under the chapter called 'Iran" in my upcoming cookbook.
As they say in Persian,
"رمز عبور ته دیگ لطفا!" Pass the Tahdig, please!
Find some of my other delicious Persian recipes below:
Print Recipe
Basmati Rice with Potato Tahdig
Yum
A traditional Persian rice with crispy potato tahdig.
Fill a large non-stick pot half way with water and boil on high.

Add rice and 1 teaspoon salt. Parboil rice for 6-8 minutes only, or just until rice is slightly soft on the outside of the grain.

Pour rice into a mesh strainer and rinse with cold water to stop the cooking process.

Heat oil in the same pot over medium heat.

Cover bottom of pot with potato slices making sure not to overlap them. Sprinkle potatoes with the remaining teaspoon of salt and cook until slightly browned. Reduce heat to low.

Using a slotted spoon, gently spread a layer of rice over top of potatoes to cover completely. Continue to add rice in layers by spooning the rice into the middle of the pot, allowing rice to fall towards the side, creating a pyramid shape with remaining rice.

Poke holes into the rice with the end of a wooden spoon starting at the center and around the rice 5-6 times.

Add small pieces of butter evenly over rice.

To make saffron water, crush 5-6 saffron threads in with a pestle and mortar. Add 2 tablespoons hot water and stir until dissolved.

Using a tablespoon, gently spoon saffron water over rice in a circular direction to create a spiral design.

Cover lid of pot with a cotton tea towel, tying the ends at the top of the lid. Cover the pot with the lid, reduce heat to low and steam for 30-40 minutes, checking occasional to make sure it doesn't burn.

In a small bowl, soak barberries in 1/2 cup hot water for 5 minutes, drain and set aside.

Using a slotted spoon, gently begin adding rice to a serving platter in layers. Lightly sprinkle barberries over rice, repeat until all of the rice and barberries are used.

Using a spatula, remove potato tahdig from bottom of pan, break off individual slices and lay around the outside edges of the rice.

Serve hot with kabobs and salad
Recipe Notes:
It is important that you use a non-stick pot for this recipe to prevent potatoes from sticking to the bottom.
The amount of potatoes and salt needed will depend on the size of your pot. Sprinkle enough salt to lightly cover the potatoes.
The potatoes should completely cover the bottom of the pot without overlapping.
Be sure to cook on low to prevent potatoes from burning.