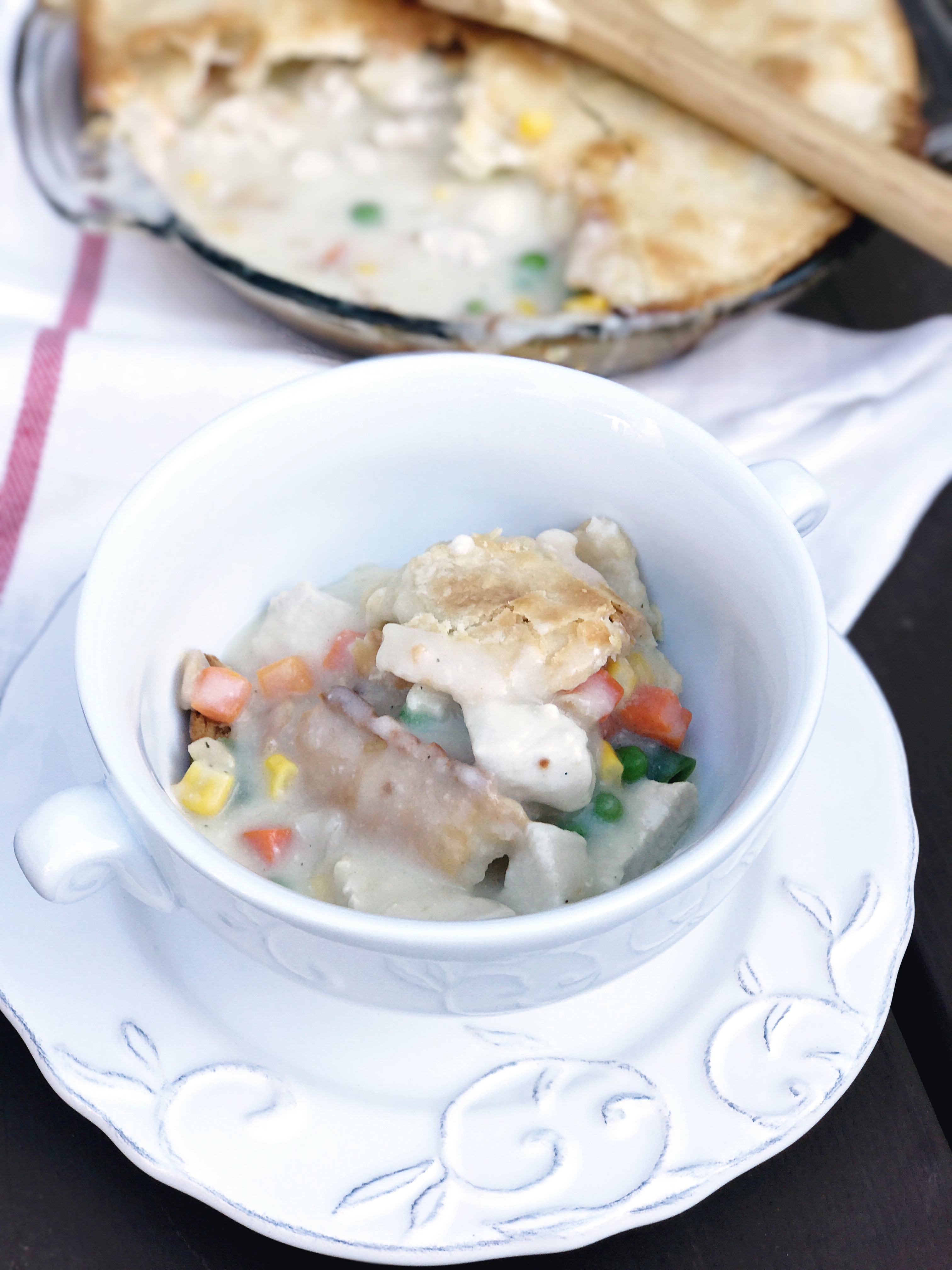 As a kid, a favorite dish my mom would make was homemade chicken and vegetable pot pie. She knew exactly how to make the crust soft, flaky and buttery.  The first slice into this memorable dish would make the inside burst open with chunks of tender chicken and sweet vegetables nestled into a light cream sauce that was perfection at its best.
I Recently ran across my mother's pot pie recipe while sifting through her old collection of recipes. Finding this gem brought me on a whimsical trip down memory lane of my childhood.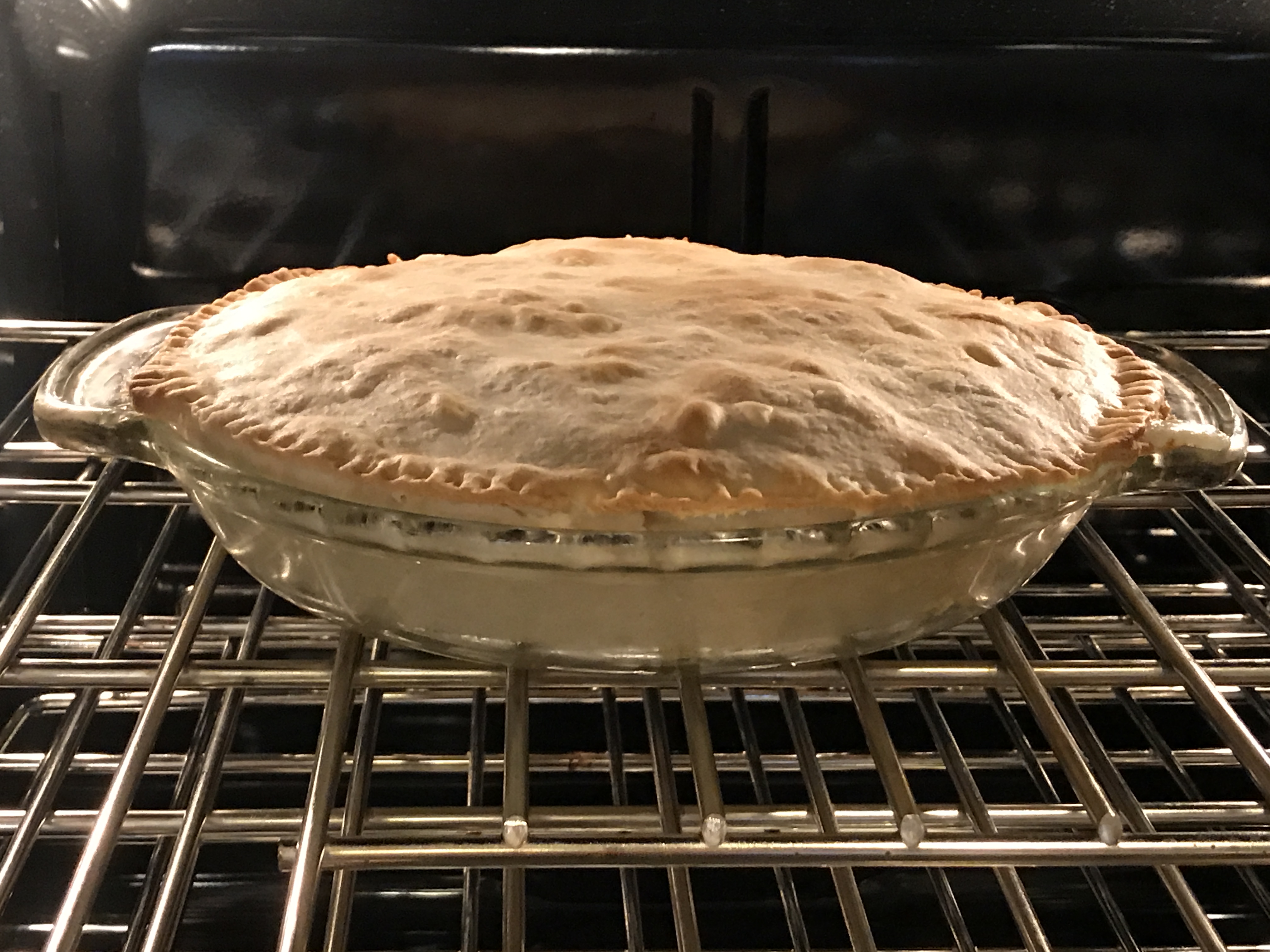 The beauty of writing a cookbook that includes heirloom recipes is it challenges me to consider each recipe and how I might improve the quality of the ingredients without compromising the flavor and taste of the dish. Because my mom chose ingredients that were often more pocketbook friendly like Crisco Vegetable Shortening instead of an organic alternative with less harmful additives, I have been on a mission to recreate her traditional recipes that honor her style of cooking but improves on the ingredients.
Each of her recipes is still delicious, still homemade, but maybe just a little better for you. And since I am feeding my family now, these are the details that matter to me most. The next time you need a simple, delicious recipe the entire family will love, give my mom's chicken and vegetable pot pie recipe a try.
One day, your kids just might tell their children all about their favorite homemade pot pie recipe Mom used to make when they were kids. Try this recipe with my Mom's homemade apple pie for dessert! Enjoy!
Print Recipe
Homemade Chicken and Vegetable Pot Pie
Yum
Nestled in a flavorful, flaky crust, this delicious homemade pot pie bursts with flavor and overflows with a creamy sauce, hearty chunks of chicken, and colorful vegetables. Perfect for dinner with the family or guests.
In a medium bowl, combine the flour and salt. Using your hands, cut shortening into flour until it creates crumbles.

Add water, 3 tablespoons at a time, mixing with fingers until flour is evenly moistened and crumbly. Add more water if needed.

Using your hands, form dough into a large ball. Separate dough in half creating two separate balls. Transfer dough to a plate, cover and refrigerate for up to an hour.
Heat the butter in a medium pan over low heat until melted.

Whisk in the salt, pepper, and onion, sautéing until butter is lightly browned.

Sift in the flour, stirring quickly until the mixture is smooth.

Stir in chicken broth and milk until it becomes creamy. Increase heat to medium-high and cook until it boils for 1 minute, stirring constantly.

Add the chicken and vegetables, stirring to combine. Remove from heat and set aside.
Remove the dough from the refrigerator, flour a pie sheet, roll one dough section out into a circle shape about 1/2 inch thick, as large as the pie plate.

Grease a pie plate. Transfer crust to the plate and pour filling into the pie shell.

Roll out remaining dough as before. Gently place the top layer onto the top of the pot pie. Using a fork or your fingers, pinch the edges of the top and bottom crust together. Using a sharp knife, cut off any extra dough hanging from the edges of the pie plate.

Transfer to oven and bake 1 hour or until the crust is golden brown.

Remove from oven and let cool 10 minutes before serving.
Recipe Notes:
The pot pie may drip juice while baking.
Place a piece of tin foil on the floor of your oven to catch the liquid.
Recipe by Lorraine Soldo for www.culinarybutterfly.com