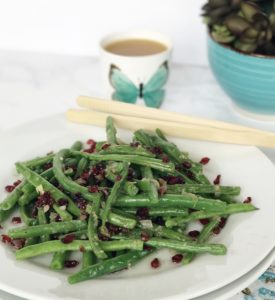 Print Recipe
Garlic Green Beans with Shallots and Barberries
Yum
Crunchy green beans sauteed in olive oil, garlic, and shallots and dusted with sour barberries gives this dish a rich flavor with a burst of sour. The perfect side dish or appetizer for any meal.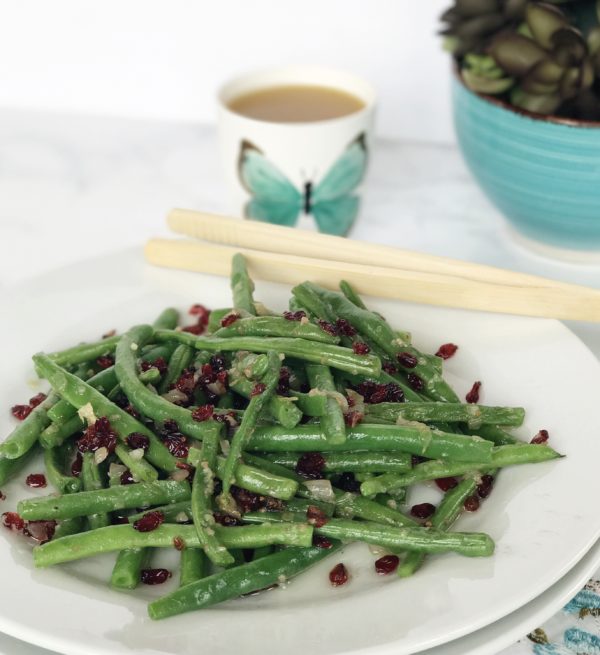 | | |
| --- | --- |
| | |
In a small saucepan over medium-low heat, simmer olive oil, shallots, garlic, and salt. Continue to simmer 3-4 minutes to infuse flavors. Remove from heat and set aside.

Soak barberries in 1/2 cup hot water while preparing beans.

Bring 1 cup water to a boil in medium saute pan. Add green beans and steam for 3-4 minutes or until beans soften but are still crunchy. Remove from heat, discard water and return beans to medium heat.

Pour olive oil sauce over beans and toss until garlic is evenly disburse with the beans. Saute for 2 minutes.

Drain barberries, add to green beans, toss and continue to saute for an additional 1-2 minutes. Remove from heat and transfer to a plate.

Dust the top with a pich of Himalayan sea salt. Serve immediately.
Recipe by www.culinarybutterfly.com