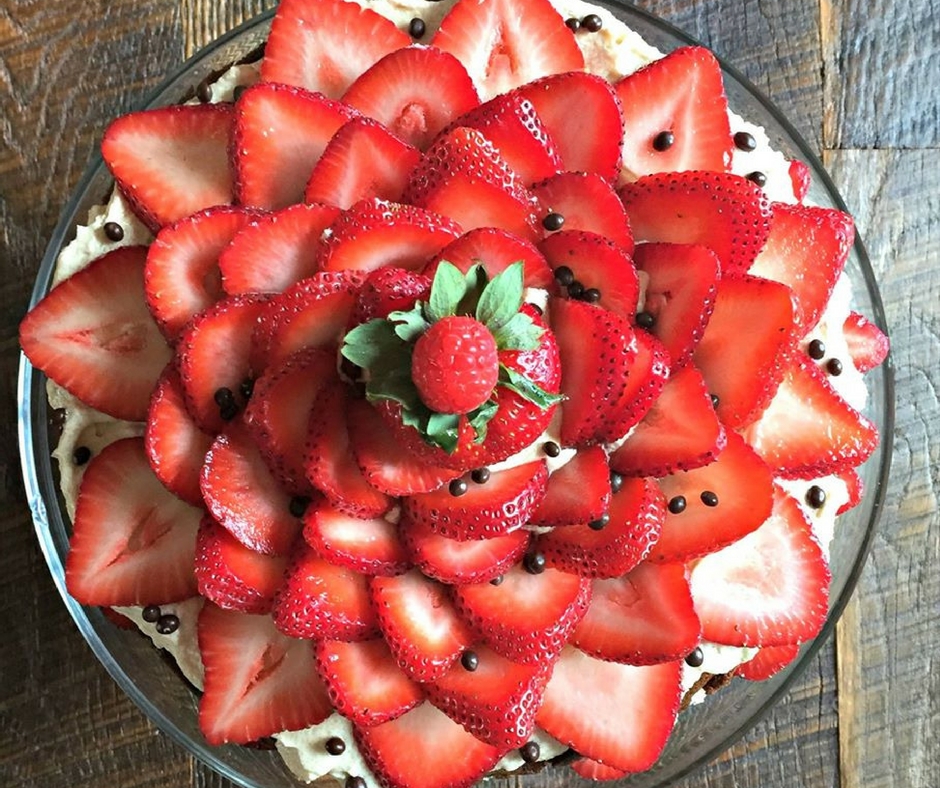 My mom was one of the most creative people I knew when it came to making beautiful desserts. She had a way of turning basic ingredients into a symphony of decadent flavors like a masterful art piece. One of her specialties was this Chocolate Strawberry Whip Cream Layered Chocolate Cake.
She has another variation of this cake using bananas instead of strawberries. However with the banana version, she often paired it with a vanilla cake instead of chocolate but believe me they were both beyond delicious.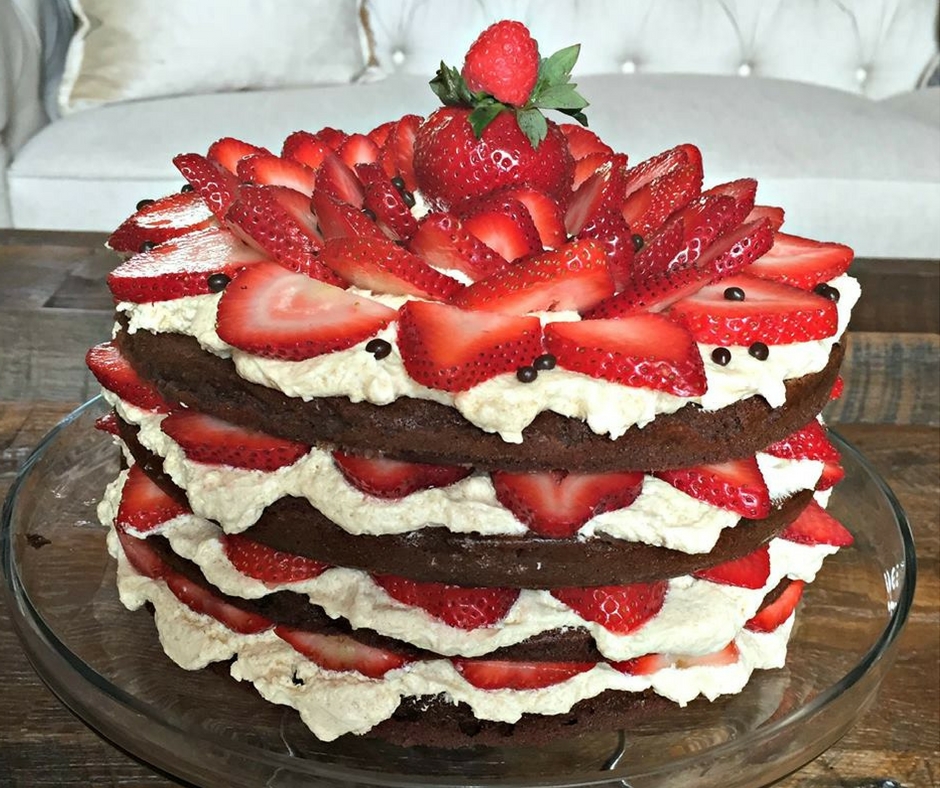 There is a technique to make this cake when using fresh beaten whip cream. The trick is to use a chilled bowl when whipping the cream, then keep the whip cream refrigerated while you are frosting each layer or it tends to soften and loose it's pliable shape.  Then when the cake is completely assembled, refrigerate the cake immediately and don't remove it until you are ready to serve.
A piece of advice: because this cake needs refrigeration, it is not a very good cake to travel with.  So if you are on dessert duty at your next potluck party, consider another dessert choice like my Chewy Gooey Chocolate S'mores or Gluten-free, Dairy-free Coconut Lemon Bars or maybe my Cranberry Bliss Bars.  They are each an excellent choice for a crowd pleasing dessert.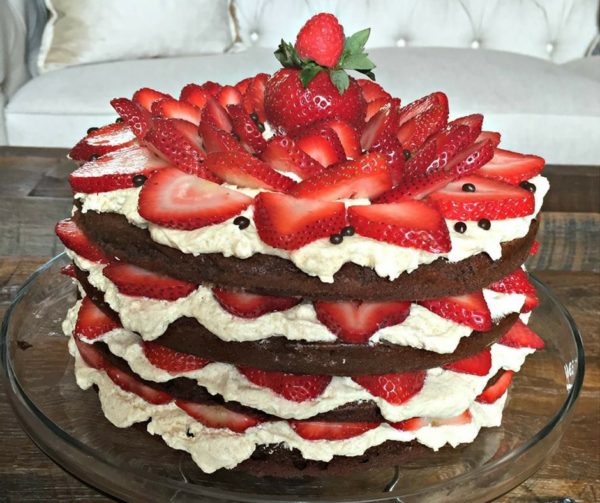 | | |
| --- | --- |
| | |
Preheat oven to 350 degrees Fahrenheit.

Mix butter, vanilla and sugar together.

Add egg, one at a time until fluffy.

In separate bowl, mix together flour, cocoa, salt and soda.

Add dry ingredients to the egg mixture and mix until blended.

Add buttermilk and blend until batter is smooth and creamy.

Grease 3 9-inch round layer pans. Pour equal amounts of batter in each pan. Bake for 25-30 minutes or until inserted toothpick comes out clean. Let cakes completely cool before frosting.
Using a chilled bowl, mix whipping cream, sugar and vanilla together until light and fluffy enough to spread. Cover and refrigerate until ready to use. (Do not over beat or the frosting will become stiff).

Wash and remove strawberry stems.

Slice strawberries into 1/4-inch slices.

Place bottom layer of cake on serving platter. Decorating one cake at a time, spread 3/4-inch layer of frosting over top of the first cake (Do not frost the sides).

Layer strawberry slices over frosting, making sure the strawberry tips are facing out and slightly off the edge of the cake. Fill in the center of the cake. Place cake in refrigerator and repeat steps on second cake.

Carefully place second cake on top of bottom layer and continue to refrigerate.

Add remaining whipped cream frosting to the top layer of the cake. Beginning with the edges of the cake, layer strawberries slightly over the edge making sure the tips are facing out.

Layer the second row of strawberries in between the first layer and over the first row and berries, tipping them upwards slightly. Continue to layer strawberries this way until you reach the center of the cake.

Place a whole strawberry including it's stem in the center of the cake. Top strawberry with a single raspberry for an extra touch of fun. Lightly sprinkle chocolate covered hemp seeds on top (optional).

Very carefully, place top layer on to the top of the cake. Adjust any strawberries that may have shifted.

Keep refrigerated until ready to serve.
NOTE:
Keeping the layers refrigerated in between frosting the next layer will preserve the whipped topping longer. You may want to layer and decorate the top layer after it has been placed onto the other two layers, however I only recommend that if it is not being made in a warm or humid room, or the whip cream between the layers will melt before the top is decorated.
Recipe by www.culinarybutterfly.com
Inspired by my mother