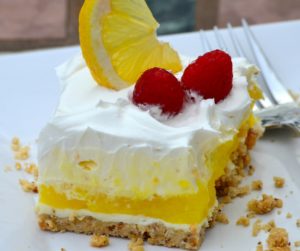 | | |
| --- | --- |
| | |
Preheat oven to 350 degrees Fahrenheit.

In medium bowl, combine flour and nuts. Cut in cold butter until butter resembles course crumbles. Massage any remaining chunks of butter into the crust.

Prepare a 9 x 13 pan and press crust into the bottom of the pan. Bake 4-5 minutes or until edges are golden brown. Remove from oven and let cool.
Using a hand mixer, beat cream cheese and confectioners sugar in a medium bowl until smooth. Carefully spread over crust once crust has cooled. Spread over crust.
In medium saucepan, stir pudding mix, sugar 1/2 cup water and egg yolks over medium-high heat until blended. Stir in remaining water and bring to a full boil, stirring constantly. Remove from heat and refrigerate to cool. Spread over cream cheese filling.
In a medium bowl, beat milk and vanilla pudding on low for 2 minutes before adding in vanilla. Fold in half of the whip cream and refrigerate until cool. Spread over lemon filling.

Spread remaining cool whip over the top of the dessert. Leave plain or garnish fresh fruit.
Idea!
Garnish with chopped nuts, toasted coconut or any topping you like.
Recipe by www.culinarybutterfly.com