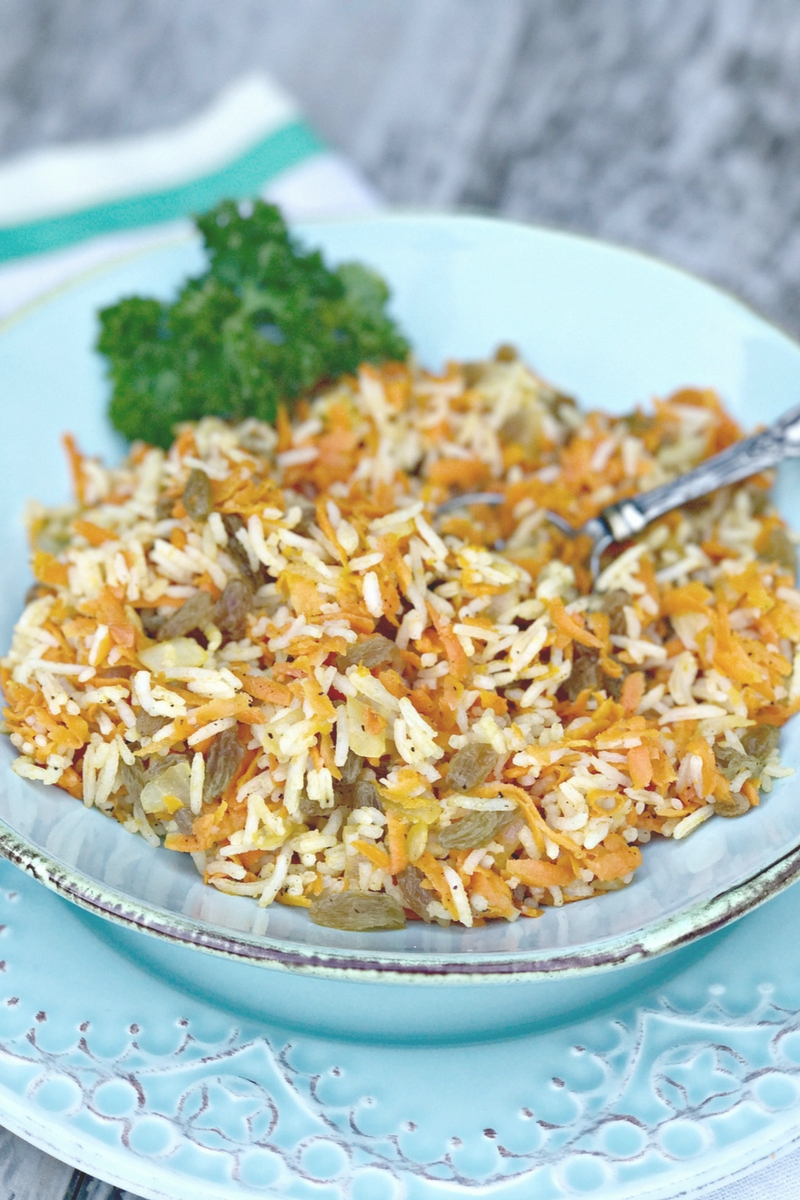 Sometimes the best recipes happen by accident. That's how the story of Sweet Milaya Rice begins. I was working on perfecting my Russian Stuffed Pepper recipe and distracted. I accidentally shredded what looked like a lifetime supply of carrots. Since I prefer not to waste ingredients, I got creative. Using a little extra rice from the pepper dish, I incorporated a few ingredients from my pantry and SHAZAM, a new recipe was born. The unexpected flavors of sweet raisins and carrots paired with sauteed onions and a lightly nutty Basmati rice were the perfect marriage of flavors.  I served it with the Russian Stuffed Peppers and it was delightful.
I hope you enjoy this recipe! If you've made it please share it with me by tagging @culinarybutterfly on Pinterest.
Print Recipe
Milaya Sweet Rice Recipe
Yum
The combination of sweet raisins and carrots with sauteed onions and rice makes this dish a perfect side to almost any meal.
Heat the oil in a medium non-stick skillet over medium-high heat. Add the onions and saute for 3 minutes or until they are slightly translucent. Add carrots and continue to sauté 5 to 8 minutes or until carrots are soft. Sprinkle 1/4 of teaspoon salt over the mixture and stir to combine. Be sure to stir the carrot mixture often to prevent sticking and burning. Use more oil if needed.

Soak the raisins in hot water for 5 minutes, strain out the water and add to a pan with carrots and onions, stirring to combine. Remove pan from heat.

Add the cooked rice, sugar, salt, and pepper, toss with a fork until all ingredients are well combined.

Transfer to a serving bowl and serve warm.
Recipe Notes:
Make sure to use fresh grated carrots instead of packaged to keep the dish juicy, tender, and flavorful.
Serve as a side or light appetizer.
Serve with

Russian Stuffed Peppers

.
Recipe by Lisa Soldo-Johnson for www.culinarybutterfly.com