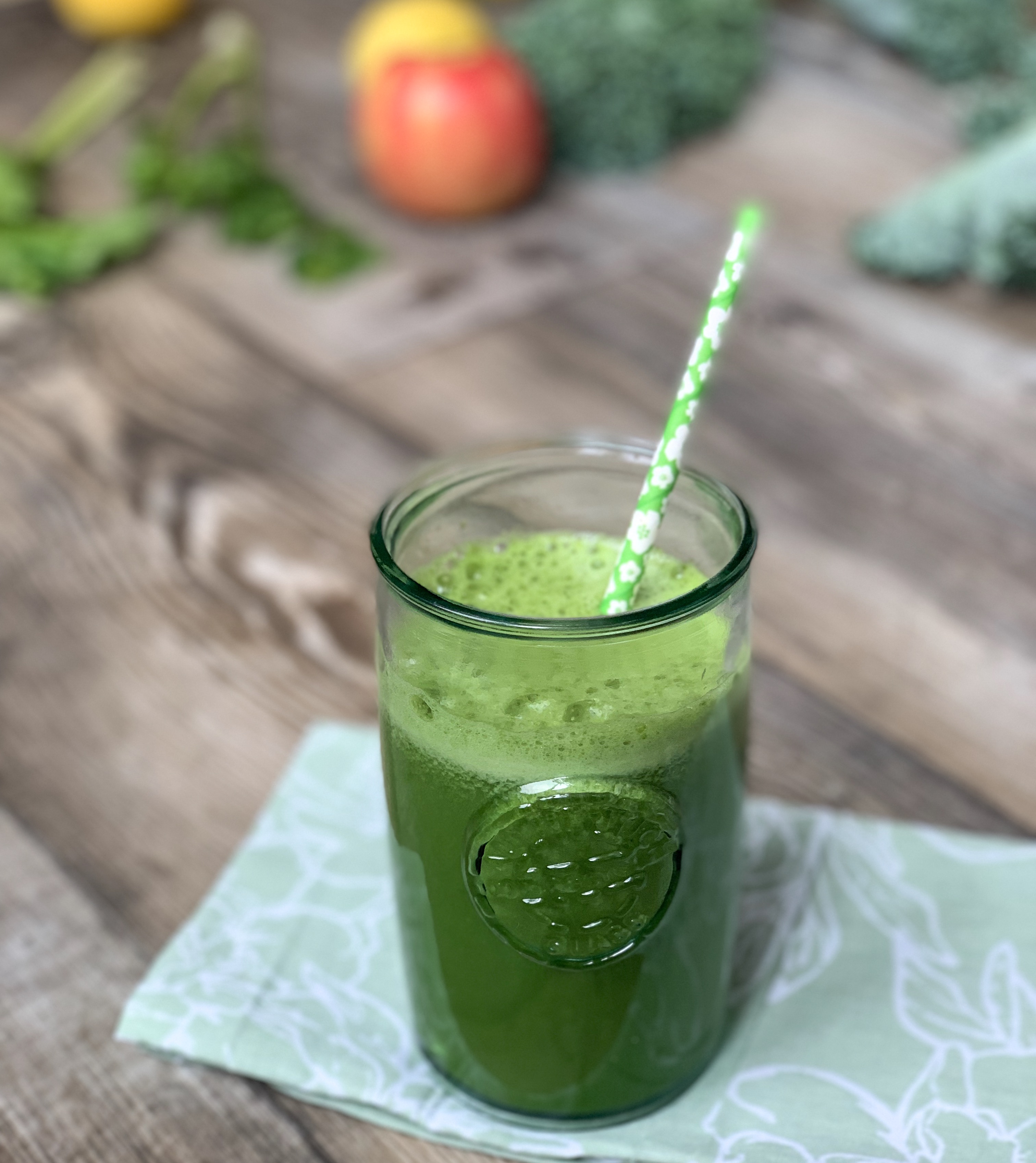 Healthy healing green lemonade is one of my favorite go-to drinks when someone in my family is feeling
under the weather.
Made with fresh organic apples, lemons, kale, celery, and ginger,
this nutritious super-food drink is packed
with vitamins and minerals that help the body get back to being healthy again.
I have a small organic coop only five minutes from my house where they make fresh juice and smoothies on the spot.  Green lemonade is on their menu, but they charge a hefty price per glass and they don't always use organic ingredients if they are out of stock. Though it's pretty convenient to order on the go instead of making it at home, if you are budget conscious like many of us are, it's worth the extra effort to make your own.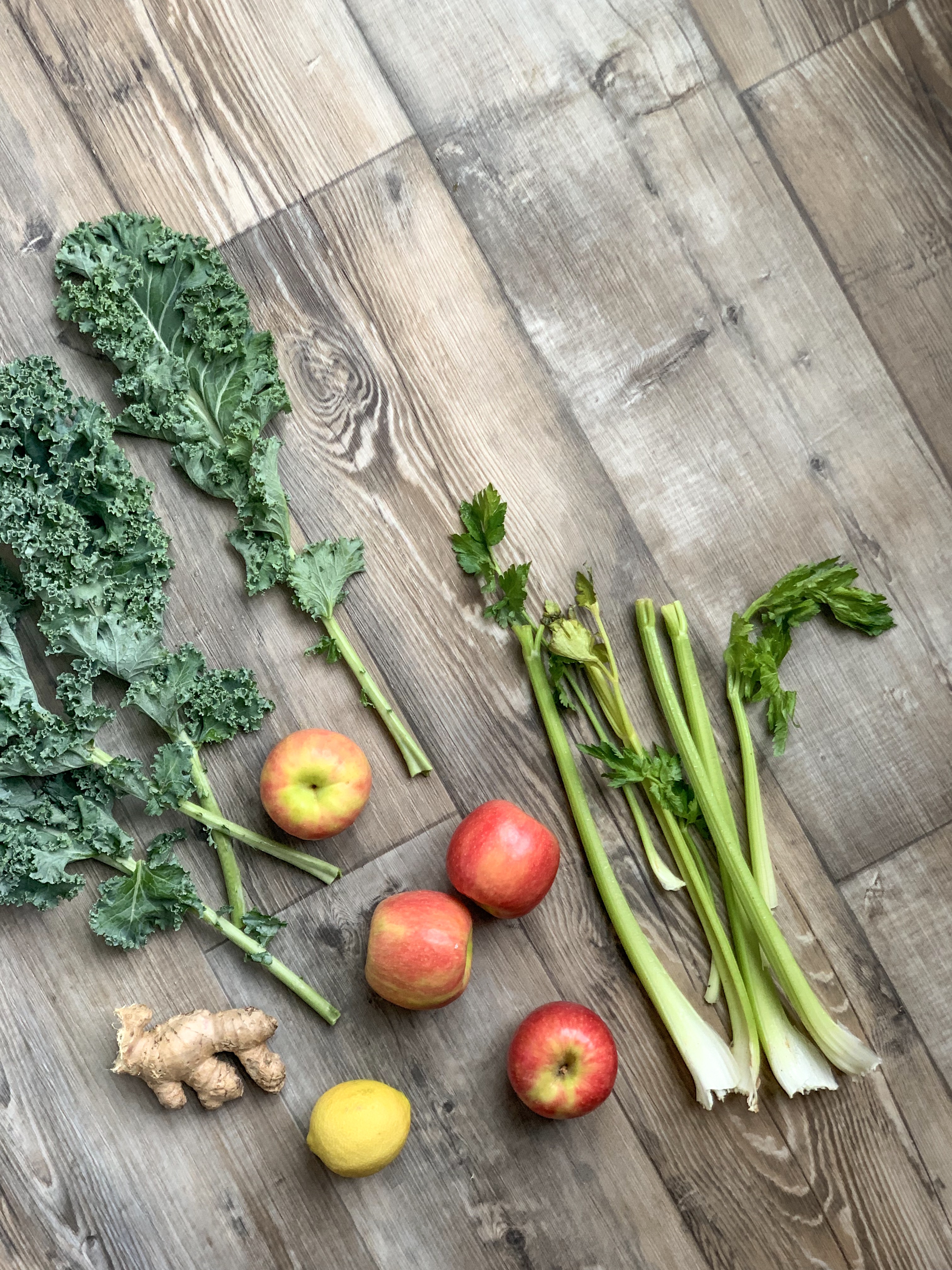 If you are familiar with the dirty dozen
list
of food, you know there are twelve foods considered the highest in pesticides. I always recommend you buy organic for those specific items to avoid the pesticides in your food.  For green lemonade, the list includes apples and celery which I always choose organic when making this drink.  However, if you want to save a few pennies, use conventional lemons, kale, and ginger.
For the best results use a juicer to make your green lemonade.  If you don't have a juicer, you can also blend the ingredients in a high-speed blender and strain it through a nut milk bag, but you may not get as much juice with this technique because more of it will stay within the pulp.  Either way, you can't go wrong and the results are well worth it!
I hope you enjoy this recipe! If you've made it please share it with me by tagging @culinary.butterfly on Instagram or @culinarybutterfly on Pinterest, or by using the hashtag #culinarybutterfly on Facebook
Print Recipe
Healthy Healing Green Lemonade
Yum
Green Lemonade made with organic apples, lemons, kale, celery, and ginger is deliciously healthy and healing for the body. Simple to make and packed full of vitamins and minerals.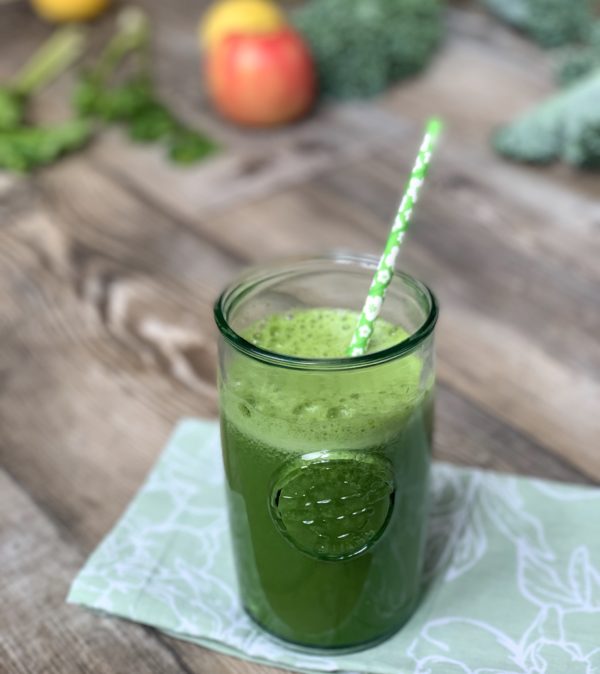 | | |
| --- | --- |
| | |
Run ingredients through a juicer, stir, and enjoy!
Advice from Laurie's Kitchen:
I always recommend using organic fruits and vegetables for the cleanest, healthies juice possible.
Recipe by Laurie Kerkinni for www.culinarybutterfly.com