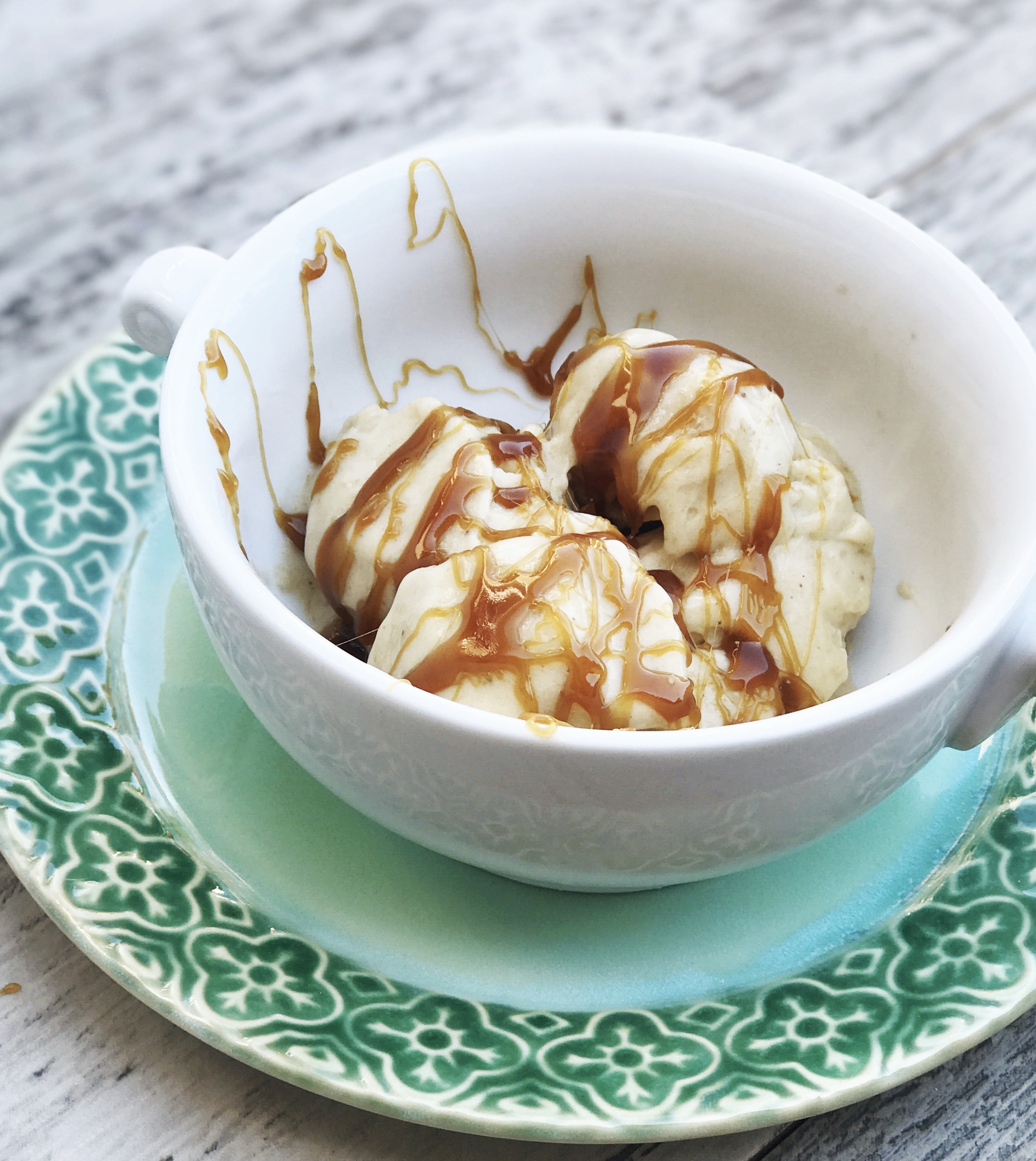 When it comes to the perfect dream food, frozen banana ice cream with salted caramel drizzle tops the list of edibles I just can't get enough of. This treat is so simple to make using only frozen bananas and no added dairy or sugar to create a creamy dreamy icecream that is dairy-free and healthy to boot. Simply blend down the sliced frozen bananas in either a food processor or vitamix until creamy.
If  you happen to own a Champion Juicer,using your blank plate, feed the frozen bananas through the top and push it through with the tamper.  The result is a creamy, soft-serve style ice cream.  You will need 2 to 3 frozen whole bananas per serving.
I recently discovered the magic of Organic Caramel Agave Nectar sauce. It's a Vegan caramel sauce that contains no added sugar, corn syrup, artificial sweeteners, preservatives, water or thickening agents. One of my favorite ways to use this nectar is on top of frozen banana ice cream with a sprinkle of corse sea salt. The combination of sweet bananas and caramel dusted with sea salt is so satisfying and delicous!
I hope you enjoy this recipe! If you've made it please share it with me by tagging @culinarybutterfly on Pinterest.
Print Recipe
Frozen Banana Ice Cream with Salted Caramel Sauce
Yum
A decadent easy to make dairy-free ice cream made purely from bananas. Drizzle the top with organic agave nectar caramel topping, sprinkle with salt and enjoy.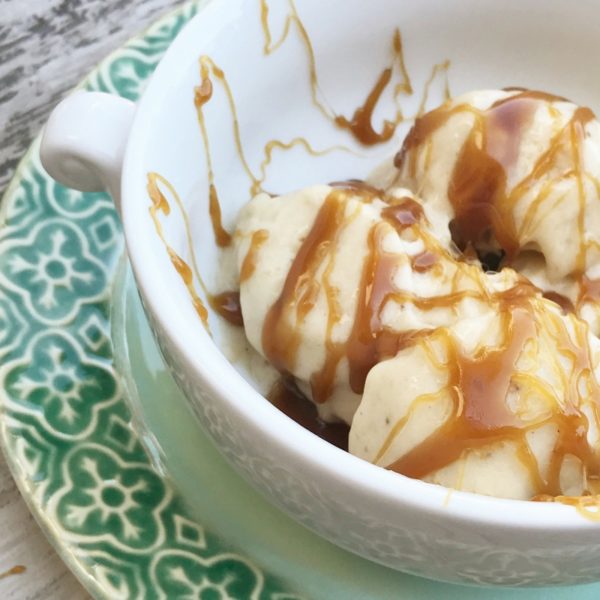 Place the frozen bananas in food processor and pulse or blend on high until creamy. You can also run the bananas through most juicers to get a soft serve ice cream texture.

You may need to stop the machine, push the bananas from the side and pulse a number of times until completely combined.

Transfer the ice cream to a bowl and place in the freezer until ready to serve.

Remove the ice cream from the freezer, scoop into a bowl, and drizzle caramel agave nectar sauce on top of ice cream. Lightly sprinkle with additional corse sea salt and enjoy!
Recipe by Lisa Soldo-Johnson for www.culinarybutterfly.com