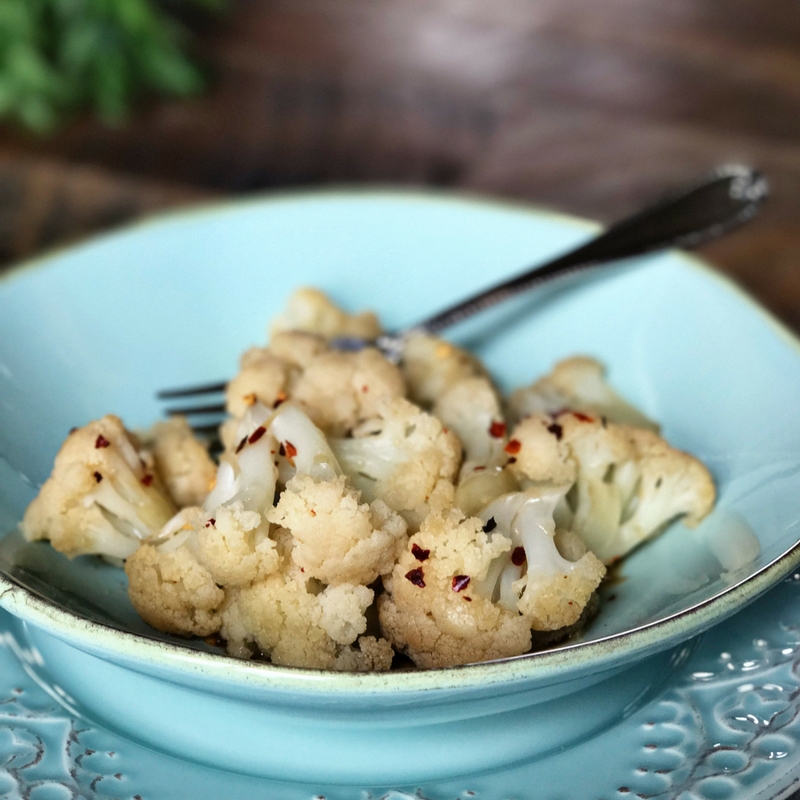 Cauliflower is one of those blank slate vegetables easily absorbing the complimentary flavors of sauces and spices.  This dish is one of my favorite ways to prepare cauliflower.  It steams quickly and makes a delightful addition as a side to meals, over salads, in soups, and more.
I am a fan of kitchen gadgets.  Especially when I can be hands-off during the cooking process.  A friend introduced me to this clever little electric steamer by Presto called
Kitchen Kettle Multi-cooker/steamer.
  It's a steamer and a fryer in one. I love tossing a bunch of cauliflower into this steamer and in minutes; it cooks your vegetable to perfection.
If you haven't tried
Coconut
Aminos
yet, you are in for a treat.  M
ade
with Organic Coconut Blossom Nectar, Distilled Water, Organic Apple Cider Vinegar, and Sea Salt, this dark liquid has a salty Unami flavor that adds a delightful flavor to any dish.   Just a few shakes of
coconut
aminos
and a few sprinkles of red pepper flakes
gives
the cauliflower all its flavor.
Though this steamer makes a great addition to any kitchen, you don't have to run out and buy a
steamer
to make this recipe. You can use a pan of water and a steamer
inset
, and in a matter of minutes, you'll have a plate full of lightly sweet, slightly spicy, deliciously amazing cauliflower that may just become your new favorite vegetable. Simple, quick, and gone in minutes.
I hope you enjoy this recipe! If you've made it please share it with me by tagging @culinarybutterfly on Pinterest.
Print Recipe
Sweet & Spicy Steamed Caulflower
Yum
Tender Steamed Cauliflower tossed in coconut amino's and red pepper flakes make this dish lightly sweet, slightly spicy and a perfect dish for an appetizer or meal.
Steam the cauliflower on high heat for 7 to 9 minutes or until tender. Transfer to a serving bowl.

Add the coconut amino's and red pepper flakes, tossing until well coated. Marinate the cauliflower for 10 minutes and toss one more time before serving.
Recipe by Lisa Soldo-Johnson for www.culinarybutterfly.com