The Caribbean, known for its beautiful sandy beaches, the lush tropical climate, an abundance of delicious fresh fruit, is a place I would vacation all over again. Jamaica represents the Caribbean lifestyle, influencing the world's love for Reggae music made famous by Bob Marley, their endearing Jamaican Patois accent, and the Caribbean/Jamaican food. But with tropical fruit, Jamaica has the corner on the good stuff.
Jamaica grows many unique native fruits including mangoes, June Plum, sweetsop, soursop, tamarind, guava, cherries, guinep and more. Except for mangoes, these exotic fruits rarely find a place on the grocery store's shelves here in the United States. Luckily, there is enough of a variety of delicious fruits either grown or imported here, that we can still enjoy a healthy mix of options any time of the year.
One thing I enjoyed eating during my stay in Jamaica was their mixed fruit salad splashed with honey and lime juice. Although I most often enjoy fruit in its natural state, this recipe was a refreshing departure. The combination of fruits tucked inside the empty pineapple shells makes an impressive display for gatherings and potlucks. I love using the leftovers (if there are any) in my smoothies, topped over yogurt parfait, oatmeal, or ice cream for a special touch of Caribbean flavor.
I hope you enjoy this recipe! If you've made it please share it with me by tagging @culinarybutterfly on Pinterest
Print Recipe
Jamaican Fruit Salad with Lime and Honey
Yum
A refreshing change from plain fruit. This Jamaican inspired fruit salad is splashed with fresh lime and honey for a unique twist on fresh fruit.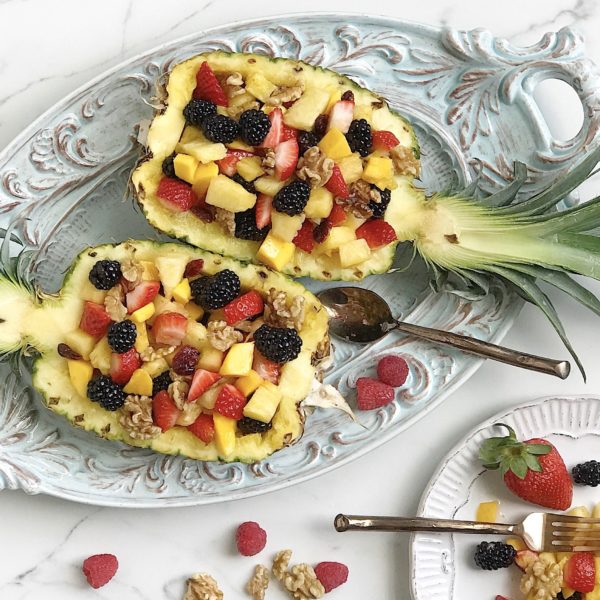 | | |
| --- | --- |
| | |
Combine the fruit and nuts in a large mixing bowl.

Whisk the honey, lime juice, and lime zest in a small bowl and pour the dressing over the fruit gently tossing until all of the fruit is evenly coated.

Gently transfer the fruit into the hollowed pineapple shells and refrigerate until ready to serve.
Recipe by Lisa Soldo-Johnson for www.culinarybutterfly.com