Have you ever craved a variety of flavors all at once, and then created a magical combination of foods that scored you a home run? Well, this is mine. I call it, Garlic Green Beans with Shallots and Barberries.
When I began learning the art of Persian cooking, I was introduced to an incredible little sour berry called Barberries. Used in many Mediterranean recipes including, rice, stews and meat dishes, this unassuming little fruit burst with a pop of flavor that makes the most basic dish come to life.
In the summer, I spend most Saturday morning at the farmers market. Fresh green beans are one of my favorite vegetables to grab since they are perfect to eat raw just as they are, or steam, sauteed and prepared any way you like them. But after a summer's worth of consuming a ton of fresh haricots verts, it was time to breath new life into my old preparation methods and come up with something exciting.
Enter, shallots and barberries. Since one of my favorite pass times in the kitchen is to create new dishes and flavors by combining unexpected ingredients with the usual suspects, that's how this recipe was born. A combination of fresh, crunchy, buttery and sour; that's what came to mind as I searched my pantry for a creative way to turn the predictable green beans into a new and exotic side dish. Once again the beautiful little fruit called barberries became the star of the show. It is the perfect combination of texture and flavor that breathes a whole new life into this healthy little vegetable called haricots verts.
Print Recipe
Garlic Green Beans with Shallots and Barberries
Yum
Crunchy green beans sauteed in olive oil, garlic, and shallots and dusted with sour barberries gives this dish a rich flavor with a burst of sour. The perfect side dish or appetizer for any meal.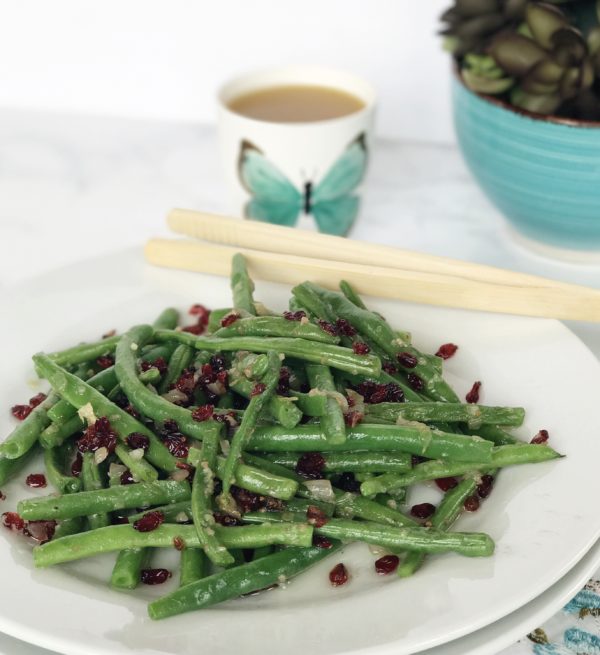 | | |
| --- | --- |
| | |
In a small saucepan over medium-low heat, simmer olive oil, shallots, garlic, and salt. Continue to simmer 3-4 minutes to infuse flavors. Remove from heat and set aside.

Soak barberries in 1/2 cup hot water while preparing beans.

Bring 1 cup water to a boil in medium saute pan. Add green beans and steam for 3-4 minutes or until beans soften but are still crunchy. Remove from heat, discard water and return beans to medium heat.

Pour olive oil sauce over beans and toss until garlic is evenly disburse with the beans. Saute for 2 minutes.

Drain barberries, add to green beans, toss and continue to saute for an additional 1-2 minutes. Remove from heat and transfer to a plate.

Dust the top with a pich of Himalayan sea salt. Serve immediately.
Recipe by www.culinarybutterfly.com