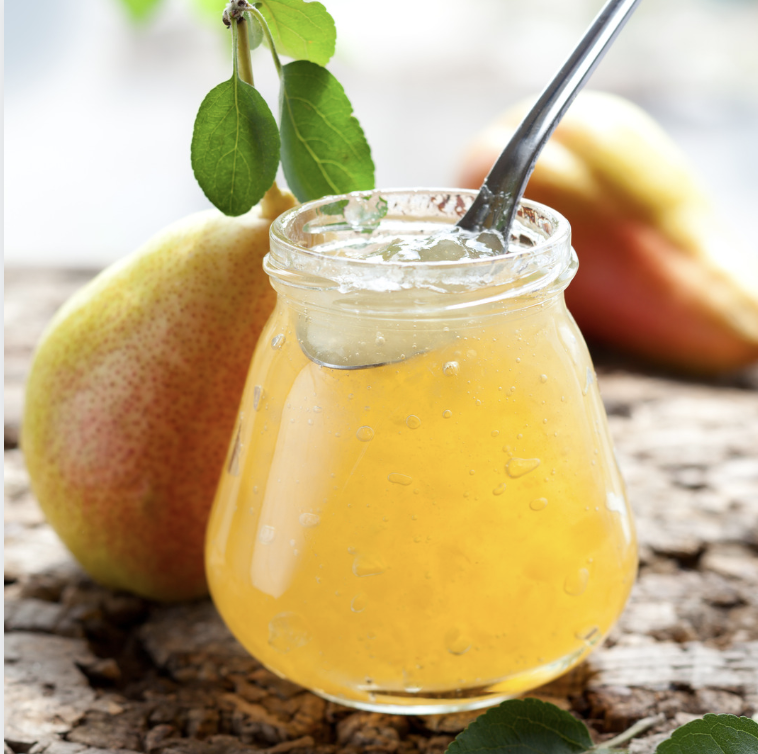 I am a child of a homemade jam making mother.  I grew up on peanut butter and jelly sandwiches, toast, pancakes and waffles all slathered with homemade jams of every flavor.  So naturally, when I became a mother, I raised Jam eating kids too.
One summer I dedicated my weekends to turning every type of berry I could get my hands on into jam and canning them for the winter.   Of all the flavors I made, there were two that became my official favorites: Huckleberry Jam and this Ginger Pear Jam.
Use this jam on all the usual stuff or as a spread it on crackers, serve it with Brie Cheese and sliced French baguette, or anything that needs a little fruity ginger flavor to bring excitement to the dish.
Print Recipe
Ginger Pear Preserve
Yum
A refreshingly unique twist to pear preserve. A delicious spread on crackers, toast, or anything that needs a little sweet touch.
Sterilize the jars for water bath canning.

In a medium pan, bring pears to a boil. Lower the heat and add ginger, lemon zest, lemon juice, and sugar and continue to simmer 15-20 minutes or until pears are very soft and translucent.

Remove the pan from the heat an stir to distribute the fruit into the liquid.

Ladle the hot jam into the jars, leaving 1/4-inch headspace on the top. Use a cloth to wipe the rims of the jars. Place a flat ring and lid on each jar. Finger tighten and place back into the water bath.

Bring to a boil and process for 5 minutes. Remove jars and let cool.