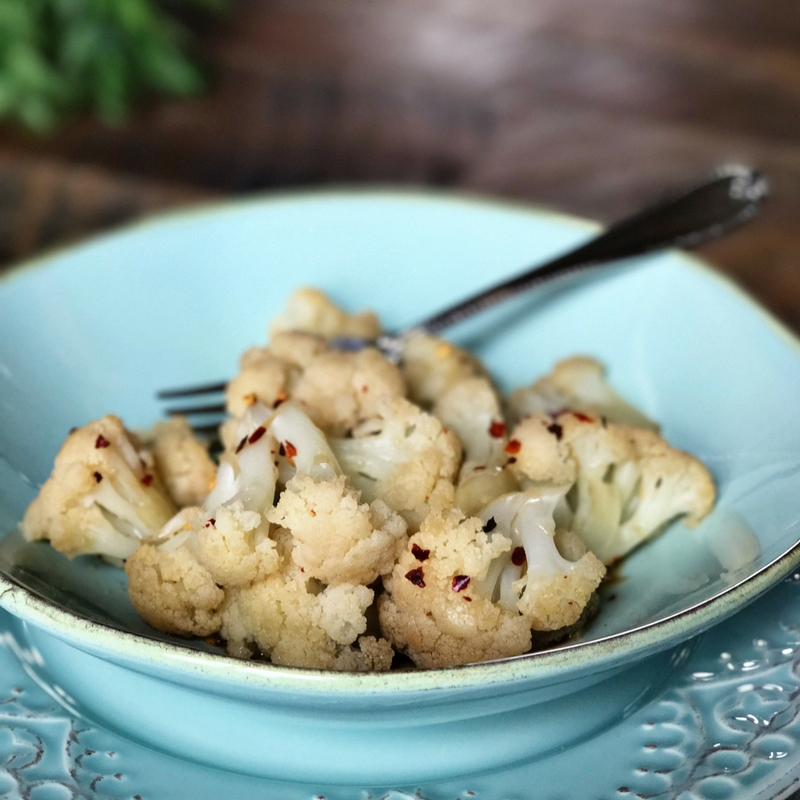 As the old saying goes, "Don't judge a book by it's cover."  If I were to pick one cruciferous vegetable that I was pretty well convinced I would never really love, it would be cauliflower. That was until this recipe came along. My friend, Zahura, recently shared her secret for frying her eggplant without creating an oily splatter mess all over the stove-top. She uses this clever little electric steamer by Presto called Kitchen Kettle Multi-cooker/steamer, which keep the oil right in the pot while cooking. Sounds exactly like something I needed for all of the Mediterranean cooking I do that requires frying. Hands down, this is the best $25 I have ever spent on a kitchen tool.
So when my new fryer arrived, I didn't have eggplant on hand to fry but I did have cauliflower. Curiosity got the best of me and I tossed in some cauliflower on the steam feature and in about seven minutes I had perfectly steamed flavorless cauliflower. After a few spritzes of Coconut Aminos and a shake or two of red pepper flakes, a brand new favorite had come to life!   Seriously, I could not stop eating it. Shocker, I actually think cauliflower is my new favorite vegetable now. It was that good!
Though this steamer makes a great addition to any kitchen, you don't have to run out and buy a steamer to make this recipe. You can use your favorite way to steam vegetables, and in a matter of minutes, you'll have a plate full of lightly sweet, slightly spicy, deliciously amazing cauliflower that may just become your new favorite vegetable too. Simple, quick, and gone in minutes.
Print Recipe
Sweet & Spicy Steamed Caulflower
Yum
Tender Steamed Cauliflower tossed in coconut amino's and red pepper flakes make this dish lightly sweet, slightly spicy and a perfect dish for an appetizer or meal.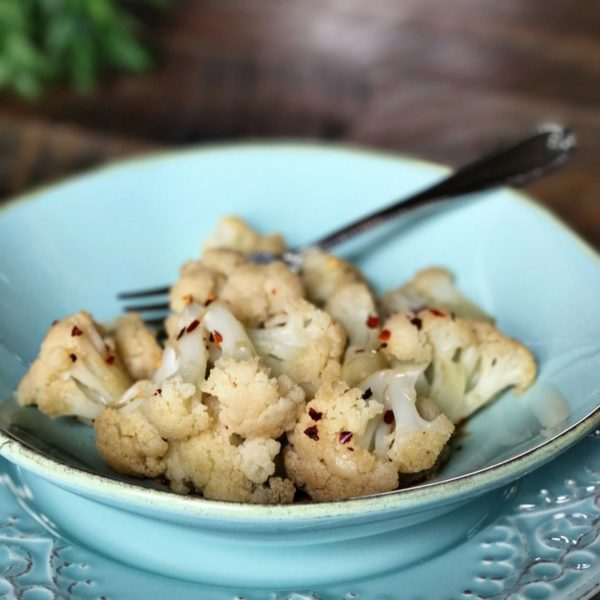 | | |
| --- | --- |
| | |
Steam Cauliflower 7-9 minutes or until tender. Transfer to a serving bowl.

Add coconut amino's and red pepper flakes, tossing until well coated. Let marinate for 10 minutes. Toss one more time before serving.
Recipe by Lisa Soldo-Johnson for www.culinarybutterfly.com